You Can Still Shop Kylie Cosmetics' Holiday Line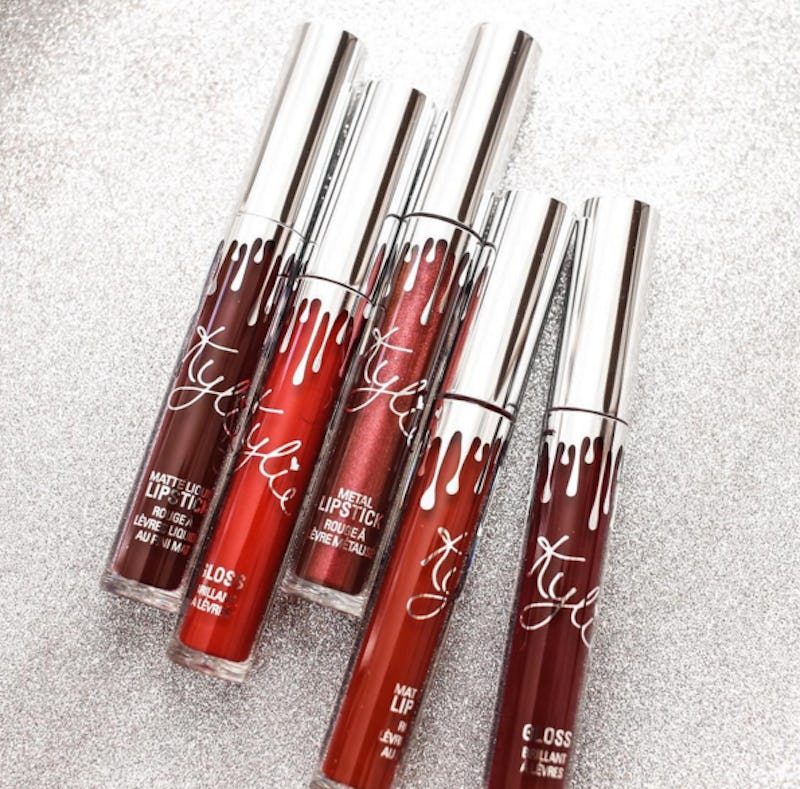 If you're on your couch right now instead of standing in line at the Kylie Cosmetics Pop-Up Shop, then you're likely wondering if you can get in on the Lip Kit-shopping action online. What's left to shop in Kylie Cosmetics' Holiday Collection? A virtual purchase is the best you're going to get, especially if you can't buy these lip sets and more in-person.
But, the good news is, there were still items in stock at the time of publication. I guess too many people are queued to be on their computers, so that means more holiday makeup for you! According to Kylie Jenner's Instagram, this is the last restock of the collection. Now, Jenner's been known to surprise us before, but you better go ahead and rack up now, just in case.
Several of the high-priced bundles are still up for grabs on the site, so if you're looking to take care of your entire Christmas in just one purchase, you should really consider snagging one of these. But, if you're hoping for more affordable options, there are also glosses, Kyshadow and more that haven't sold out yet. Don't fret if you can't be shopping these goods IRL, because with the online inventory available, your day's looking up!
Gotta get these seasonal shades in your stocking, stat!
Jenner says this collection is only being restocked "one more time," so get it while supplies last.
1. Jolly Gloss
Jolly Gloss, $15, Kylie Cosmetics
Deep berry pigment and high shine? Yeah, you're going to want this slicked across your pout this season.
2. Merry Lip Kit
Merry Lip Kit, $30, Kylie Cosmetics
Nothing screams Christmas quite like a dark red lippie.
3. Makeup Bag
Holiday Edition Makeup Bag, $36, Kylie Cosmetics
Cop this bag for the perfect way to store your Kylie Cosmetics goodies.
4. Holiday Stocking
Holiday Stocking, $40, Kylie Cosmetics
The makeup bag might be perfect for storage, but this is great for gifting! Forget wrapping paper, all you need to do is stuff this stocking.
5. Dancer Metal
Dancer Metal Lippie, $18, Kylie Cosmetics
You're going to love seeing this metallic color and it's ornament-like packaging hanging from your tree.
6. Holiday Kyshadow
Holiday Kyshadow Palette, $42, Kylie Cosmetics
Add this palette to your collection to have the most festive makeup look.
7. The Vixen Bundle
The Vixen Bundle, $180, Kylie Cosmetics
If you can't choose just one favorite item, might as well rack up on quite a few of them! Besides, since the Mini Lipstick Kit is sold out, copping this bundle set may be your last chance to get ahold of these cuties.
Get to spending to make sure you have a very merry Kylie Cosmetics-filled Christmas! When you shop through Dec. 9, you'll get free domestic shipping, as a treat for all those who couldn't make it to the pop-up! So really, take advantage of this while you can!
Images: kyliecosmetics/Instagram (1); Courtesy Kylie Cosmetics (7)