I Tried Mask Layering & I'm Never Going Back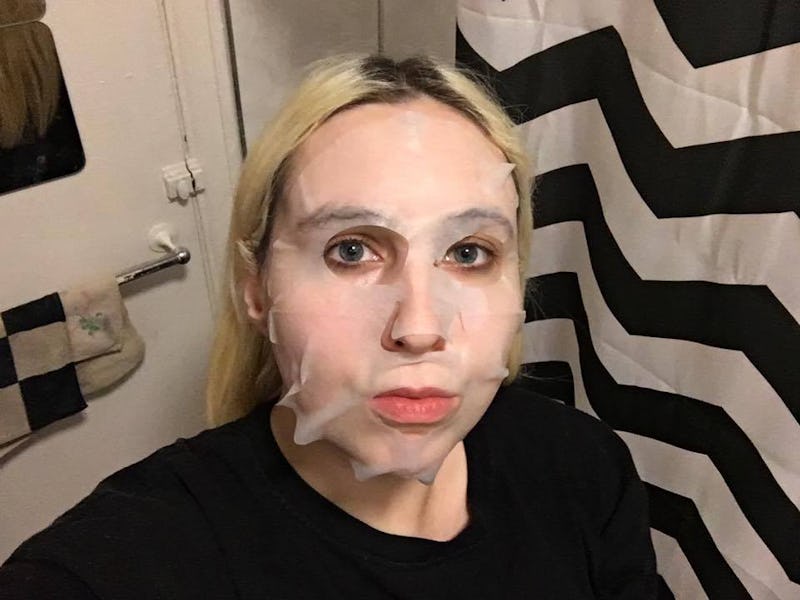 The concept of mask layering isn't just throwing on three sheet masks on top of each other, as the name first led me to believe. Instead, it's a systemized succession of masks that will leave your skin in tip top condition. Once I learned about mask layering, I just had one question: Does it actually work?
I've got to admit, this did sound kind of wasteful — isn't one face mask a day enough? — but also, it sounded like the best idea that anyone had ever had.
According to Vogue, mask layering is no new thing. In fact, their beauty editors admit to having used more than one mask in succession for years. As for the order of your masks, Vogue spoke to Dallas-based aesthetician Joanna Czech, who commented, "Always apply exfoliating or purifying masks first, and then hydrating, oxygenation, or rejuvenating masks."
Keeping this in mind, I lined up the three masks I would use for my own mask layering experiment. First up, a Blackhead Steam Balm by Korean brand Tonymoly. Next, a sheet mask: Tonymoly's I'm Real Rice Sheet Mask and to finish it all off, the Tonymoly Pore Tightening Cooling Mask.
Tonymoly Egg Pore Blackhead Steam Balm, $18, Amazon; Tonymoly I'm Real Rice Sheet Mask, $7, Amazon; Tonymoly Egg Pore Tightening Cooling Mask, $9, Amazon;
You may have noticed by now that I really, really like Tonymoly products and both before and after this experiment, I'd highly recommend them.
1. Before Picture
Because everybody loves a before and after pic, here's one of myself before I changed into my pajamas for my three mask day. As you can see, I'm pointing out a rather lovely spot on my chin. If you look closer, you can probably notice some blackheads on my nose.
2. Blackhead Steam Balm
This lovely little balm only need to go on areas that may have blackheads — so I may have been a bit too generous. You rub it in for a few minutes, it tingles and warms up under your fingertips and then you rinse it off. And voila! Your blackheads are visibly lessened. This is a charming close up of my nose area in a gorgeous shade of red after this exfoliating mask.
(Please excuse my natural brows, I'm growing them out.)
3. Rice Sheet Mask
Has anyone ever taken a selfie in a sheet mask and not looked like a serial killer? This mask was specifically geared towards helping achieve clear skin, and seemed like it would calm and soothe my recently exfoliated face. It also seemed like a tasty treat, according to my friend's dog.
Afterwards, instead of simply laying back and letting the mask absorb into my skin, I helped it out a little by massaging it in, just so I could carry on with my mask layering. Two masks in: My skin looked brighter and clearer.
If you're interested in this super cute cat headband to keep your hair out of your face during makeup and beauty routines, there's similar ones on Amazon. Special shoutout to my mom, who without which my hair would be covered in mask goo.
M-FIT Beauty Hair Band With Cat Ears, $8, Amazon
4. Pore Tightening Cooling Mask
Above you will find my very best impression of a moon emoji. This clay based mask does exactly what it says on the tin (the egg?) and tightens and cools your skin after all that hard, mask layering work. It feels awesome and definitely felt like the right end to this series of products.
5. After Pic
OK I'll admit, you may not be able to tell that my skin looks and feels amazing here but it does. I applied toner and moisturizer after my final mask, to truly finish this journey to the extremes of skincare. My skin had felt dull and gross for a couple of weeks and this process has honestly brought it back to life, so much so that I'm considering doing the whole thing again tomorrow. All in all, it was a success.
Images: Georgina Jones