The Best & Funniest Feminist Gift Ideas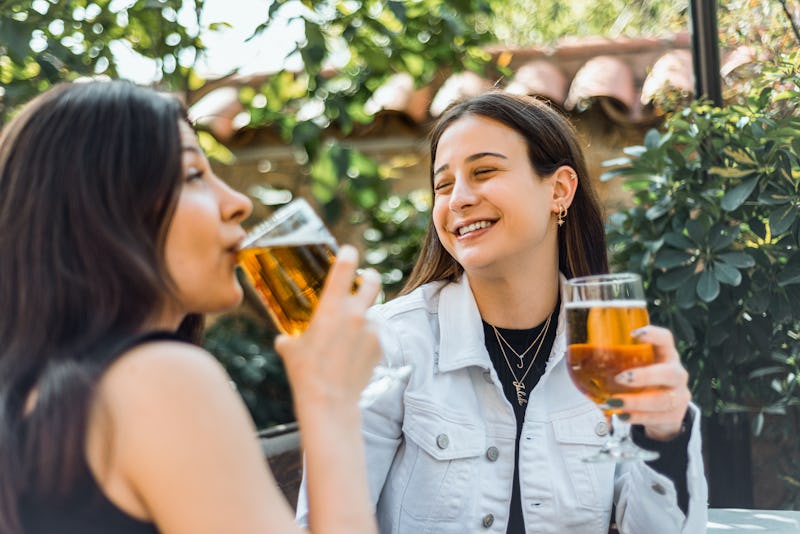 Alihan Usullu/E+/Getty Images
This past year was tough on all Americans, but women had a particularly rough 2016. That's why this holiday season, you should try and bring a little joy to the badass chicks in your girl gang with one of these funny feminist gift ideas. After all, who doesn't love humor with a feminist twist.
There are a lot of misconceptions when it comes to feminism, sadly including dozens and dozens of negative assumptions and generalizations about the movement and the people behind it. The truth is, though, that feminists come in all different shapes and sizes, and most of us come with a pretty good sense of humor, too. No, we don't think rape jokes are funny, we don't find violence against women hilarious, and misogyny will never make us laugh. But, you know what will? A hilarious feminist present that not only brings a smile to everyone's faces, but helps spread our advocacy. There's literally no way you can go wrong with a present like that.
Give the gift of love and equality this holiday season with the help of one of these 19 funny feminist gift ideas. From one feminist to another, trust me, we could all use a little laughter right about now.
1. Boob BFF Necklace
Book BFF Necklace, $22, Etsy
An updated version of your go-to gift from childhood, this unique and fun BFF necklace frees the nipple in a whole new way. Fun charms honoring women's bodies, this accessory comes in a wide array of colors that celebrate every kind of woman, and what better way to celebrate the holiday than with a sentiment like that?
2. Feminist Sweatshirt
Feminist Sweatshirt, $56, Feminist Apparel
Since your feminist friend is so sick of saying it out loud, give her a sweatshirt with the message she wants to convey written loud and clear. Cute and clever, this gift might just make the recipient do exactly what it says not to: smile.
3. Thou Shalt Get Her Own Money Phone Case
Thou Shalt Get Her Own Money Phone Case, $26, Tees in the Trap
Remind your feminist friend that she is independent in all the ways that matter with this phone case proclaiming it. Cute and funny, this is a useful gift and a cute gift.
4. Baby Got Books Tote Bag
Baby Got Books Bag, $31, Feminist Apparel
Perfect for the feminist reader in your life, this tote bag not only honors your friend's passions, but gives her something to lug all of her books around in. Simple yet funny, it's a practical and thoughtful gift that will become a staple accessory for your reader friend.
5. Happy Hilladays Socks
Happy Hilladays Sock , $12, Look Human
She may not have won the election, but Hillary Clinton is a role model for women and feminists everywhere. If your friends are #StillWithHer, they will love these funny festive socks honoring the woman who inspired them to keep fighting to break the glass ceiling.
6. Male Tears Mug
Male Tears Mug, $13, Etsy
Help your feminist friend start the day off right: with a little humor and dash of patriarchy smashing. Funny and adorably designed, this "Male Tears" mug is a must-have in every feminist's kitchen.
7. No Shame Duffle Bag
No Shame Duffle Bag, $28, Gypsy Warrior
Great for the gym or an overnight, this duffle bag advertises that when it comes to women's sexuality, there's nothing to be ashamed of. A useful accessory with blunt and funny message, help your feminist friend walk anywhere with pride.
8. Uterus Sweater Pattern Leggings
Uterus Sweater Pattern Leggings , $59, Look Human
'Tis the season for ugly sweaters and celebration of the female body, so what better way to honor that than with these uterus-themed leggings? Featuring uteruses, fallopian tubes, ovaries, and snowflakes, gifts don't get more hilarious, seasonal, or feminist than this.
9. Black History Year Magnet
Black History Year Magnet, $7, Tees in the Trap
While intersectional feminism is no laughing matter, this Black History Year magnet does have plenty of clever wordplay on it that will bring a smile to your friend's face. Featuring all of the months that should probably exist but don't, this gift may be small, but it makes a huge statement.
10. On Wednesdays We Smash the Patriarchy T-Shirt
On Wednesdays We Smash the Patriarchy T-Shirt, $19, Etsy
A t-shirt that combines feminist ideals with a classic Mean Girls quote? Gifts don't get much funnier or feminist than that. A great gift for the whole squad, make sure you get one of these clever clothing items for yourself while you're at it.
11. She's Beauty She's Grace Tank
She's Beauty She's Grace Tank , $24, Look Human
A fun tank top that celebrates beauty and fierceness, this gift is great for the feminist in your life who isn't afraid of her girly side. A perfect present for Miss Congeniality fans, its the perfect uniform to smash the patriarchy in.
12. Ovary Squad Embroidery Hoop
Ovary Squad Embroidery Hoop, $38, Etsy
There are a lot of squads out there, but none with more solidarity than the ovary one. Clever and cute, this is a funny gift a member of your own gang will love.
13. FUN In Fundamental Rights Sweatshirt
FUN in Fundamental Rights Sweatshirt, $34, Etsy
Put the fun and feminism back into the holidays with the help of this clever and comfy sweatshirt. A great gift to help get your gal pal through the long cold winter.
14. Puppies Not Patriarchy Doggie Tee
Puppies Not Patriarchy, $31, Feminist Apparel
If the only thing your friend loves more than feminism is her furry friend, then this hilarious and adorable doggie tee is a must for this year's gift list. Cute and clever, this pet accessory will help spread the message of feminism, because no one can resist petting a puppy, especially a puppy wearing clothes.
15. Ruth Bader Ginsburg Dissent Mug
Ruth Bader Ginsburg Dissent Mug , $19, Look Human
Give your feminist friend who is a proud Notorious RBG fangirl something fun to add to their growing collection of themed accessories with this "DISSENT" mug. A LOL-worthy present, this useful gift will help inspire her to keep giving the finger to misogyny, injustice, and inequality.
16. The Future Is Female Hat
The Future Is Female Hat, $16, Etsy
Cats + hats + feminism = pure gift-giving gold.
17. Grow A Pair Cross Stitch
Grow a Pair Cross Stitch, $28, Etsy
A unique and funny gift with a feminist inspirational message on it, this cross stitch takes the traditional idea of feminine frailty and turns it on its head. A fun decoration for the home or office, this present will remind your friend just how strong their gender is.
18. Squad Goals Throw Pillow
Squad Goals Pillow , $25, Look Human
While the rest of the world is still trying to figure out how to break into Taylor Swift's girl squad, you and your friends have another idea, and it involves dismantling the patriarchy one position of power at a time. A unique present that will look great in any feminist club house, this gift will reign supreme this holiday.
19. Feminist Baby Onesie
Feminist Baby Onesie, $37, Feminist Apparel
Start them off young with this funny baby onesie, perfect for the tiniest feminist-in-training you know. Cute and clever, baby and mom will appreciate the gesture.
Images: Alihan Usullu/E+/Getty Images; Courtesy of brands