'Rogue One's Golden Globes Chances Are Unclear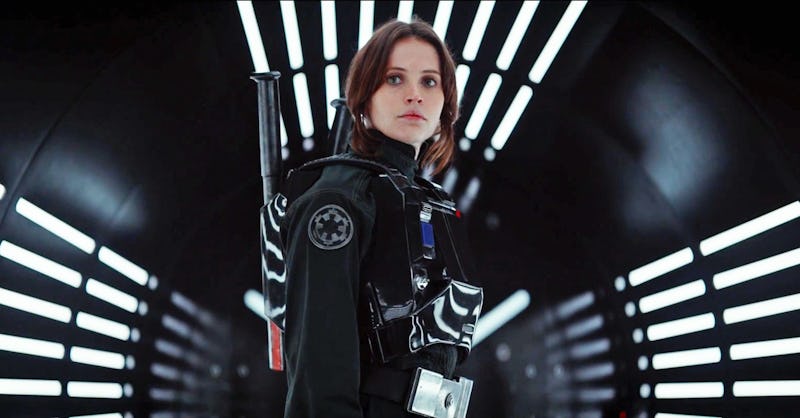 The Golden Globes will be here before you know it — the ceremony is set for Jan. 8, 2017 — and talk of which movies and TV shows will be nominated on Dec. 12 is heating up. One of the biggest questions on everyone's minds is will Rogue One be eligible for the Golden Globes? The Star Wars prequel is one of the most anticipated movies of the year, but it won't premiere in theaters until Dec. 16, four days after the Golden Globe nominations are announced. Despite its late release date, Rogue One could still be eligible as long as Disney plans on hosting a screening for the Hollywood Foreign Press Association (HFPA) as soon as possible.
According to the official Golden Globes rules for eligibility, a movie must be released and screened for the HFPA between Jan. 1 and Dec. 31 of the qualifying year. Rogue One definitely meets the first half of the criteria. The film's Dec. 16 release date falls well within the eligibility window. What is unclear is whether or not Rogue One will be screened for the members of the HFPA before the nominations are announced.
When it comes to major blockbusters like Rogue One, studios try to avoid spoilers at all costs. That is why Star Wars: The Force Awakens did not get any Golden Globes love in 2015 — there were no advanced screenings for the HFPA. While it would be nice if Disney and Lucas Films gave Rogue One a shot at Golden Globes glory, if there have been any advanced screenings, they have not been disclosed to the public.
The good news is Rogue One does not need award momentum to be a box office success. While it is always fun to see the actors rush up on stage to accept a well-earned trophy, when it comes to blockbusters, all they need to do is entertain and earn money. Felicity Jones may end up giving an award-worthy performance as Jyn Erso. If she does, she could still be in contention for the Oscars and the dozen other award shows set to air in 2017. Not getting nominated for any Golden Globes is not going to slow Rogue One down.
When the Golden Globe nominees are announced, fans will know for sure whether or not Disney hosted the all important screening for Rogue One. Just remember if you don't here Jones' name among the nominees, it does not mean Rogue One was snubbed; it likely means the members of the HFPA were not given an opportunity to view the film before they cast their ballots. No matter what happens, the most important thing is Rogue One will be storming theaters in less than a week, and as exciting as awards season is, actually seeing epic space battles led by fierce women is way more fun.
Images: Disney (2)