The Kylie Shop's Blackout Lips Bomber Sold Fast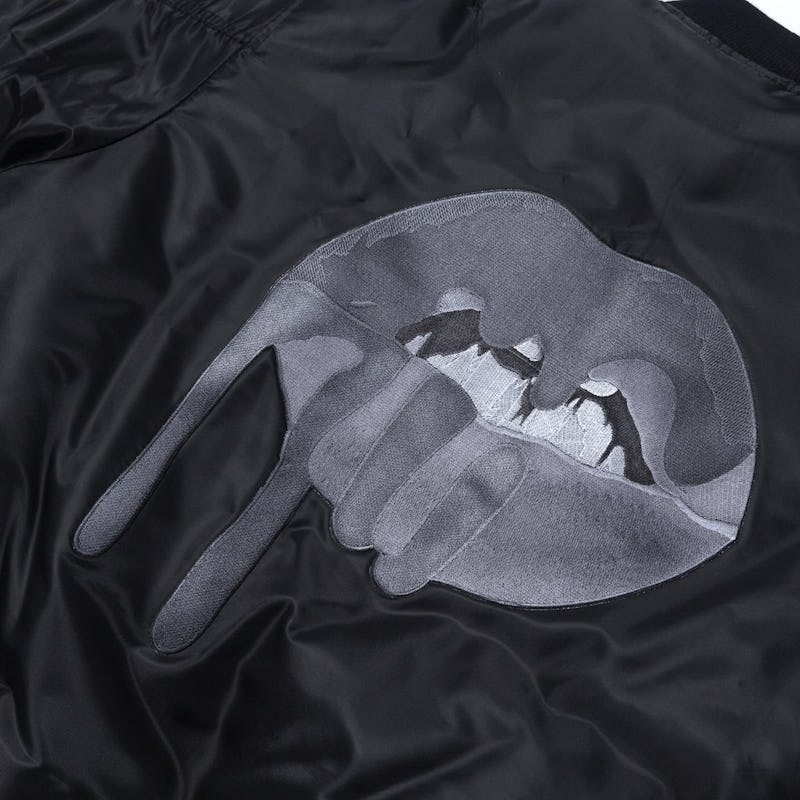 Looking to stock up on some Kylie Jenner gear? If so, you better act fast. The first item has officially sold out on the Kylie Shop, and it's probably not what you thought. I'm willing to bet it won't be the first product that is no longer up for grabs either. Will the Kylie Shop's Blackout Lips Bomber be restocked, you ask? There haven't been too many hints thrown around, but here's what makes the most sense for the business.
When Jenner first teased the idea of creating a clothing shop, I knew it would be popular. I had no idea that the most expensive item available would be the first one to sell out though. According to her site, the Blackout Lips Bomber was the first to go. Considering it was priced at $200, this is pretty shocking.
If you were looking to save up for the item, you're out of luck for now. It's not exactly clear if the shop will have a restock or not. Since there's no word about the line being limited-edition, I'm will to bet that it will be though. As of Dec. 10 at 3:30pm EST, the bomber jacket, pins, trucker hat, and the Kylie Script Sweatshirt are currently sold out as well.
Blackout Lip Bomber, SOLD OUT, kyliejennershop.com
When you think about it, this item selling fast makes perfect sense. Jenner already has a huge Kylie Cosmetics following. Since the jacket has the Lip Kit logo on it, mega fans would instantly be drawn to it. Although there are other items with the same logo, this is by far the trendiest.
Blackout Lip Bomber, SOLD OUT, kyliejennershop.com
It also makes sense because of the high shipping price. Why buy a phone case for $15 with $10 shipping when you could just invest in a great wardrobe staple instead? It's not exactly my idea logic, but it is a better appeal than paying far too much for a phone accessory.
Blackout Lip Bomber, SOLD OUT, kyliejennershop.com
The bomber was sold in sizes small to extra large, and every single one of them are sold out. Fingers crossed that she decides to make the sizing more inclusive, if she decides to restock!
Images: The Kylie Shop (3)