This Smiling Beauty Sponge Is Too Cute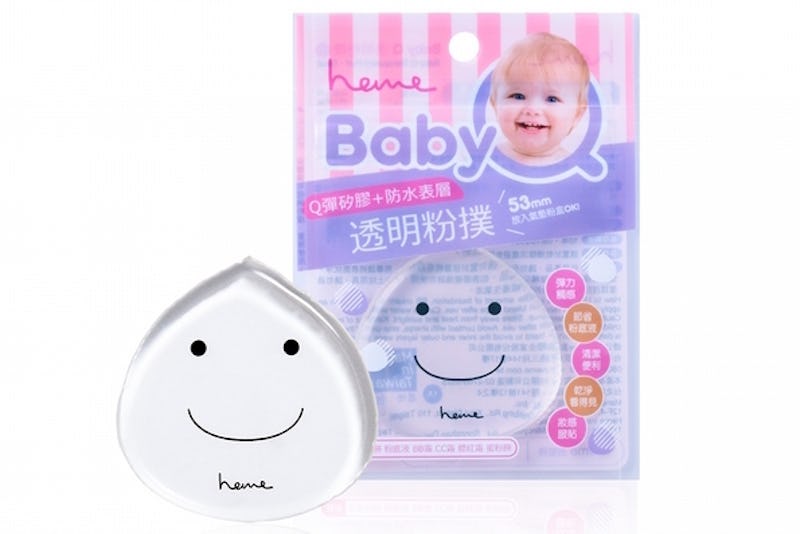 You've most likely heard of the Silisponge from Molly Cosmetics, the new beauty tool spreading like wildfire among beauty gurus and enthusiasts everywhere. Sadly, like all trending items, this silicone sponge is already sold out (though you can pre-order it on the Molly Cosmetics website). But don't despair, beauty queens! The Heme Baby Q Transparent Puff is perfect if you couldn't get your hands on the Silisponge — and it's also super adorable.
The Silisponge made it's way into beauty consciousness after a Reddit user discovered it in the hidden depths of the internet. Silisponge boasts that the tool provides an airbrushed look (much like a Beautyblender, without absorbing any extra product). Silisponge also claims to be much easier to clean.
With qualities like that, it's no wonder that the product sold out pretty much instantaneously — Molly Cosmetics is on it's ninth restock now. Gurus and YouTubers alike have been trying to recreate the magic of the Silisponge using silicone bra inserts, but no alternative is quite as precious as the Hemi Baby Q Silicone Sponge, which seems to be basically the same thing as the Silisponge but with an added smiley face. OMG.
Hemi Baby Q Transparent Puff, Info on price & how to purchase at airflov.com
It just might be the most precious beauty tool in the game.
Seriously, it looks magical.
Just look at that little face! Like the Silisponge, the Heme Baby Q Transparent Puff claims to apply foundation evenly without wasting any product. The smooth, silicone surface is reportedly easy to clean and is soft on the skin.
The only drawback is that this Taiwanese product unavailable in the U.S. However, wonderful websites like Airflov will happily provide you with the product as long as you're willing to pay the shipping cost, conversion rate (which brings the product to about $10 USD), and administrative fee. Just put in your request and the next kind traveler arriving from Taiwan will procure it for you. With it's sleeker design and 10-year lifespan, the Heme Baby Q Transparent Puff definitely seems more than worth it — especially if you like to do your makeup with a smile.
Images: Airfrov