Is 'Captain America 2' Better than 'The Avengers'?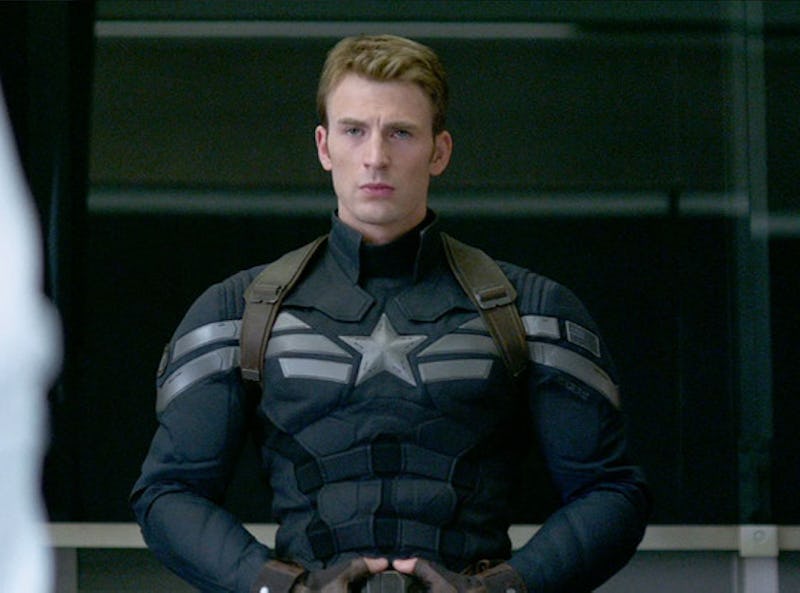 The latest film of Marvel's Avengers franchise, Captain America: The Winter Soldier, comes out Friday and as the latest addition to an unstoppable force of insanely successful movies, it's under a lot of pressure to make money, please fans and keep the hype going for the series' next installment. Luckily, all early signs point to the second Captain America movie completely blowing away all of its predecessors, which means yes, Captain Americ a 2 might be better than The Avengers.
It seems impossible. Not only did The Avengers earn over $1.5 billion (with a B) worldwide and become the third highest-grossing film of all time, but audiences and critics alike freaking loved it. On Rotten Tomatoes it still has a 92 percent fresh critical rating after 301 reviews and more tellingly, a 91 percent fresh audience score after over one million ratings.
Though it's not likely to beat The Avengers financially, Captain America: The Winter Soldier might still win as the better movie. It's first 101 reviews have earned it a 91 percent on Rotten Tomatoes so far and while fans haven't gotten to see it yet, critics have some pretty great things to say.
Based on those reviews and what we know about the movie so far, here's why Captain America: The Winter Soldier has a good chance of besting The Avengers.
It's A Sequel
So far, every sequel within The Avengers franchise has beaten its previous movie financially, and audiences seemed to prefer Thor: The Dark World to the original. And though no sequel has managed to top the first Iron Man quality-wise, Tony Stark's third movie was much better received than his second.
As Captain America's second standalone film, The Winter Soldier is already on track to beat the first's movies earnings, which totaled about $370 million. The Winter Soldier was released to some international markets on Wednesday and has already made over $70 million and is predicted to bring in at least $90 million in North America this weekend. That would be Marvel's second most successful opening weekend ever.
Fans Know Steve Rogers
Besides the financial perks, there are a lot of benefits to being a sequel in the Avengers franchise. In the first Captain America, viewers who hadn't read Captain America comic books or seen his cartoons probably weren't very familiar with the character. Much of The First Avenger was spent introducing Steve Rogers' backstory and showing his transformation from a scrawny Brooklyn kid into a Chris Evans-sized superhero, before getting into the real action.
And anyone who didn't see the first Captain America likely fell in love with the character in The Avengers, and got to see what kind of hero he is without the backstory. He held his own alongside the other Avengers, was adorably old-fashioned, always wanted to help others and still looked like Chris Evans. Now The Winter Soldier can get right to its main plot without all of the exposition. Audiences are familiar enough with the character to be on his side from the moment the movie starts and follow him wherever the narrative leads.
A More Realistic, Complex Enemy
In the first Captain America, Cap battles Red Skull, a Nazi officer who turns into that red-faced monster after going through his own version of Captain America's transformation. It was ridiculously easy to root against him, because he was both a Nazi and a red-faced monster. In The Avengers, Cap and the rest of the gang battle Loki, Thor's adopted, demi-God half-brother of a different alien race, who uses yet another alien race to attack New York. As much as we all love Tom Hiddleston, it was still easy to cheer for the Avengers as they fought flying alien robots, the clear bad guys.
The Winter Soldier doesn't make things so clear. As the trailer suggests, Captain America begins to grow suspicious of Nick Fury and S.H.I.E.L.D. itself for their tactics and that crazy elevator scene shows not everyone is who they seem. Without spoiling anything, even the titular villain, the winter soldier himself, is complicated. Entertainment Weekly's Owen Gleiberman sees this as a way of transforming the character, saying, "what works here is setting up Captain America in a ­battle against…America. That's the way to turn a super-square into an awesome antihero." While Time's Richard Corliss praised this more complex telling of a superhero tale.
"The Winter Soldier is no labored treatise on political science; it fulfills all the expectations of a Marvel movie. But this time the danger doesn't emanate from a fantasy villain like Neutron or an imaginary realm like Asgard. It's grounded in threats from today's headlines. (Russia shows up too, though as a victim country — not an invader.) Instead of butter on your movie-theater popcorn, you get a healthy spritz of paranoia. It tastes good."
Hero Diversity
So far, many of the Marvel Avengers films have been annoyingly white-washed. Yes, Samuel L. Jackson appears as S.H.I.E.L.D. director Nick Fury, but he tends to just call the shots from the sidelines while everyone else actually fights. The lone black hero was Tony Stark's sidekick James Rhodes, or War Machine, played by Terrence Howard in the first Iron Man and Don Cheadle in the other two.
Now he'll finally be joined by Anthony Mackie's Sam Wilson, or Falcon. The character is a military-trained combat warrior, who's hero name comes from the mechanical wings that let him fly. He's also a historic character, as Falcon's 1969 introduction made him Marvel's first ever black superhero. Mackie's performance has received a lot of praise already, with The Washington Post 's Ann Hornaday saying he, "convincingly introduces a new character, the Falcon, with appealing, unforced charisma and the grace of a titanium Icarus."
More Ass-Kicking Women
Even though the poster for Scarlett Johansson's Black Widow was frustratingly oversexualized, her role in the film promises to be much tougher and central to the plot. She also won't be the only kickass woman in the film. Like in The Avengers, Black Widow will be joined by Cobie Smulders' S.H.I.E.L.D. Agent Maria Hill, but this time, they only have to share the screen with one avenger, giving more time for the women.
They'll also meet a new character, another female S.H.I.E.L.D. Agent, played by Revenge's Emily VanCamp. Though VanCamp's character is not yet as fully realized as Black Widow, this serves as her introduction to the franchise, so we can expect to see even more of her in future films.
It's... Pizza
The Chicago Tribune's Michael Phillips used a delicious metaphor to describe The Winter Soldier, "The movie does its duty. It's a reliable commodity, delivered efficiently and well, like pizza." It doesn't sound like he means this as a huge compliment, but what else can a comparison to pizza be? There is no higher praise and that is something The Avengers just can't compete with.
Images: Disney