Accessories Every Book-Lover Needs This Holiday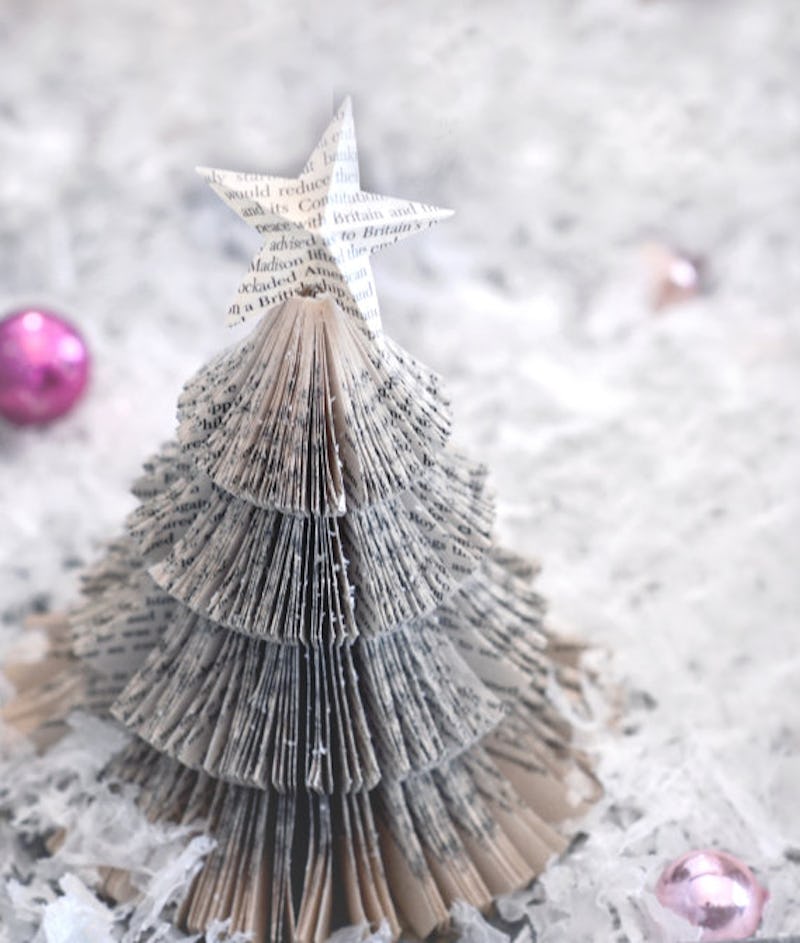 'Tis the season to deck the halls with boughs of holly, twinkling lights, and literary themed holiday decorations — do you know where your bookish ornaments are? Your love for all things literary may be year round, but this time of year gives you the perfect excuse to show it loudly and display it proudly.
Now that December is in full-swing, homes everywhere are getting decked out for the holidays. Trees are being trimmed, lights are getting strung, stockings are being hung with great care — you get the picture. It's traditional this time of year to add a bit of glitz and glamour to your home decor as a way of welcoming in the festive season, and there is no better way to do that than with some book-inspired holiday decorations.
Whether it be a recycled paper book wreath or an ornament featuring your favorite literary character, there are so many different ways to add a bookish touch to your traditional holiday decorations. Winter is a wonderful time of year for book-lovers, not just because of all the time spent indoors reading, but because its the perfect time to show off your complete and utter love for books, with little help from a holiday twist.
From ornaments to wreaths, garland to banners, here are 15 lovely literary holiday decorations that will transform your home into the festive bookish den of your dreams.
A Christmas Carol Print, $9, Etsy
Is there a more appropriate book that A Christmas Carol for the holiday season? Celebrate Dickens's favorite holiday with a print inspired by his famed Christmas story, a beautiful and bookish decoration that will look gorgeous in any home.
Wall Tapestry, $39, Society6
Speaking of A Christmas Carol, dedicate an entire wall of your home to the book's holiday spirit with this fun and beautiful tapestry featuring one of the novel's most famous book quotes. Bright and bold, this decoration is the definition of Christmas cheer.
Christmas at the Burrow Soy Candle, $18, Etsy
Always dreamed about having the holidays with the Weasleys? Now is your chance, or at least, your chances of imagining it with the help of a Christmas candle inspired by the Burrow, the home base of Ron and his red-headed family.
"Winter Is Coming" Dictionary Art, $10, Etsy
Brace yourselves, because holiday-themed jokes are coming. Celebrate the cold season and one of your favorite book series with this famous quote and winter-themed decoration that will look great in any literary-lover's home.
Dear Santa Canvas, $78, Society6
When it comes to book-lovers, one thing is for sure: our Christmas list is always pretty short, because all we need are new books. Instead of sending a letter, post your holiday wishes boldly on your wall with this simple but beautiful seasonal canvas.
Hogwarts Christmas Pillow, $20, Etsy
You may not believe in Santa anymore, but chances are, you're still holding out hope for your Hogwarts letter. This Christmas pillow is the perfect mix of that childish hope and a bit of holiday cheer.
"Eat, Read, and Be Merry" Throw Blanket, $49, Society6
Since all you want to do this holiday is curl up with a blanket and a good book, make sure you get yourself a seasonal throw to keep you warm and help you celebrate. This bright and cheerful one, featuring a beautiful deer and a pile of books, is the perfect cozy touch to your existing holiday decor.
Stag Tree Topper, $32, Etsy
Whats the only thing better than Santa Claus? Harry Potter, duh. Give jolly old Saint Nick a break from sitting atop the tree this year by getting this Harry Potter patronus-inspired tree topper instead. Beautiful and elegant, it can help you add a touch of magic to your Christmas tree.
Christmas Book Tree Rug, $28, Society6
Holiday decor starts at the door. Begin yours with a book-inspired Christmas tree rug, ideal for stamping snowy boots off on.
Paper Christmas Tree, $20, Etsy
Whether you are looking for a smaller alternative to an actual Christmas tree or smaller decorations to display throughout the house, this paper tree made from book pages is a beautiful option that honors your love for all things literary.
"Winter Wonderbooks" Pillow, $27, Society6
Go to sleep at night knowing you're living in a land of winter wonderbooks with this fluffy, seasonally appropriate pillow. Simple in design and color, it will work with any pre-existing bedroom decor, adding just the right touch of holiday cheer.
Book Page Wreath, $20, Etsy
Delicate and unique, this book-inspired wreath looks beautiful displayed all year round, but it is especially fitting for the holiday spirit. Whether you display it on your door or on your wall, it adds just the right amount of literary charm to your holiday decor.
Christmas (Book) Tree Art Print, $18, Society6
Everyone has a favorite Christmas story, and this print honors the best of them. Featuring How the Grinch Stole Christmas, A Christmas Carol, A Christmas Memory and more, it's a pretty and nostalgic way of honoring your seasonal favorites.
Book Paper Garland, $10, Etsy
Twinkle lights aren't the only decorations for your tree. Instead of traditional tinsel and garland, try these strands of handmade book garland with recycled pages cut out to look like stars. Simple and elegant, they'll be a beautiful accent on any literary lover's tree.
"I Read Under Mistletoe" Framed Print, $32, Society6
Who needs someone to kiss when you have a great book to read? Celebrate your true love this holiday, books, with this seasonal print perfect for book-lovers everywhere.
Images: Etsy