Hair & Skin Products Reddit Users Love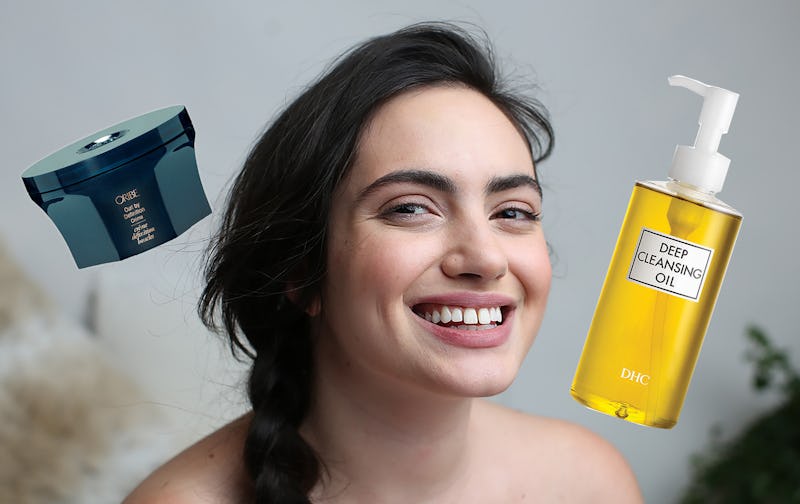 My new favorite hobby has been scrolling through Reddit for new and cool beauty products recommendations. (Seriously, I can spend hours skimming through their feeds.) And since the beauty buffs online are very passionate about their holy grail items, I compiled a list of the best hair and skin care products recommended by Reddit users lately. After all, who better to read reviews from than other folks who are totally obsessed with everything related to beauty?
As a beauty junkie, I love when I discover a life-changing product, especially one that makes my hair feel healthier or my complexion get clearer. Let's be honest, finding the best hair and skincare buys for yourself is a tricky feat — and it can get seriously expensive if you don't read reviews or get recommendations from different sources. What's so cool about Reddit beauty boards is that you'll find brands that you never heard of, or products that originated outside the U.S., including ones that might just wind up finally completing your "holy grail" beauty routine.
So, what can you expect to see on this innovative list? All-in-one hair products, a moisturizer that actually shrinks the appearance of your pores, and even a serum that gets rid of the most stubborn blackheads. So, take a look through this genius list of beauty products from Reddit, and get shopping to make this year the best yet for both your strands and your skin.
1. ORIBE Curl by Definition Crème For Humidity Protection
ORIBE Curl by Definition Crème, $55, Amazon
Calling all curly-haired people: Reddit user maytheotherstakeyou recommends this ORIBE Curl by Definition Styling Créme for elongated curls and protection from humidity. "It doesn't look like product at all, just wonderfully defined natural curls," says maytheotherstakeyou, adding that "it also smells amazing."
2. Ren Anti-Redness Serum For A More Even Complexion
Ren Evercalm Anti-Redness Serum, $21, Amazon
"If your skin is red this is your HG for sure," says Reddit user high-valyrian, who is also a self-proclaimed skincare nut. As someone who claims to have dry flaky patches and redness, this user says that Ren's Evercalm Anti-Redness Serum "works like a friggin' charm."
3. It's A 10 Miracle Leave In Product For Serving All Your Hair's Needs
It's A 10 Miracle Leave In Product, $13, Amazon
This singular bottle of It's A 10 Miracle Leave In Spray will solve all of your hair problems from shine to frizz and even protect your hair from heat, according to Reddit user inochiistal. "My hair is straight but really thick, and so it's hard for me to get a brush through it dry or wet," they write. "The Leave-In Spray really helps my comb glide through, and my hair feels/smells great afterwards."
4. Cosrx Bha Blackhead Power Liquid For The Most Stubborn Skin Concerns
Cosrx Bha Blackhead Power Liquid, $18, Amazon
If you're about to give up on those pesky blackheads, then wait until you try this Blackhead Power Liquid — according to beauty fans, it will totally do the trick. [This product] completely eliminated the dry flaking patches and closed comedones on my skin," Reddit user abbeyrogue writes. "Also helped lessen my acne and clogged pores."
5. ORIBE Dry Texturizing Spray For Fantastic Hair With An Amazing Scent
ORIBE Dry Texturizing Spray, $44, Amazon
Basically flawless hair in a bottle, this ORIBE Dry Texturizing Spray will clean and style your hair with just a spritz, so it's no wonder it's on everyone's holy grail list. "This is a miracle product for me, writes Reddit-er roadtohealthy. "It makes my hair look better than anything else I've ever found." Plus, Amazon reviewers note that it smells amazing — what could be better than that?
6. Living Proof Full Dry Volume Blast For Adding Body To Your Hair
Living Proof Full Dry Volume Blast, $30, Amazon
The Living Proof hype is real, folks. "I'm a sucker for a good texture/volume spray, and this is hands down the best I've tried," says Audreybollella. "It gives me so much volume and makes my hair so big and sexy without any sticky grossness. Also good for refreshing your style at the end of a long shift."
7. Organix Renewing Weightless Healing Dry Oil For Healthy Shine
Organix Renewing Moroccan Argan Oil Weightless Healing Dry Oil, $13, Amazon
Nicknamed "liquid gold", argan oil's natural ingredients are a godsend to your hair and skin — and 13 bucks, this Weightless Healing Dry Oil is practically a steal. "Ever since I started spraying Argan Morroccan Oil, it's MUCH easier to comb, plus I get a beautiful shine that lasts me through the day," writes heartsnoble6. "My hair looks and feels so happy now."
8. Dr. Brandt Pores No More Pore Thing For Minimizing Enlarged Pores
Dr. Brandt Pores No More Pore Thing with EVERMAT, $23, Amazon
This chrome blue ball is filled with a formula that anyone with concerns about their pore size should totally try. "As a girl with oily skin and large pores, I was looking for something that would actually shrink the size of my pores and this REALLY works," writes one Reddit user. The Pore Thing is a gel moisturizer that helps tighten the pores and control oil, giving your face a matte finish. It's a must-try for anyone struggling with clogged pores.
9. Kenra Platinum Silkening Mist Spray For Repairing Split Ends
Kenra Platinum Silkening Mist Spray, $15, Amazon
"Kenra is literally a gift from above" claims RhiaWilder. "It smells light and sweet, and leaves my hair looking healthy, shiny, and gorgeous." If you're unfamiliar with this product, it helps repair split ends while protecting your hair from styling tools, not to mention shiny hair for days.
10. Redken Guts 10 Volume Boosting Spray Foam For A Big Hair Boost
Redken Guts 10 Volume Boosting Spray Foam, $16, Amazon
For people who want their hair to have mega volume, Reddit user apierson2011 swears by Redken's Guts 10 Volume Boosting Spray. "This root spray does an impeccable job of not being like sticky or clumpy the way hair spray or gel can be," apierson2011 writes. "It also keeps the volume in my hair, the way it is right after I blow dry it, whereas without it my hair kinda falls back onto my scalp after I cools."
11. Missha Super Aqua Refreshing Cleansing Foam For Korean Skin Care Lovers
Missha Super Aqua Refreshing Cleansing Foam , $18, Amazon
Korean beauty products are super popular on Reddit, like the Missha Super Aqua Refreshing Cleansing Foam, which contains sweet flag extract and willow bark extract to cleanse your face thoroughly yet gently. "The most amazing cleansing foam ever," writes Reddit user my_lady_my_tuna. "One bottle lasted me almost a whole year of twice daily use."
10. DHC Deep Cleansing Oil For Getting That Tough Eye Makeup Off
DHC Deep Cleansing Oil, $27, Amazon
It may seem a little odd at first to use oil on your skin when you've been told forever that oils can clog your pores, but it's actually super effective. This cleansing oil gets rid of everything on your face, even that super stubborn mascara or waterproof eyeliner. "DHC is amazing," writes addict2aznb. "I liked its thicker consistency, and just the way it spread on my skin." Just be sure to rinse thoroughly.
Bustle may receive a portion of sales from products purchased from this article, which was created independently from Bustle's editorial and sales departments.
Images: Ashley Batz/Bustle (1); Amazon (12)