13 Hilarious Political Christmas Sweaters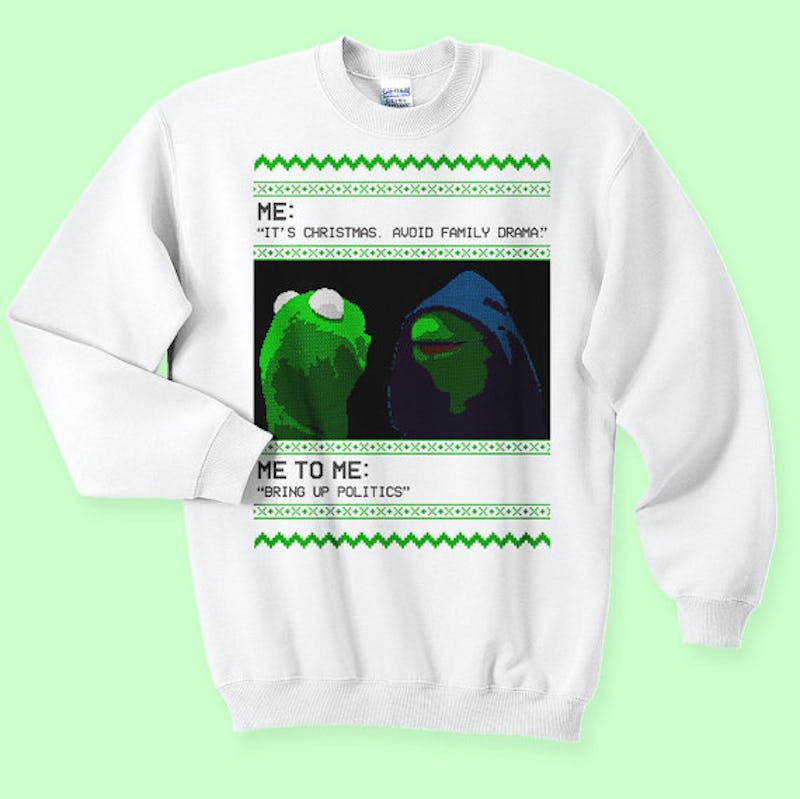 The holidays can be a stressful time for everyone, and that's before you add this year's tense political climate into the mix. If you want to fully embrace the chaos from the moment you step through the mistletoe-clad doorway, try wearing a ugly political Christmas sweater.
Ugly Christmas sweaters pop up every year, and they don't seem to be going away any time soon. We wear them because it's almost like a second Halloween, a way to dress up without going full-on Santa. A cute holiday sweater that you can picture your grandmother wearing is fun and all, but an ugly holiday sweater is the life of the party. They make a work party or hanging out with your friends a little more exciting, and you're guaranteed to have something to talk about.
Sure, you can get an ugly Christmas sweater that will be relevant every year. Instead of doing that, why not get one to memorialize what has arguably been one of the wildest (political or otherwise) years ever with a festive touch? Imagine finding one of these in your closet years from now and having 2016 and your holiday spirit come rushing back. So, in a phrase that might be used with caution this season, let's get political.
1. Nasty Woman Sweater
Nasty Woman Sweater , $55, Brave New Look
Wrap a green scarf around you when wearing this sweater and you're instantly festive. The great thing about this sweater is you can keep wearing it through the holiday season and presumably for the next four years whenever you get cold.
2. When They Go Low, We Go High Sweater
When They Go Low, We Go High Ugly Xmas Sweater , $34, Brave New Look
Michelle Obama is an all-around amazing First Lady, mother, public speaker, and fashion icon. Show her some love and honor a great quote from 2016 with this cozy sweatshirt.
3. Hillary Clinton Rainbow Suits Sweater
Hillary Clinton Rainbow Suits Sweater , $45, Shelfies
This one is arguably not Christmas themed, but if you throw on a Santa hat you're all set. And of course you'll be wearing this on Christmas, because if you owned this why would you ever take it off? Look at all those pantsuits! There's a red one and a green one too.
4. A Mean One, Mr. Trump Sweater
A Mean One Mr. Trump , $30, Funny Shirts
"You're as cuddly as a cactus, you're as charming as an eel, Mr. Truuuump!" Everybody sing along now. Will his heart grow three times the size on inauguration day?
5. Do You Hair What I Hair Sweatshirt
Do You Hair What I Hair Donald Ugly Christmas Sweatshirt, $50, Fresh Brewed Tees
Really, the karaoke variations are endless with these sweaters. You and your family can make a game of it. Singing always puts people in a good mood, right?
6. I'm Deplorable Sweater
I'm Deplorable Donald Trump Ugly Christmas Sweater Design Sweater, $35, Tee Shirt Palace
If you're proud of it, you might as well let everyone know this holiday season. While Hillary Clinton herself said she was being "grossly generalistic" with the "basket of deplorables" comment, you can show where you stand with this and stay warm.
7. Bernie 2016 Ugly Holiday Sweater
Bernie Sanders 2016 President Ugly Holiday Sweater , $57, Zazzle
In case you're still feelin' the Bern, show it off with the sweater that's so cute your family might think you're Grandma embroidered it herself.
8. Yule Miss the Bern Sweatshirt
Yule Miss The Bern Ugly Sweatshirt, $50, Fresh Brewed Tees
They say you don't know a good thing until it's gone, and with this slightly ominous sweater you can remind everyone of that this holiday season. It's still festive enough to bring out some holiday cheer, and just look at the little birds.
9. Barackin' Around The Christmas Tree
Barackin' Around The Christmas Tree Ugly Christmas Sweatshirt, $50, Fresh Brewed Tees
For those of us who are basking in Obama's final days in office, looking at the family's Christmas card longingly, and wishing we could keep him around longer, this is the perfect sweater. It's also got an American flag background and an electric guitar, so it's sure to be a hit.
10. Joebama Ugly Sweatshirt
Joebama Ugly Sweatshirt, $50, Fresh Brewed Tees
One of the only good things to come out of 2016 is the stream of pure and wholesome 'Joebama' memes. If you can show me a friendship more magical than this, it'll be a Christmas miracle.
11. New President Sweatshirt
All I Want New President Sweater , $30, Funny Shirts
Maybe you were never satisfied with any of your options in the first place. Maybe you didn't vote and now you wish you had a reset button. Or, maybe you just want to express your general dissatisfaction with the current state of politics. This sweatshirt has got you covered, and who knows how many years you could use it for.
12. Harambe Ugly Sweater
Harambe Ugly Sweater, $70, Get on fleek
For those of you who somehow didn't hear about this 17-year-old lowland gorilla, his story is tragic. He was shot when a boy fell into his enclosure at the Cincinnati Zoo. He turned into a meme, which is pretty telling of 2016 as a whole, and many people on Twitter claimed to have written the gorilla in during the 2016 Presidential Elections. If that was you, here's your reward Christmas sweater. Let's hope this one stays in 2016.
13. Evil Kermit Ugly Christmas Sweater
Evil Kermit - 2016 Meme - Ugly Christmas Sweater, $32 and up, Etsy
Show everyone your internal struggle between avoiding family drama and launching into a political tirade with this Evil Kermit sweatshirt. They might appreciate the honesty, and you might have to explain to your grandparents what a meme is.
No, you probably don't want to encourage any raucous political discussions over Christmas dinner — or then again, maybe you do. Either way, let your political Christmas sweater do at least some of the talking.
Images: Courtesy Brands