These 'Real Housewives' Reveals Were Shocking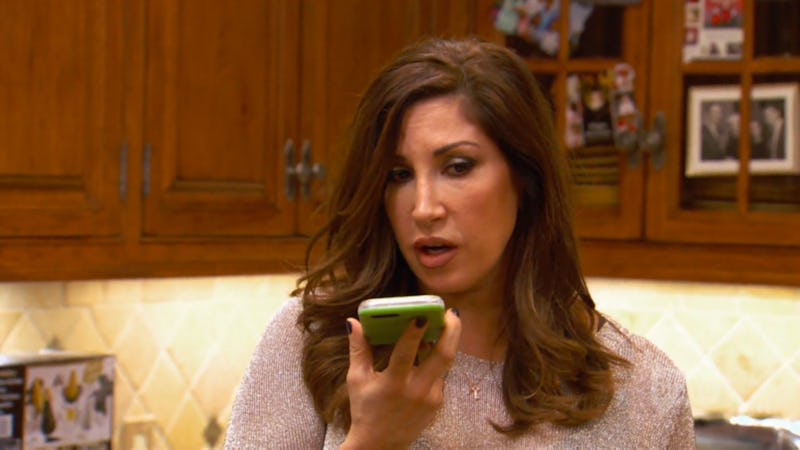 If I had my way, I would watch Real Housewives shows every day for the rest of my life. That is because this reality TV franchise never disappoints. The non-believers don't understand how I can be so consumed with Real Housewives, but they really just don't get it. These shows always have new and exciting story lines. This last year alone brought a lot of amazingness to Housewives fanatics. 2016 gave us some of the craziest Real Housewives reveals of all time.
Just when viewers thought that they had a show or a cast member all figured out, then there came a reveal of unexpected drama that completely changed up the game. I have no idea how 2017 could possibly top the drama of 2016, but I'm excited to see how it stacks up.
As per usual, last year was another all star year in the Real Housewives franchise with higher stakes drama and too many twists and turns to count. Luckily for you, you don't have to keep track of anything because I did all of the work for you. There's no better way to celebrate your Real Housewives love, than by reminiscing about some of the craziest Real Housewives reveals of 2016.
1. Teresa & Melissa Ending Their Feud
Sisters-in-law Teresa Giudice and Melissa Gorga always talked a good game about burying the hatchet, but they never actually did and always fell back into their old habits of feuding. That's why it was so shocking when they finally made up and became true, unwavering allies during Real Housewives of New Jersey's Season 7. After years of ruthless (and pointless) arguing it is unbelievable that these two are best friends, but I am loving it.
2. Luann's Boyfriend "Dating" Sonja & Ramona
Luann de Lesseps is one of those people who is never single for long. So, I wasn't super shocked to see that she found a new man during Real Housewives of New York City's eighth season. However, I was super surprised to find out that the man of her dreams previously "dated" her costars Ramona Singer and Sonja Morgan (or, well, had a friends with benefits sort of deal in one case). I'm all for being mature and leaving the past behind, but that is just an awful lot to deal with. Season 8 is done and I'm still not over this revelation and don't know if I ever will be.
3. Kelly & Her Husband Splitting Up For Years & Almost Divorcing
Since Kelly Dodd was new to Real Housewives of Orange County during Season 11, pretty much everything she shared about her personal life was new information. Nevertheless, I was still surprised when Kelly shared that she and her husband, Michael Dodd, were separated for two years, almost divorced, and she was engaged to someone else. Wow. The new girl really brought it with the drama.
4. Jacqueline Calling Melissa Out For Her Nose Job
I was completely shocked when Jacqueline Laurita started yelling at Melissa during the cast's Vermont trip and said she had "four nose jobs." Soon after, Melissa did admit to the pretty obvious secret, but made it clear that it was not four nose jobs.
5. Bethenny Sharing Pics Of Tom Kissing Someone Else
Luann's now-husband, Tom, was not a favorite of the RHONY viewers (or the cast members) during Season 8, but I never ever expected this reveal. A friend of Bethenny Frankel's sent her a photo of Tom kissing a woman who wasn't Luann very soon after their engagement. Luann was in awe and so was I. Now, they've moved on and are happily married.
6. Cynthia Saying That She & Kenya Weren't Best Friends
After NeNe Leakes' departure from the Real Housewives of Atlanta, Cynthia became super close with Kenya Moore, who really had her back with some fierce loyalty. They were always hanging out and Kenya was really stepping up to defend Cynthia whenever needed. That's why it was a real shock when Cynthia backtracked on her friendship with Kenya as soon as NeNe reappeared and declared that she and Kenya were "not best friends." They've since moved on with Cynthia making it clear that she didn't mean it to sound like such a strong statement.
7. Heather Getting Upset After Kelly Cursed At Her In A Sushi Restaurant
I would be annoyed if people were arguing while I was trying to enjoy some sushi, but I'll never understand why Heather Dubrow was so offended when Kelly Dodd said the "c" word and started cursing at a Japanese restaurant. Heather freaked out, left, and called her husband saying she didn't want to be associated with this. I have no idea what Kelly arguing with other cast members had to do with Heather, though. If anything, Kelly's behavior made Heather look good, so Heather's intense reaction seemed really off-base and it was definitely a surprise to some viewers (or at least to me). These days, Heather is leaving the show, but not because of this incident.
8. Shannon's Mother-In-Law's Appearance
Most of Shannon Beador's story line during RHOC's Season 11 revolved around her efforts to renew and strengthen her marriage with David Beador, so it really came out of nowhere when David's mother showed up to their daughters' singing performance and started talking about Shannon to the other cast members in front of the camera. There was never any previous mention of trouble with the mother-in-law, so the discord between the two of them was definitely an unexpected story line.
9. Teresa Getting Along With Danielle
The first two seasons of RHONJ were iconic and I attribute a great deal of that to former (and hopefully future) cast member Danielle Staub. After all, her legendary feud with Teresa is what led to that infamous table flip. At the end of Season 7, a photo was shown of Teresa and Danielle peacefully doing yoga with a caption about how they're getting along these days. Wow. Are pigs flying or something? This is way too crazy to be true.
Once again, it was a banner year for drama and unexpected moments on Real Housewives.
Images: Bravo (7)