11 Plus Size Holiday Lingerie Sets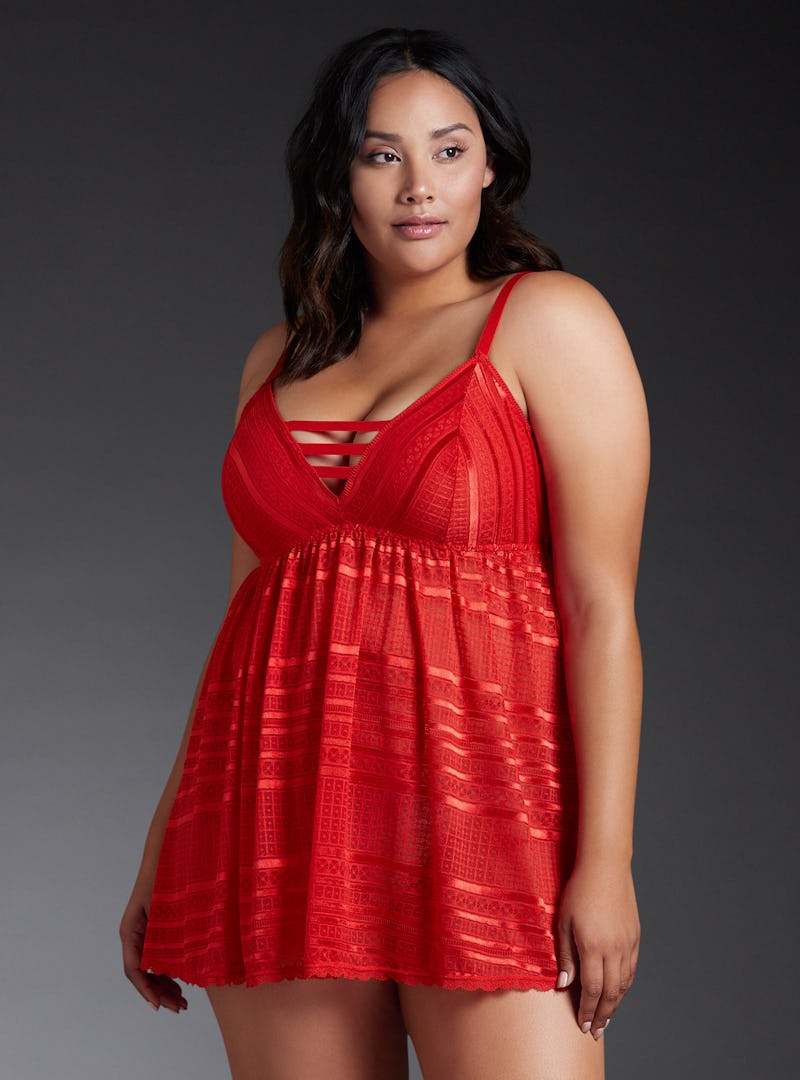 Sure, you could wear regular clothes and hide under the tree and remind your significant other that you are a gift, but wrapping yourself up in sexy holiday plus size lingerie could be what you need to take the moment over edge. These sexy plus size holiday lingerie sets basically guarantee that your partner will unwrap you for Christmas.
As well as being a great gift to give your lover or life partner this season, a new set of lingerie can also make you feel good, too. Being adored while wearing expensive satin is one of life's greatest pleasures — plus, these sets are cute enough to be worn more than once a year. You can start a sexy new tradition involving your plus size holiday lingerie, which will be almost as exciting to look forward to as the first big reveal of your sexy Santa look.
Even if you haven't got a partner to show off for, there's plenty of empowerment to be found in wearing lingerie just for yourself as a plus sized person. You don't need anyone else to get one of these sets and feel great in them, just do it for you. Check out some of the cutest sets available this season.
Bralette Babydoll , $33, T orrid
A babydoll that you can wear all year. If you're feeling dangerous enough, you could even rock this to the club.
Red Mesh Santa Babydoll With White Fur Trim , $30, Y oursclothing
The best lingerie leaves nothing to the imagination, which is why this is made almost entirely of polka dot mesh.
Red Satin Chemise And Robe Set , $28, H ipsandcurves
If you love to slip into something a little more comfortable, consider how silky and soft this satin will feel against your skin.
Red Velvet Hooded Babydoll, $61, S parklingstrawberry
It's entirely up to you if you want to pair this with red panties or absolutely nothing else.
Halter Tie Cup Heart Print Babydoll , $30, H ipsandcurves
If you're not into red as much as the season wants you to be, this hint of the color is more than enough.
Pink And Red Overlay Lace Bra, $33, Y oursclothing
Pink And Red Overlay Lace Panties, $12, Y oursclothing
Sometimes the sexiest lingerie is a well-fitting bra and panties set.
Red Lace Up Velvet Romper, $59, S parklingstrawberry
Who knew a cuddly romper could be made to look so sexy?
8. Unwrap Me Open Cup Babydoll
Unwrap Me Open Cup Babydoll, $36, Y andy
Don't forget — you're the best present that anyone could ever receive.
Red Plunging Body With Lace Cups And Cut Out Back, $27, Y oursclothing
You could totally tuck this into jeans for an underwear as outerwear Madonna look.
Stretch Lace Teddy With Heart Back, $25, H ipsandcurves
Also available in black and white, just in case you have more than one person to impress.
Santa's Cute Red Chemise, $48, S parklingstrawberry
The ultimate Mrs Claus look, hands down.
Time is ticking to get your presents and your outfits ready for the holidays, so why not combine them both and pick up some amazing lingerie off this list? The holidays might not be inherently sexy, but with these sets, they totally will be.
Images: Courtesy Brands