ColourPop's Moments Of Weekness Set Is Affordable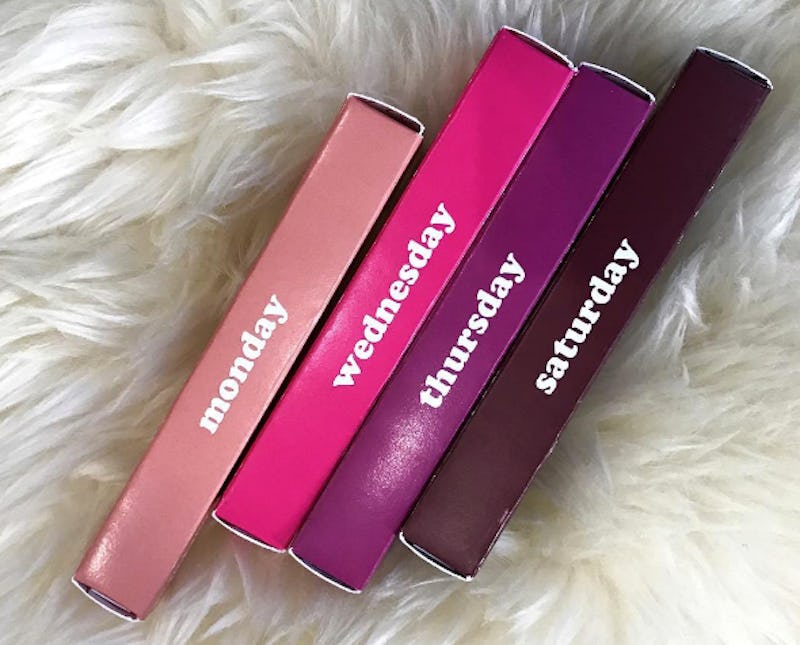 Remember those days of the week lippies that ColourPop was giving away? Well, they're back and better than ever. ColourPop's Moment of Weekness Set is here, and has every lippie you need for a full seven days. I'm talking everything from nudes to dark, vampy shades. How much is the Moment of Weekness Set? You won't believe how affordable this collection of lippies is — or maybe you will if you're a long time fan of the brand.
If you've ever woke up and wished you had a different lipstick for every day of the week, then you're in luck. ColourPop just made it a whole lot easier to get ready in the morning. They put together a set of seven Ultra Matte Lips named after each day in the week. Sunday and Monday has your classic, everyday nudes while the weekend had dark colors that are perfect for winter. Obviously, you don't have to wear them accordingly, but it does give you a whole lot of options.
Plus you won't believe how affordable it is. You get seven different lip colors for $35. While that price might seem a little high, it comes out to just $5 per liquid lipstick. That's a dollar cheaper than their already affordable prices! Not to mention it has you fully covered for any color mood you might be in.
Compared to their other sets, this is right around the same price per lippie. This is the first time they've had a seven-piece lipstick set though. The colors make it all the better. There's everything from nudes and bright pinks to black. What more could you possibly ask for?
Moment of Weekness Set, $35, colourpop.com
It's so pretty! And the packaging is gorgeous too. They all come in a pink box that has little icons to go with each day. No matter which day you decide to wear each color, you really can't go wrong with the set. Especially at such a great price.
There's no word yet on whether these will be permanent of limited edition. You can snag yours on the ColourPop website right now. I wouldn't wait too long to shop, because there's no doubt in my mind that it will be a bestseller.
Images: ColourPopCosmetics/Instagram (1), ColourPop (1)