'Fuller House' Season 2 Was Full Of '90s Nostalgia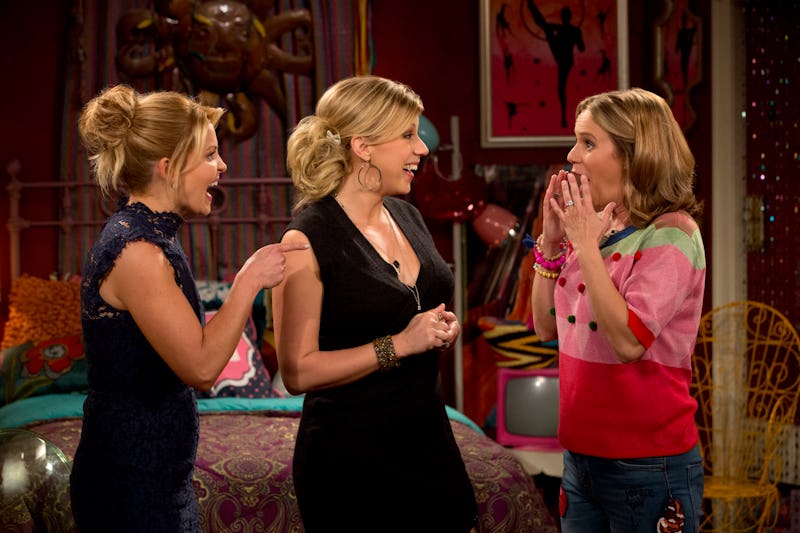 Fuller House is back for another round of nostalgia, which means more fun with Stephanie, D.J., and Kimmy, and obviously, more wholesome life lessons. And just like Season 1, Season 2 of Fuller House has so many '90s references. Notable guest stars return, previous storylines are referenced (and sometimes, even played out again in a different generation), and there are tons of easter eggs for fans of the '80s and '90s series. This is what makes Fuller House so great; it totally knows what its audience wants.
While the show does add some things that help fit it into the current timeline, such as a focus on adoption and social media ruining the lives of middle schoolers, it's still the same series we fell in love with as kids — corny jokes and all. Season 1 was full of nostalgic references and multiple throwbacks to the original series, and, thankfully, Season 2 doesn't disappoint. Sure, there were many tongue-in-cheek meta references and some breaking of the fourth wall, but let's be honest: Fans wouldn't have it any other way. In fact, there were so many references that it was hard to keep track of them all. But here's a roundup of everything I caught in the second series for your nostalgic enjoyment. [Spoilers ahead.]
1. Mr. Woodchuck
He made an appearance in Season 1 as well. But it was just good to see that the original '90s puppet hasn't been forgotten after an entire season.
2. New Kids On The Block
In the first season, the pilot episode reminded viewers of just how crazy D.J. was for the '80s/'90s boy band. In this season, D.J. celebrated her birthday by going to a New Kids On The Block concert — kind of. When Kimmy and Stephanie realized the tickets they had gotten were counterfeit, the two went on a hilarious excursion to bring the boys to the house so they could sing happy birthday to D.J. (An episode that kind of mirrored when the Beach Boys showed up at the Tanner House after D.J. won a radio contest.) After a few mishaps, D.J. and the girls ended up front row after all, got pulled up on stage, and totally danced to all the right moves. Oh, and did I mention Donnie Wahlberg even made an appearance via iPad? God bless technology, because this stuff wouldn't have been possible in the '90s.
3. Dancing Queen
Blink and you'll miss it, but Ramona's dance moves (and dance obsession) were totally a homage to Stephanie's own dance obsession and '90s moves she was so fond of.
4. Girl Talk
Not only did fans get an entire episode featuring the return of Girl Talk, Stephanie's teenage band, but Season 2 also brought the return of Marla Sokoloff's Gia. D.J. didn't hesitate to remind us of all the ways Gia was a bad influence on Stephanie, and fans got another taste of it when Gia (now a soccer mom!) offered her a drag of her vape.
5. Alan Thicke
The Growing Pains connection is still strong — fans will recognize the connection of Candace Cameron Bure's brother, Kirk Cameron, who was a star on the '80s/'90s show, where Alan Thicke played the father.
6. My Pillow Person!
One of the highlights of the season was watching D.J. and Steve reminisce and reconnect about their love life (I'm still rooting for them, by the way.) Having Steve give D.J. an exact replica of the pillow person she used to love as a kid was perfect.
7. "Everyone Loves Forever"
There wasn't performance this time (darnit!) but during a fight where Jesse, Joey, and Danny argue about who gets to be a godfather to Jesse's new adopted baby, Danny didn't hesitate to bring up The Beach Boys' famous song, which was re-recorded and released in 1992 with John Stamos accompanying.
8. First Kiss Flashbacks
While Ramona freaks out over her first kiss, Stephanie, D.J., and Kimmy reminisce on their first kisses back in the day. Video footage is included for nostalgia purposes (and to make us go "awwww").
9. High School Reunion
Oh mylanta, the '90s nostalgia was strong in the episode where DJ and Kimmy returned for their high school reunion. Not only did the episode feature old favorites like Kathy Santoni and Nelson (recast, but recast well) and Viper and Duane (played by the original actors), it reminded us of Kimmy's unfortunate high school years by reliving the "trashbag incident." The episode also included a "showdown" between Viper and Nelson, just like the original argument that took place so many years ago when the boys tried to fight for D.J.'s affection. And, of course, the music played was perfectly suited to the throwback decade.
10. Jesse The Baby Whisperer
From using the Elvis voice on baby Tommy to Jesse telling himself "I still got it," fans were reminded that Jesse is still the best with babies, just like he was with Michelle.
11. I'll Never Let Go, Jack
Young Max finds young love in the form of young Rose, who is quite literally obsessed with Titanic — aka the greatest movie of the '90s. Her beloved pet bunny's name? Jack, of course.
At this rate, I can't wait to see which '90s references Season 3 brings.
Images: Michael Yarish/Netflix; Giphy (6); starrylilac, evansandgrace, agentscullycarter, beckettsworld, forevergilmored/Tumblr