36 Vegan Party Recipe Ideas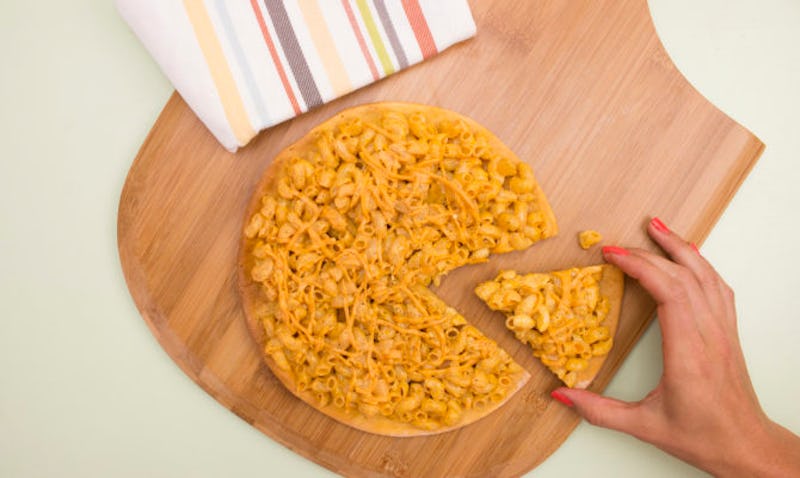 Ain't no party like a vegan party ... because a vegan party doesn't hurt animals. More and more, people are seeing the health, environmental, and ethical impact of eating a vegan diet — which is very exciting! That means that whether or not you are already vegan yourself, if you're going to throw a party, it only makes sense to have some solid vegan party recipe ideas on hand. If you're thinking that most classic party dips like queso and snacks like nachos simply can't be made vegan, then you clearly haven't tried alternative cheeses yet. They are surprisingly tasty, and with the right recipe, you can make just about any classic party food vegan.
While I was never much of a mozzerlla stick or jalapeno-popper eater myself, I've tried to include all the classic party staples below, as well as some more interesting vegan party food options. The key to good party food? In my opinion, it has to really hit the spot when you're drunk or otherwise buzzed, and you have to be able to eat as much of it as possible without increasing your chance of stomachache. Luckily, vegan food tends to be much easier for the body to process, so it isn't too hard to meet these two criteria.
Whether you're looking for a vegan cocktail, appetizer, dip, or dessert, I've got your covered with these 36 vegan party recipe ideas.
Cucumber Cooler Cocktail
I love a cucumber basil or mint cocktail — not too sweet, but plenty refreshing. This Minimalist Baker recipe uses gin, and will hit the spot for any party.
Spicy Watermelon Margaritas
If you're throwing a summer party, this spicy watermelon margarita by Cookie And Kate looks delish. (She also has recipes for a honeydew margarita and a spicy grapefruit margarita on her site.)
Chocolate Jello Shots
Jello shots usually aren't vegan (there's gelatin in traditional Jello), but these alcoholic chocolate jello shots by Chocolate Covered Katie solve that problem quite deliciously.
Mango Mojito
This mango mojito by Vegan Richa is so tasty it will get your guests in a good mood very quickly.
Boozy Rum Horchata
Horchata can easily be made vegan, and this Minimalist Baker recipe is the perfect drink for a winter party.
Curaco Martini
Personally, any blue drink looks like a hangover to me, but that doesn't mean they aren't cool AF. This Curaco martini by Veganosity is a party drink, that's for sure.
Kale Guacamole
Moving onto snacks now, why not embrace the stereotypes about vegans being health-nuts and put some kale in it? This Cookie And Kate guac recipie takes things next level.
Jalapeno Poppers
These beauties by Minimalist Baker make the classic party snack easily vegan. Trick your non-vegan friends!
Sriracha Roasted Chickpeas
A healthier snacking option, these roasted chickpeas by Fo Reals Life are spicy and simple to make. A perfect party food.
Cashew Cheese Log
This beautiful cheese log by Pure Ella is great for a fancier party — and to prove any vegan-cheese-haters wrong.
7-Layer Dip
This 7-layer dip by Minimalist Baker will make any of your vegan guests super happy, since we usually have to skip this classic party staple.
Vegan Cheez-Its
Another snack that will make you a hero to your vegan guests, these Minimalist Baker vegan cheez-its are actually easier to make than you'd think.
Baked Mango Sriracha Cauliflower "Wings"
Another good finger food, these cauliflower wings by Vegan Richa are absolutely delicious.
Chickpea Shawarma Dip
Vegans are all about that hummus, so take things next-level with this beautiful shawarma spread by Minimalist Baker. Hello, lover.
Vegetable Tree
This is an adorable idea for Christmas, but you could also make a non-Christmas tree any time of year for a adorable veggie presentation. Have some Daiya ranch dip to go with it, and you've got yourself a great party snack.
Creamy Spinach And Artichoke Dip
Another party classic, this dip by Daiya is great to go with your veggie tree as well.
Cashew Mozzarella Sticks
Cashew cheese is the bomb, and these homemade mozzarella sticks by Vegan Richa will impress everyone.
Loaded Vegan Nachos
I love nachos, but I usually think the ratio is all wrong. This Veganosity recipe gets it right, loading chips not only with vegan cheese, but plenty of beans, salsa, and grilled veggies, too.
Mac N' Cheese Pizza
Another show-stopper, who wouldn't want a slice of mac n' cheese? This Daiya recipe also has the added bonus of not requiring plates and utensils.
Pretzel Bites With Spicy Mustard
Hot Pretzels often aren't vegan, but this recipe by Vegan Richa sure is. I'm guessing baking it makes your house smell like the mall, too.
Cheesy Queso Dip
Another one for the cheese-lovers, this classic queso dip by Daiya insures your guests won't miss the party staple.
Sun-dried Tomato And Basil Pinwheels
In terms of finger food, it doesn't get much prettier or tastier than these pinwheels by Minimalist Baker.
Vegan Pao de Queijo
These delicious cheeseballs by Daiya incorporate flour to give you that mini-cheese-scone taste.
The Best Vegan Gluten Free Cornbread
Personally, cornbread is one of my favorite buzzed snacks. Something about the texture and taste is just so damn satisfying — like savory cake. This recipe from Minimalist Baker uses aquafaba (aka the liquid in a can of chickpeas), which sounds gross but mimics egg whites.
Broccoli Rabe Peanut Soba Noodle Salad
A soba noodle salad makes a great party food, since it tastes best cold. This Cookie And Kate recipe ensures your friends who didn't eat dinner won't feel like they only have finger food. I love this dish.
Cream Cheese Sugar Cookies
Moving onto what's really important here — dessert — these Daiya cookies sound like the perfect buzzed food. Cream cheese cookies?! Yes, please.
Fudgy Gluten Free Chocolate Cake
God, this cake is so good. I made this Minimalist Baker recipe for a group of friends, and they polished it off in five minutes flat. What I love about this cake is that it's light enough to have a few pieces without feeling sick in the slightest — yet it tastes super rich and fudgy and chocolatey. Seriously, trust me. Make this, and don't feel bad about eating the whole thing yourself.
Funfetti Cream Cheese
Why not leave out some sweet cream cheese dip and vegan graham crackers and have your own Dunkaroos station? This recipe by Daiya is easy to make and definitely looks very festive.
2-Ingredient Dark Chocolate Truffles
The Minimalist Baker lives up to her name with this simple recipe using just dark chocolate and coconut milk. You had me at "two ingredients." (Though you can also add vanilla extract and cocoa powder if you're feeling ambitious.)
Raw Lemon Poppyseed Mini Muffins
Another bite-sized dessert for lemon-lovers, this Wallflower Kitchen recipe will hit the spot for anyone who loves a good muffin.
Cheesecake-Stuffed Strawberries
How pretty are these? This Daiya recipe is easy to make, but looks absolutely fancy.
1-Bowl Double Chocolate Chunk Cookies
For the true chocolate lovers, these Oh She Glows cookies double up on chocolate, look great, and are super simple to make.
Creamy Pumpkin Pie Bars
I love pumpkin pie more than just about any dessert, and this Minimalist Baker recipe ensures you can give the gift of pie without having to worry about plates and forks.
7-Ingredient Key Lime Pie Bites
These adorable mini pies by Minimalist Baker are perfect for a party, since you also won't have to worry about putting out plates for them.
Lemon Bars With Shortbread Crust
Another one for lemon lovers, these Heart Of A Baker bars will have your buzzed friends kissing your feet.
Chocolate Chip Cookie Dough Freezer Fudge
Cookie dough is an excellent buzzed snack, and since it's vegan, you won't even have to worry about salmonella! This Oh She Glows recipe uses bananas and almonds, so you'll be eating some real food too. See? Healthy. Roll it up into little balls for guests, or simple put a bunch of spoons in a bowl and go to town together. Now that's my kind of party.
Images: Oh She Glows; Heart Of A Baker; Minimalist Baker; Daiya; Wallflower Kitchen; Cookie And Kate; Vegan Richa; Veganosity; Chocolate Covered Katie; Fo Reals Life; Pure Ella