If You Loved 'Gone Girl,' Try These 9 Books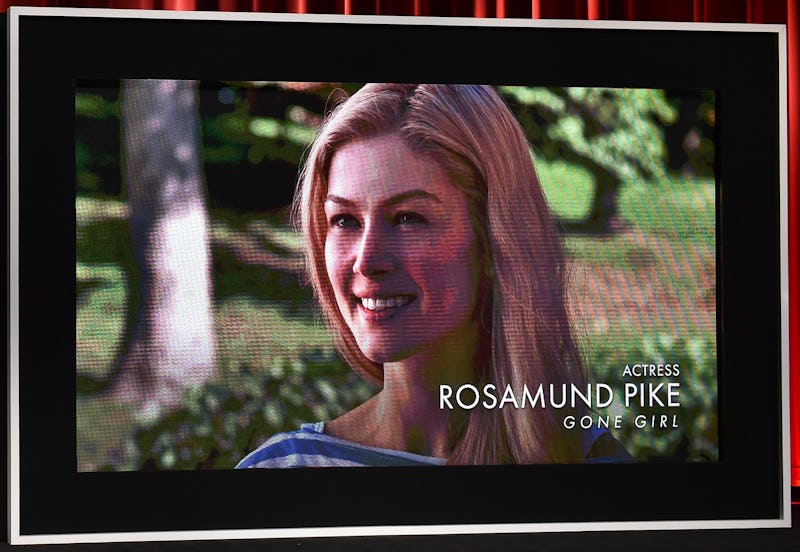 Kevin Winter/Getty Images Entertainment/Getty Images
Author Gillian Flynn is already three for three when it comes to her writing career — the former Entertainment Weekly television critic has published three bestselling novels over the course of just eight years in the book-writing game, all of them attracting a massive and rabid fanbase.
And things are only going to get bigger for her. Gone Girl will soon be appearing on the big screen, thanks to director David Fincher and stars Ben Affleck and Rosamund Pike (Flynn's two previous novels are also being adapted for the screen; a Charlize Theron-starring take on Dark Places will hit theaters in September, and Sharp Objects is now bound for its very own television series), meaning now is as good a time as any to catch up on the literary sensation that everyone has been talking about.
And with good reason, because the twisted and troubling Gone Girl is good. A dark, weird, wild thriller, Gone Girl follows the disappearance of noted "cool girl" Amy Dunne on her fifth wedding anniversary. It sure looks like Amy's been, well, done in, what with all that blood and mussed-about furniture and a husband who can't seem to act right when both the cops and cable television come calling. But there's much more going on in Gone Girl than can be discussed without getting into major spoiler territory. Trust me — just pick it up.
But if you've already read (and loved) Gone Girl and are eager to find other titles like it, there's plenty more to choose from, depending on what about Flynn's tricky mystery most enthralled you:
1. If you're looking for another truly twisted modern murder mystery, try Jennifer Dubois' Cartwheel
DuBois' novel actually pulls from a real-life crime — the murder of Meredith Kercher and subsequent trial of her roommate Amanda Knox back in 2007. Although the parallels between fiction and real life are strong, Dubois' novel emerges as a book with its own (very strong) merits. It's the kind of dark and unsettling crime novel that fans of Gone Girl will eat right up, thanks to switching perspectives, constantly evolving characters, and the kind of modern touches that only the most contemporary writers can fold in so seamlessly.
2. If you want to read another novel that dismantles the "cool girl" myth, it's time you grabbed Megan Abbott's Dare Me
Sure, being a "cool girl" sounds like a good thing — who wouldn't want to be a cool girl? — but Amy hates her designation as such, and Flynn spends plenty of time tearing down the myth of the cool girl by Amy's words, her actions, and a kind of epic rant against the whole thing. Amy Dunne isn't the only woman who is sick of being classified, though. What could possibly be cooler than a pair of head cheerleaders? In Abbott's daring (sorry, it's true!) Dare Me, Addy Hanlon and Beth Cassidy get caught up in what it means to be cool, to be desired, and to suffer mightily for it. The book's own thriller elements — pushed to the brink by yet another cool girl, their new coach — mirror Gone Girl in some pretty satisfying ways, and Dare Me is a suitable page-turner to pick up after the buzz of Gone Girl has worn off.
3. If you need another book about the bond between twins, grab Wally Lamb's I Know This Much Is True
Nick Dunne is also not exactly what he seems to be, and no one knows that better than his twin sister Margo "Go" Dunne. The twins' complex relationship — definitely loving, but also one steeped in various disappointments — forms a compelling counterpoint to the Dunnes' crumbling marriage and is one of the most interesting pieces of an already enthralling novel. Want more twins? Lamb's I Know This Much Is True tackles twin troubles with an emotional and keen eye. His twins — Thomas and Dominick — might be bonded in a different way than Go and Nick are, but both books are about what it means to be one half of a relationship that can't be broken, no matter what happens.
4. If you'd like to get into another dark novel about obsession, pick up Laura Lippman's I'd Know You Anywhere
Flynn's novel takes a nutso turn in its second half that changes the trajectory and the tone of Gone Girl in a big way (if you've read the book, you know we're talking about Desi, Amy's obsessive ex-boyfriend who weaves in and out of the narrative before making a major play for importance late in the story), suddenly making "obsession" seem like not nearly a strong enough word. Need more of that? Pick up Lippman's I'd Know You Anywhere , which chronicles what happens when a convicted kidnapper and murderer tries to reconnect with one of his victims — the one that got away.
5. If you're hungry for another novel that turns its eyes to the weirdness of news-making crimes, pick up Zoë Heller's What Was She Thinking? [Notes on a Scandal]
Once the Dunne disappearance hits the wire, Flynn cleverly skewers the wackiness of cable television and the hellbent hosts that latch on to stories like Amy's and run with them — for a very long time, no matter who they hurt, cost be damned. Heller's novel also addresses a hot, seemingly made-for-TV crime that consumes both the people involved (namely, a teacher, the student she has an affair with, and the obsessive woman who won't let it go) and perfect strangers who watch the story splash across the news.
6. If you're bent on reading another book about one heck of a bad marriage, go for A.S.A. Harrison's The Silent Wife
Amy Dunne is more than meets the eye — and while we know that early in the novel, we don't fully understand just how twisty Gone Girl goes until about halfway through. Harrison works in the opposite way, making it clear from the first chapter that said silent wife Jodi will kill her husband Todd by the book's end, putting the pleasure and tension on finding out both how and why that will happen.
7. If you'd like to get sucked into another novel that swiftly and satisfyingly switches perspectives, pick up Barbara Kingsolver's The Poisonwood Bible
One of the strongest elements of Gone Girl is Flynn's canny ability to shift between perspectives at just the right time to reveal just the best stuff. Kingsolver does the same thing with her Poisonwood Bible, which flits between five female members of the Price family to tell a full story.
8. and 9. If you want to dive deep into some more Flynn fiction, it's time for you to buy both Sharp Objects and Dark Places
It should go without saying that, if you liked Flynn's Gone Girl , you're probably the precise target audience for her previous novels, but both Sharp Objects and Dark Places come with a serious caveat: they're really, really twisted.
No, seriously — they're far darker and deeper than Gone Girl , the kind of novels that will keep you reading and then give you big-time nightmares after you finally manage to put them down. They're both stacked with Flynn's trademark zip and wit, but they also come with the type of emotional heft that Gone Girl only edges up against. However, if you've devoured Gone Girl and have fallen for Flynn's style, you're definitely ready to experience the twisted families at the heart of both Sharp Objects and Dark Places. Just maybe don't recommend these two to Flynn newbies — Gone Girl is the prescription for that particular need.
CLICK HERE TO BUY SHARP OBJECTS