The Easiest Gingerbread Recipes Around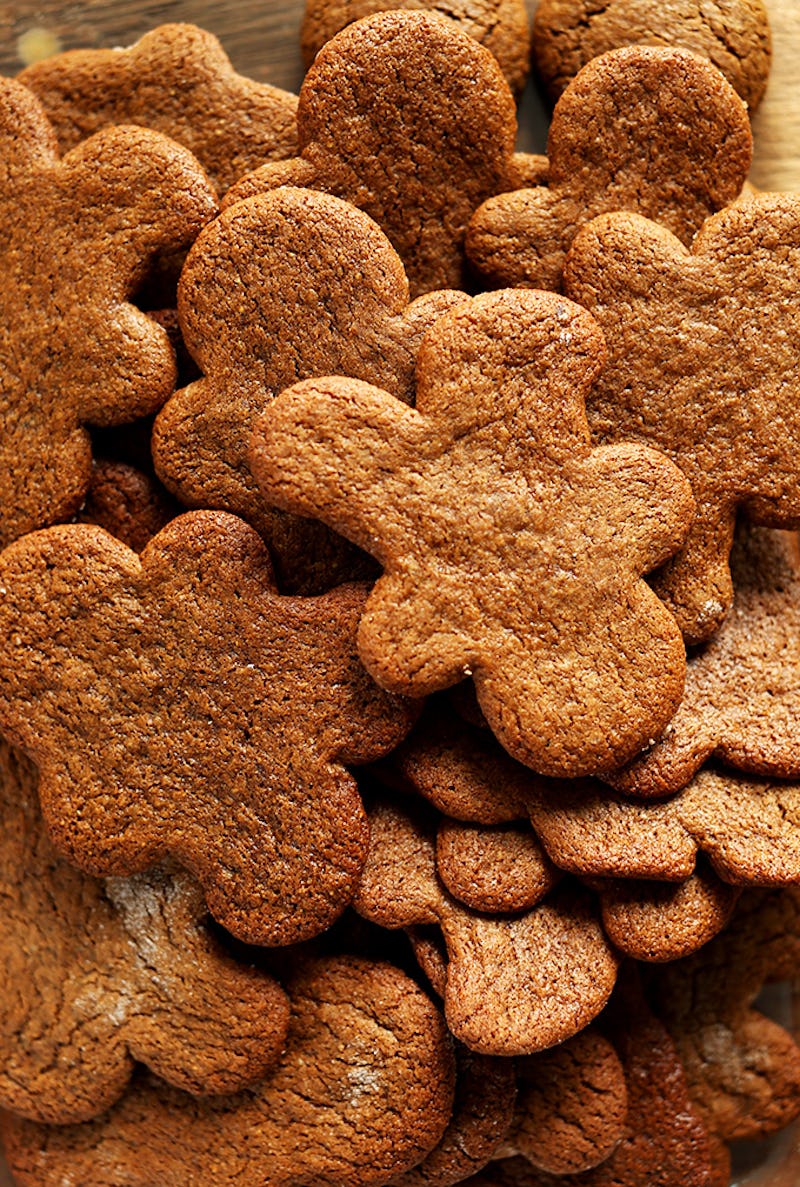 Every season has its signature flavors — fall is bursting with pumpkin and apples, spring is all about fresh greens, and summer means juicy fruits. When it comes to winter, however, there's really only one taste, one smell, and one flavor that rules them all — and with the help of these easy gingerbread recipes, you can capture it for yourself this holiday.
Some people are all about peppermint in the winter time, while others love cinnamon twists — but true holiday-lovers know there is only one truly festive flavor: gingerbread. Perfectly sweet with swirls of brown sugar molasses, delightfully spicy with hints of ginger, cinnamon, and clove, gingerbread is the ideal holiday dessert. Nothing beats the fragrant smell of a loaf of gingerbread in the oven, the sweet bite of a frosted person-shaped cookie, or the warm feeling of a spicy flavored beverage swimming in your belly during the holiday season. It's not the holidays unless the dessert table is lined with plenty of it. So, the real question is, how will you be preparing yours this year?
Whether you're in the mood for traditional people-shaped cookies or you're looking to try something different and unique this year, here are 17 simple gingerbread recipes to meet all of your holiday needs.
1. Gingerbread Men Cookies
Whether you like yours soft and chewy or crunchy and crispy, Brown Eyed Baker's gingerbread recipe is perfect for you. Easy to make cookies that are almost too cute to eat, these holiday staples will be a hit in your home.
2. Mini Gingerbread Cheesecakes
Small but decadent, these bite-sized gingerbread cheesecakes from Baked by Rachel are the creamy, festive dessert of anyone's dreams. Though they may look like they come from a professional bakery, this 30-minute recipe is simple to follow, and will help make your hectic holiday just a little bit simple.
3. Gingerbread With Salted Caramel Sauce
When it comes to making gingerbread for the holiday, you can't go wrong with the traditional form of the dessert. Made with applesauce instead of butter or oil, these delectable treats from My Baking Addiction are made even better with a heaping glob of salted caramel sauce.
4. Vegan Gluten-Free Gingerbread Men
The Minimalist Baker knows a thing or two about simplicity in the kitchen, even when it comes to cooking for people with dietary restrictions. Her delicious vegan and gluten-free gingerbread men (made with buckwheat, brown rice, and oat flour) are crispy around the edges and chewy in the center, just like a holiday cookie should be.
5. Gingerbread Spiced Marshmallows
What's more festive than gingerbread? Hot chocolate, of course! And, with Joy the Baker's gingerbread spiced marshmallows — which are easy to make and even easier to stuff your face with — you can put the two seasonal favorites together for one decadent dessert.
6. Gingerbread Bundt Cake
Nothing says "Happy Holidays" quite like a bundt cake, especially one as festive as The Kitchn's gingerbread version. Filled with spicy notes of clove, cinnamon, cardamom, and allspice, this delicious dessert is like a holiday gift of its own.
7. Gingerbread Cupcakes With Brown Sugar Cinnamon Cream Cheese Frosting
For gingerbread lovers who have a big sweet tooth, these seasonal cupcakes from Baked by Rachel, complete with brown sugar cinnamon cream cheese frosting, are a dessert worth adding to your holiday wish list. Creamy and moist with just the right amount of spice, these cupcakes redefine finger-licking good.
8. Gingerbread Cookie Pie
Can't decide what kind of a dessert to make this year? With A Cozy Kitchen's gingerbread cookie pie, you don't have to. A mix of two delicious desserts, this sweet treat will curb all of your cravings.
9. One Bowl Apple Gingerbread Cake
No one likes doing dishes, especially around the holidays when there are more dirty bowls than there are presents under the tree. With the help of Minimalist Baker's one bowl apple gingerbread cake, though, you can cut down on your quality time with the dish washer and increase your winter flavor intake. The perfect blend of sweet and spicy with an ideally moist and tender texture, this is one dessert you'll want seconds of.
10. Gingerbread Pound Cake
The combination of two holiday classics, pound cake and gingerbread, this recipe from Brown Eyed Baker will make everyone happy this holiday. Sweet and spicy with lasting hints of molasses and brown sugar, this simple to make cake will become a holiday staple in your home.
11. Gingerbread Pancakes
It's the holiday season, which means you're allowed to do crazy things like have cake for breakfast — okay, pancakes at least. These gingerbread-flavored ones from A Cozy Kitchen are the perfect festive breakfast food on Christmas morning, or all winter long.
12. Gingerbread Speculoos And Dark Chocolate Cake
For a unique take on the traditional gingerbread dessert, try Joy the Baker's gingerbread speculoos and dark chocolate cake. Rich and moist, this sweet and spicy dessert is a delicious addition to your regularly scheduled dessert spread.
13. Gingerbread Biscotti
For those who can't get enough crunch in their gingerbread. A Cozy Kitchen has whipped up dark chocolate dipped biscotti that should do the trick.
14. Gingerbread Molasses Blondie Bars
For a sweeter and softer take on traditional gingerbread, try Baked by Rachel's molasses blondie bars. True to the classic flavor of gingerbread with an added rich sweetness, you'll want to make a few extra pans of these crowd-pleasing bars.
15. Gingerbread Latté
Is simply eating gingerbread not enough for you, you'd like to drink it too? With The Kitchn's easy DIY gingerbread latte, you can. Similar to the Starbucks version, this easy to make seasonal beverage will keep you warm all holiday long.
16. Gingerbread Granola
If you're looking for a seasonal snack to set out this holiday, look no further than the Minimalist Baker's gingerbread granola. Crispy, crunchy, and festively flavored, this easy to make recipe only takes 30 minutes to make (but don't be surprised if it takes less time than that to disappear.)
17. Gingerbread Cookie Crunch Ice Cream
Want a heaping scoop of gingerbread to go with all those other gingerbread desserts? Try your hand at Baked by Rachel's gingerbread cookie crunch ice cream, the perfect topping to your other cookies, cakes, and pies. Though it requires a bit of equipment, the simple recipe only takes 15 minutes to whip up, and even less time to chow down.
Images: Minimalist Baker (4); Joy the Baker (2); Brown Eyed Baker (2); My Baking Addiction; The Kitchn (2); A Cozy Kitchen (3)