Phaedra & Kandi Start Another 'RHOA' Feud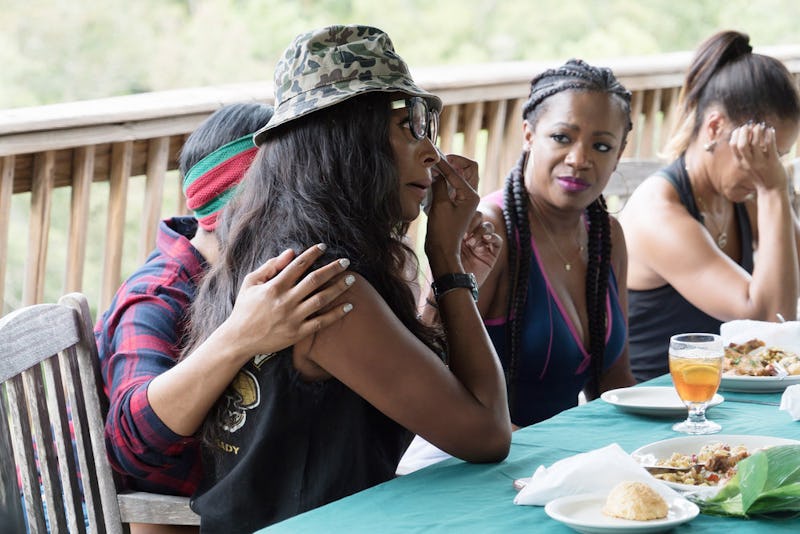 This season of The Real Housewives of Atlanta has struggled to find a compelling rivalry between any of these women. And, unfortunately, the show has returned to a familiar, yet so far unsuccessful, attempt at drama: making Phaedra & Kandi fight over Mama Joyce (and every other issue that's been hashed out for years on this show). Phaedra sits down with Kandi because she's offended that Mama Joyce dragged her in front of the rest of the ladies over the alleged bomb threat in Phaedra's work that wound up being a misunderstanding. Kandi can't see why Phaedra was so upset. Honestly, the most intriguing part of this dinner scene was the drink Phaedra was sipping that had a whole roasted marshmallow perched on top.
Otherwise, no new information was dropped here. It's been clear that Kandi and Phaedra don't get along and have lost their friendship years ago. Mama Joyce being inappropriate? That's not going to change. And Kandi's devotion to her mom will never change. I mean, if you don't take your mom's side over your new husband, then you aren't about to apologize to your former BFF turned TV enemy.
Instead, the two revisit all of the greatest hits of their Real Housewives of Atlanta fights over the years, and it's just like watching a clip show of the past few seasons. For example, I had almost been able to forget about Phaedra and Todd's financial issues last season, but of course that gets brought up again. And wow, it's been years since fans had to hear about the Mr. Chocolate (Phaedra's alleged boyfriend Apollo claimed she was texting while still married).
In the previews for upcoming episodes, it seems like Kandi is really nursing this grudge and it will continue next time. Thankfully, there's a week off for Christmas coming up, because I don't know if I can handle having to see this fight play out again.
Image: Annette Brown/Bravo; Giphy