The Most Popular Holiday-Themed NSFW Searches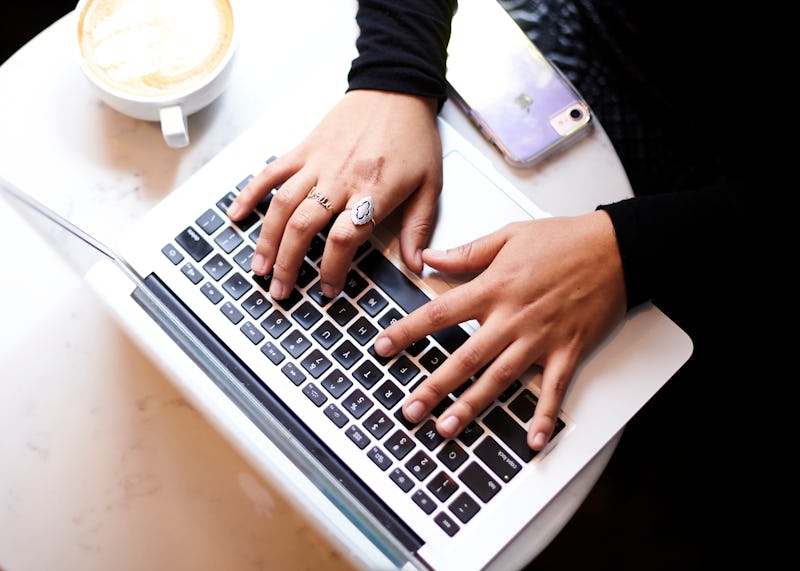 You're probably thinking about cuddling up with some eggnog and listening to crackling fires this Christmas, but these Christmas porn searches from Pornhub show us a totally different side of the holiday season. The side that shows the human brain will seek out porn of literally everything it sees... even if it that thing is the movie Elf. Seriously, nothing is sacred and it will never cease to amaze me. But it's interesting to see what people actually look for on the internet — and also how they manage to shift their normal porn viewing habits around the Christmas season. Because it's not just what we search for that changes.
Many people try to fit in some porn viewing around the holidays, I mean with all the stress, it's surprising we're not masturbating at every given opportunity just to get by. But, with so many of us being home for Christmas, it's no surprise that it means fitting it in at odd times. Our normal schedules are thrown totally out there window — but we persevere and manage to find time to get it done, even if it's at 2 a.m. Maybe it's not romantic, but hey, you deserve some "you" time.
So here are the details of what people are searching for — and when they're searching for it. Because around Christmas, anything goes:
1. Most Popular Christmas Searches
"Santa" and "Christmas present" topped the list, though I really would have thought that Christmas present would be on top, just for innuendo's sake. And those may seem pretty straightforward, but take a look down the list. There are some less expected ones, but my personal favorite has to be either "Santa's horny helpers", just for it's specificity, or "dick in a box" just because... well, just because.
2. Mr. And Mrs. Claus
Sure, neither of them may be classic sex symbols, but is Mr. or Mrs. Claus more popular? Well they both have huge leaps in popularity right around Christmas — culminating on the day itself — but it looks like Mrs. Claus wins out just slightly. Sorry, Santa.
3. Battle Of The Sexes
Is there a difference between what men and women like during the holidays? Yup. In fact, it looks like some of their searches are totally different. Women had a thing for 'old santa claus' and Christmas group sex, while men seemed to just want Christmas blow jobs and elves. That was a sentence I hoped I'd never write. But, overall, men were 34 percent more likely to be searching within a Christmas theme.
4. When Are We Watching
We seem to have trouble fitting in our normal Pornhub sesh around the holidays. Similarly to Thanksgiving, there's an overall drop in porn viewing, but with some random peaks in there too. So on both Christmas and Christmas eve, we watch way more porn in the 2 a.m. range than we normally do, presumably to make up for not being able to watch it during all of the family time. But a good masturbation session is definitely worth staying awake for.
5. Changes By State
Apparently we don't value family time the same amount everywhere in the country. Really interestingly in Vermont traffic only drops by one percent, while in places like North Dakota it drops by 19 percent. So check out your state to see if people are spending time with their families or with a Christmas party gang bang videos. And who among us would say which was the true spirit of Christmas?
There's no reason porn watching should stop around the holidays — hell, I think I need it more — but why does it have to be holiday-themed? Give yourself a break from the stockings and mistletoe and stick to just plain-old, all American, threesomes and blow jobs. Trust.
Images: Hannah Burton/Bustle; Pornhub