Kaley Cuoco Might be Jenna Maroney IRL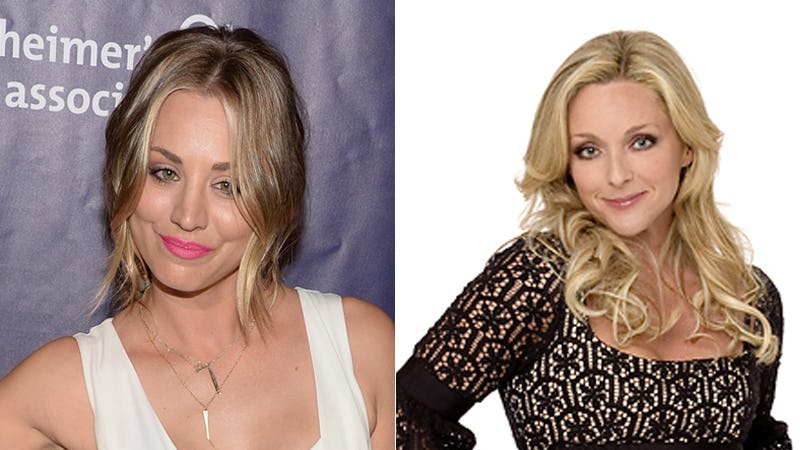 Kaley Cuoco Sweeting has been in the Hollywood spotlight for most of her life. Her acting career took off when she co-starred in the comedy 8 Simple Rules as the boy-crazy Bridget. However, she started appearing on television at the bright young age of seven. She now stars in the most-popular series on air, Big Bang Theory . And when she's not playing the spunky girl-next-door to the kingdom of nerds, she's on Priceline commercials, presenting at award shows and appearing on talk shows left and right. In fewer words, Kaley Cuoco Sweeting is everywhere.
Her bubbly "Blondes have more fun" attitude reminds us of another golden-haired starlet and "Jack" of all traits: Jenna Maroney from 30 Rock. Sure, the attention-seeking fame-luster is a bit of a hyperbolic comparison. Jenna is in many ways non-human. The extremes or her personality are so out there that it would be just downright cruel to say that she actually embodies a real person. But hey, there's truth in comedy, no?
Jenna Maroney is to Kaley Cuoco what Stephen Colbert is to "Stephen Colbert." An inflated, satirical, and loving prod to the celebrity culture that makes up Hollyweird. Don't believe us? Take a look:
On boob pride
Jenna, self-explanatory:
Kaley
Discussing her breast implants, it was, "the best decision I ever made."
A History of Messy Business at the Kids' Choice Awards
Jenna
Kaley
Shamless SELF-promotion
Jenna
Kaley
Finding Televised True Love With Someone Just Like You
Jenna
Kaley
Jenna Maroney married Paul... a man whose drag persona was indeed Jenna Maroney. Kaley's an avid tennis player... and her husband is a pro. Jenna staged multiple attempts of getting her surprise wedding televised. Kaley had a spur-of-the-moment fake wedding on a weekday talk show. Jenna's wedding ended up happening at the funeral of Jack's mother, in true Jenna Maroney flavor. Kaley's real wedding was non-traditional and she wore a bubble-gum pink gown. Just saying.
On Public Persona
Jenna:
Kaley:
"I started reading [the social media comments] and thought, 'Maybe I need to make more of an effort and not go out in my UGGs and be disgusting.'"
And just a few more Kaley-isms that could totally pass for Jenna Maroney
"You do a job; your show gets canceled. You get used to it."
"I cry all the time."
"I love animals, and I feel more of a connection to animals than people."
"Obviously, I don't have a high IQ, but I've always liked nerds and quirky guys."
"For me, what I really want to come out of it is to show people that I can hold together a movie, be the number one character and play someone who is twenty or twenty-one."
"Diet cola is my absolute favorite drink in the world; I used to drink four cans a day. But to help me cut down, I've turned it into a treat. Now, instead of having dessert, I'll have a can of diet soda. Putting a limit on how often I can drink it has helped me appreciate it more."
"I did a movie called 'Quicksand No Escape' with Donald Sutherland and Tim Matheson. I think I was maybe five."
Images: NormanCook/Instagram; KaleyCuoco/Instagram; 30 Rock/NBC; Ellen/NBC