Tips On How To Make Your Eyeshadow Last All Night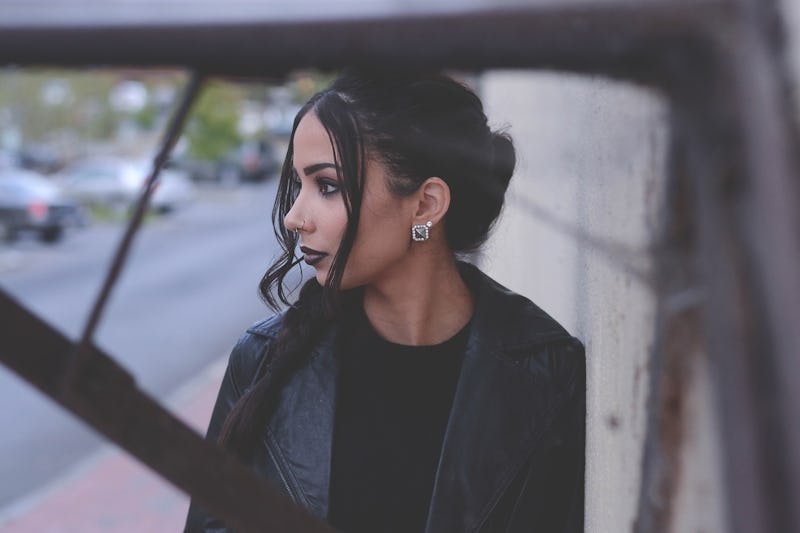 It's the midst of party season right now, and almost every weekend is filled with ugly holiday sweater parties or swanky, sequin-dress-requiring shindigs. In order to keep your makeup flawless through dance sessions and long hours in front of tables, you've got to know how to make your eyeshadow last all night long. What's the point of spending time blending and layering a gorgeous smoky eye if it wipes away within the span of an hour once the festivities start? If you put in the effort, it might as well get you bomb results.
Below, makeup artists shared their tips on how to keep your eyeshadow in place, no matter how hard you party. From using the correct kind of eyelid primer to learning the difference between "waterproof" and "water resistant" products, these steps will make sure you get some mileage this holiday season, no matter if you're at a restaurant celebrating with friends or dominating a dance floor until the early morning hours. It's never fun to pop into the bathroom and see all your hard work has melted away, so soak up these tips and give your makeup a fighting chance. Think of this advice as eyeshadow insurance — you're in good hands with these.
1. The Kind Of Primer You Choose Matters
Pro Longwear Paint Pot, $22, Nordstrom
While it might seem like all primers do the same thing, Janet Debris, a MAC makeup stylist and special-effect artist, points out that if you want true staying power you need to do your research. "Just any primer won't due. I've tried many on my clients as well as myself. Having a long wear or 24-hour wear eye shadow primer works best," she advises.
Simply put, a good foundation will give you a stronger hold. "Eye primers are key to making any eyeshadows last all night," says Justine Losoya, one of the key makeup artists on NBC's Chicago "It gives the pigments something to adhere to and creates staying power. There are even tinted or shimmer primers you can purchase to give you a head start with your base color depending on your desired look," she shares in an email interview with Bustle.
If you're at a loss at how to narrow down those specific kinds of primers, Debris has a favorite that she finds works like a charm. "My go-to is the MAC Paint Pots, in the colors 'Painterly,' 'Layin' Low,' and 'Groundwork,' depending on what skin tone I'm working on," she says. "These specific paint pots are perfect for primers because they are Pro Long Wearing, having a creamy consistency but matte finish, and they are pigmented and lighter in color, so it give you a even, smooth, and brighter eyelid to apply your eye shadows on,"
2. Veer Towards Cream Shadows
NYX Jumbo Eye Pencil, $4.50, Target
Because of their thicker consistency, cream shadows stay on longer throughout the night. But if you want to mix some cream textures with loose powders to create the eye you envisioned, Losoya suggests putting down the cream shadow first.
"If you plan on mixing cream colors with loose pigment eyeshadows, always apply the cream colors first so the loose pigment shadows can go on top as a setting powder. Also, it's not a necessity, but if you plan on sporting some brighter colors on your lids you can use a white base so the eyeshadows appear brighter and truer to their color on your lids." She suggests using NYX Jumbo Eye Pencil in "Milk" for that white base.
3. Choose Waterproof Items
Liquidlast Liner, $20, Nordstrom
While those "longwear" mascaras and eyeliners are a no-brainer for a long night, Debris also points out that it'd be in your best interest to stock up on items that are also waterproof.
"After you have applied your long-wearing primer, you can apply any eyeshadow palette of your choice, but all rest of the eye products you use need to be long-wearing AND waterproof. I highly suggest MAC's LiquidLast Liner, MAC's Modern Twist Kajal Liner, and L'Oréal Voluminous waterproof mascara," she recommends.
MAC Modern Twist Kajal Liner, $17, Nordstrom; L'Oreal Voluminous Waterproof Mascara, $6, Amazon
4. Know The Difference Between Waterproof & Water Resistant
L'Oréal Voluminous Waterproof Mascara, $6, Amazon
While the two terms might sound like they'll give you the same results, there's a big difference. If you have a tendency to be oily or have a long night of dance floor lights ahead of you, then you definitely want to make sure you choose something waterproof, rather than resistant.
"'Water resistant' products are meant for very little moisture protection (i.e. light rain, a few tears, etc) whereas 'waterproof' means it is meant to stay on even under water," Debris clarifies. "So if you have a long night ahead of you, especially if you're planning on being on the dance floor, then I highly suggest waterproof products for your liquid eye liner, pencil eye liner, and mascara. Once those products are applied you're good to go!"
5. Use Setting Powders
"If you do want just some extra protection to avoid runny makeup, you are more than welcome to set your under eye area with a good setting powder and carry it with you throughout the night just in case you start getting a little sweaty," Debris suggests.
6. Make Everything Stick With A Setting Spray
Skindinavia Makeup Finishing Spray — Bridal, $29, DermStore
"Once your eye look is complete you'll want to dust (not wipe) any fallout you might have and then continue to apply the rest of your makeup. I would complete everything but your mascara before spraying a setting spray," Losoya shares. "My absolute favorite setting spray is Skindinavia Makeup Finishing Spray — Bridal. It has never let me down. I do a light spritz all over the face in a circular motion then down the center of the face and let it dry before I apply mascara."
Keep these tips in mind the next time you go out, and your makeup will stay pristine until it's time to hail that cab back home.
Image: @526708lef/ Unsplash; DermStore (1); Target (2); Macy's (2)