The Ingredients We Started Caring About In 2016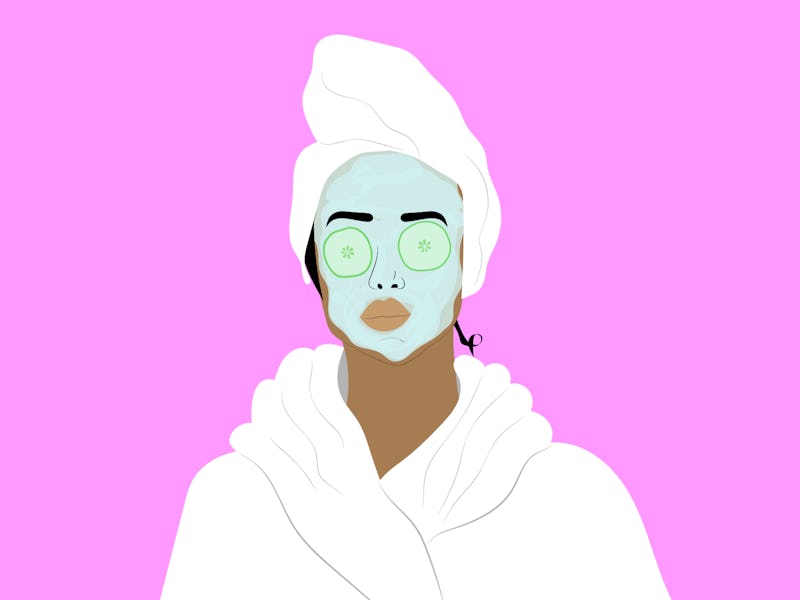 We can choose to remember 2016 for a lot of pretty meh reasons, or we can choose to remember it as the year we smartened up about skin care. In the last 12 months, we've started caring about ingredients in our skin care that we never even thought twice about before.
Even if you were always a strict five-step-morning-and-night-routine kind of person, chances are this routine changed at least a little bit based on what we've learned about skin care this year. Partly because of advances in technology and partly because of the zillions of brilliant beauty bloggers and journalists on the internet, we now know so much more than ever before about what we're putting on our faces.
We have so much information on the best practices and ingredients (and best diets, best lifestyle choices, and sleep patterns) to help us get #flawless skin that it was only a matter of time before all of these things were bottled up and sold on drugstore shelves.
Here are seven skin care ingredients everyone really started caring about in 2016 (let's be honest, had you ever even heard of the phrase "glycolic acid" before this year?) and the best products that you can test them out in if you haven't yet for even better skin in 2017.
1. Glycolic Acid
Nip and Fab Glycolic Fix Cleanser, $7.95, Target.com
We've been hearing about glycolic acid peels ever since Samantha Jones left her dermatologist's office looking like beef carpaccio, but this year it hit the mainstream market in the form of at-home treatments. The acid reacts with the top layer of skin to help get rid of dead cells, and leaves you with brighter skin and less visible dark spots.
2. Vitamin C
Drunk Elephant C-Firma Day Serum,
TBH, I thought it was just me who started caring about Vitamin C this year because I found my first wrinkle and it's a prevalent ingredient in a lot of anti-aging products. As it turns out, though, Vitamin C is trending all year long among the skin care set. It's become more and more popular in serums because of it's brightening and, like I said, anti-aging properties. It is popping up in all kinds of places besides your morning glass of OJ.
3. Hyaluronic Acid
Youth To The People Age Prevention Serum, $26, youthtothepeople.com
You may have noticed that this year, moisturizers everywhere were suddenly bragging about their hyaluronic acid content. But what exactly is HA? According to the folks over at Into The Gloss, hyaluronic Acid is a sugar molecule that we all already have naturally occurring in our skin that helps keeps things in our bodies (like our joints) lubricated. It's great at retaining moisture (which is basically what it does in our bodies) and can hold up to 1,000 times its weight in water.
It's been popular in injectable form for a while (Juvaderm and Restalyn are both HA based), and now more and more people are realizing it's topical benefits. It's actually been in a lot of the products we've all been using for years — now people are just more excited to slap it on the label because of all the good it can do.
4. Collagen
Murad Rapid Collagen Infusion, $84, Sephora.com
We've all known about injectable collagen forever (because, lip fillers) but this year it became more mainstream and was seemingly everywhere, in topical, edible, and even drinkable forms. Collagen is the most abundant protein in the human body and makes up about 70 percent of dry mass skin content. It helps build elastin, which is responsible for skin elasticity and moisture-generating hyaluronic acid (see, told you so) which are both important for keeping skin looking young and healthy.
5. Adaptogens
Beauty Dust, $30, MoonJuiceShops.com
This year, skin care became even more "inside out" than ever with adaptogenic beauty. Adaptogenic products include all kinds of nutrients, and your body takes what it needs and gets rid of the rest. By drinking beauty-geared adaptogens, like this one from Moon Juice, you'll be left with glowing skin that comes from within.
6. Sea Water
Sea Water, $55, SusanCiminelli.com
More and more, "Sea Water" (basically the stuff you swim in in Montauk, but a little more refined) is popping up as an active ingredient in skin care products. Sea water contains the perfect balance of moisture and minerals, so when applied topically it helps restore your skin to the ideal levels of each. Sea Water is also an activating ingredient for antioxidants, and helps them penetrate the skin more deeply.
7. Gold
Tatcha Gold Camellia Nourishing Lip Balm, $34, Sephora.com
It wasn't just in those masks backstage at the Victoria's Secret Fashion Show. Gold masks, moisturizers and serums popped up everywhere this year because of their anti-inflammatory and anti-aging properties. hankfully, you don't have to shell out $300+ for the ultra-luxe treatment like the VS Angels did. There are plenty of affordable versions that won't cost you as much as a new necklace.
Images: Caroline Wurtzel/Bustle; Courtesy of Brands