'Glee' Will Finally Sing A Different (Show) Tune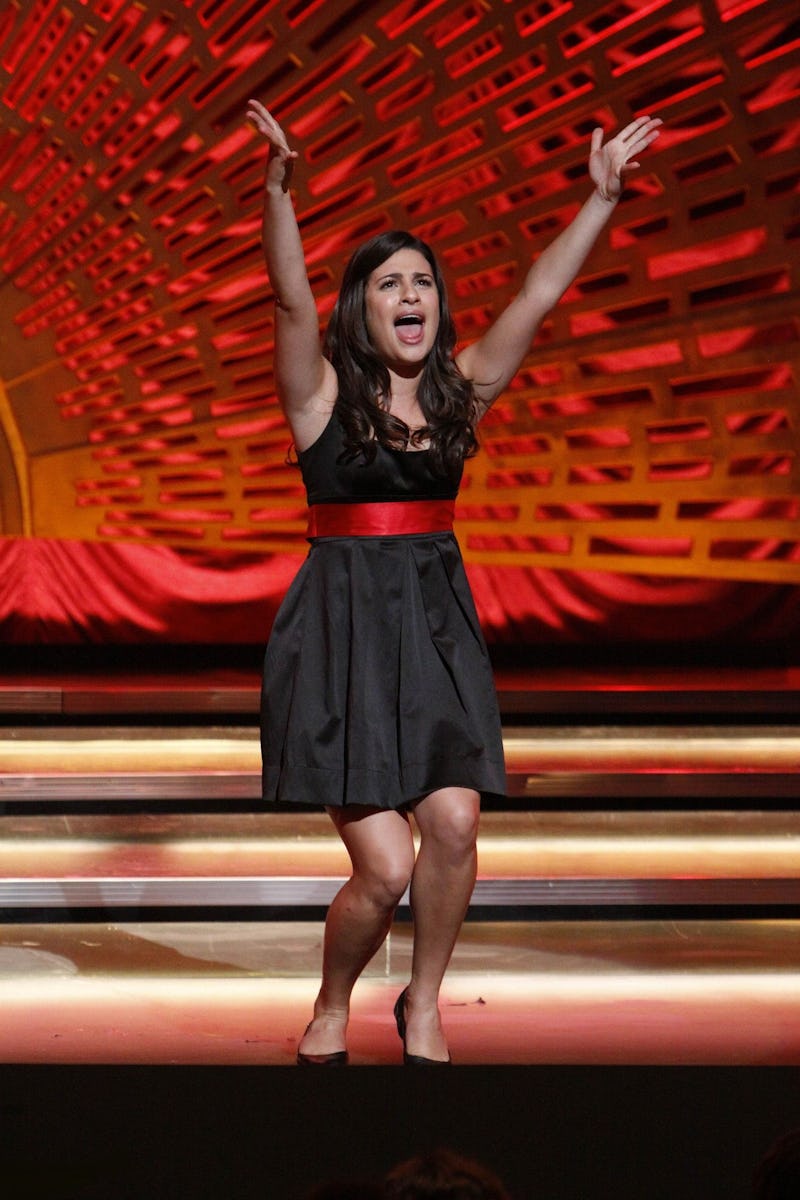 Glee sure love to overdo it on a beloved song. And if there's one song that's gotten that treatment along with the six-time-performed "Don't Stop Believin'" it's Barbra Streisand's "Don't Rain On My Parade" from Funny Girl. So imagine our surprise and subsequent joy when we found out that Tuesday's "Bash" will feature four show tunes and none of them are Rachel's signature opus. And what's even more surprising, since "Bash" will find a way to be about Rachel, is that Amber Riley's Mercedes Jones will have two solo performances, including one of her original song "Colorblind," while Lea Michele has none.
Now, don't get me wrong. I know that Glee has performed plenty of show tunes that aren't "Don't Rain On My Parade". The song is just burned into my brain from Rachel's triumphant Regionals performance in Season 1, her epic fail when she tried to perform it for her NYADA audition in "Choke," and most recently, when Santana barreled into the theater like a runaway train and killed it for her Funny Girl understudy audition in the midseason premiere. (Fun fact: Did you know that Rachel performed the song in the Archie Meets Glee comics also?) Every time the song's cropped up on the series, it's been at a moment that's impossible to forget — which allows it to overshadow every other show tune that's ever been performed.
But anyway, here's what the leaked set list for "Bash" looks like:
"No One Is Alone" from Into The Woods — Kurt, Blaine, Rachel, and Sam"(You Make Me Feel Like) A Natural Woman" by Aretha Franklin — Mercedes"Broadway Baby" from Follies — Rachel and Blaine"Not While I'm Around" from Sweeney Todd: The Demon Barber of Fleet Street — Blaine"Colorblind" by Amber Riley — Mercedes"I'm Still Here" from Follies — Kurt
Let's all rejoice that we don't have to listen to another rendition of Rachel's favorite song because, after all, this episode isn't about Rachel Berry (even though she'll try her hardest to make it about her so she can continue to be the worst). "Bash" will address the issue of hate crimes against members of the gay community, with Kurt getting caught in the crossfire of a vicious assault against Russ, a character we've yet to meet. It's entirely the wrong time for "Don't Rain On My Parade" — even if it were a sad version. Thank you, Glee, for realizing that.
Watch the promo for "Bash" here:
Image: FOX