Dose Of Colors' Supreme Glow Highlighter Is Coming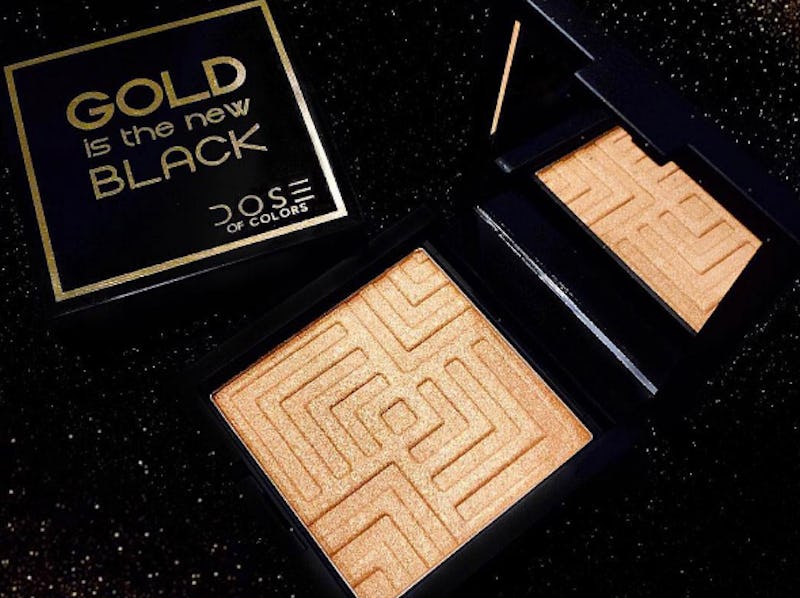 As if this year didn't already have enough shimmer, Dose of Colors is here to deliver some more. The company created a brand new highlighter to round out the year in the trendiest way possible. It's a brand new formula and color that you have to see to believe. When is Dose Of Colors' Gold Is The New Black Highlighter coming out? The exact time and date is here, so get those wallets ready.
This might not be Dose Of Colors' first time with the cheek shine, but you've never seen anything like this from them before. As of now, all they offer is baked highlighters in three different shades. Now they've created something that packs a serious punch in a brand new formula. Called the Supreme Glow Highlighter, the new formula is a powder in a giant square pan. Everything from the packaging to the swatches are stunning.
Their first shade in the line is called Gold Is the New Black. According to the company's Instagram, the shimmery product launches on Dec. 27 at 1pm EST.
As you probably guessed, the color is a bright, true gold. The color isn't the only thing that's gorgeous though. Just look at how pretty the packaging is.
How gorgeous is that! The best part is that it's the same price as the other highlighters. That makes the Gold Is The New Black Highlighter $28, according to the social media post. Considering how big the pan is, I'd say that it's definitely worth the money. If that's all not enough, here are the swatches to win you over.
This isn't the only Dose Of Colors product coming out soon either. The company has three different matte liquid lipsticks coming out on the same day at the same time. Basically, you should plan to get tot he site early, if you want in on these launches.
Fingers crossed that they have even more shades to come in this collection. If they're anything like the first, they'll be gorgeous!
Images: doseofcolors/Instagram (1)