Why We Can't Wait For TGIT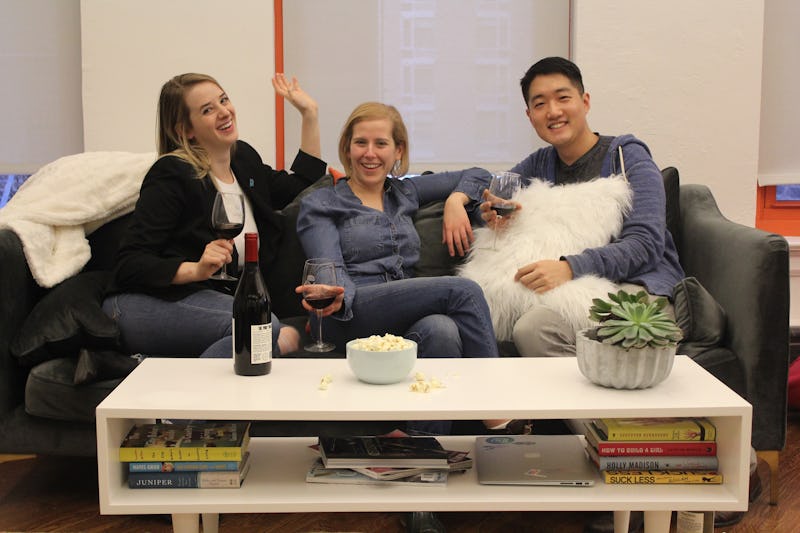 Here's something you don't hear that often, especially from people who live in chilly climates: We're so glad it's January! But thanks to the return of #TGIT, ABC's can't-miss Thursday lineup of Grey's Anatomy , Scandal , and How To Get Away With Murder , there are three more reasons to love the coldest month.
At Bustle, a ton of us editors love to cancel our Thursday plans, kick up our heels, put up our Do Not Disturb signs, and spend some quality TGIT-time with power-ladies Meredith Grey (Ellen Pompeo), Olivia Pope (Kerry Washington), and Annalise Keating (Viola Davis)… not to mention a bottle or more of wine. Some of the shows have been away longer than others, but we're not-so-patiently anticipating all three.
We teamed up with ABC Television Network to give you a peek into what three TGIT-obsessed Bustle editors are most looking forward to, what we've been chattering about at the water cooler (yes, Bustle's offices do have a literal water cooler) and on Gchat, and what we're hoping we'll see when our favorite trifecta of female-led shows return. Make sure to catch the return of all your favorite TGIT shows on Thursday, Jan. 26, at 8/7c.
Meet The Editors
Here we are in Bustle HQ with our popcorn and wine, discussing the finer points of our favorite shows — in other words, we're #TGITready. Here's a bit more about us and our TGIT habits:
Name: Allison BerryFave TGIT show: Grey's Anatomy for life!Position: Branded Editor, Romper.comPreferred TGIT Beverage: Chilled chenin blanc
Name: Arielle DachilleFave TGIT show: ScandalPosition: Branded Entertainment Editor, BustlePreferred TGIT Beverage: Malbec
Name: Stephan LeeFave TGIT show: How to Get Away With MurderPosition: Senior Branded Entertainment Editor, BustlePreferred TGIT Beverage: Rosé, anything sparkling
What We're Most Looking Forward To
Stephan [HTGAWM armchair detective]: No show on television inspires as much crazed speculation from fans as How to Get Away With Murder, and I can't wait to get back into it. After every episode, I go on Twitter and group text to freak out over a super-important question, like "Who's under the sheet?!" or "OMG, that kiss?!!" After the shocking (SHOCKING) answer to the winter finale's big question — "Who's dead?" — I know there are tons of crazy questions left in store!
Arielle [Scandal superfan]: Watching Olivia Pope's superhuman brain work to fix catastrophic messes on the fly just in general is what I'm here for. Her damage control skills are truly exquisite.
Allison [Grey's lifer]: More Dr. Karev. I've always had *such* a thing for Dr. Karev. He's a total bad boy, so maybe that's a sign of some deeper issues I need to work through with a professional, but nevertheless I'm totally in love with him. Despite my desire for my own journey of emotional turmoil with Dr. Karev, I do really love him and Jo together, and now I'm DYING to find out if he's actually going to jail for two years in order to protect her identity!
What We Missed Most
Arielle [Scandal superfan]: Aside from the extremely satisfying feeling watching Olivia Pope drink red wine while I drink red wine, I desperately missed the juicy drama that I can always depend on Scandal to give me. Whether it's skillfully out-maneuvering an adversary, or a new affair, there's always some salacious, mind-blowing new conflict waiting around every corner. If the height of drama in your own life is centered around buying a new kitchen table, it's a nice change-up.
Allison [Grey's lifer]: I've missed Riggs' face. And his voice. Plz bring him back to me safely <3
Stephan [HTGAWM armchair detective]: It hasn't been that long since the winter finale, but I already miss Viola Davis as Annalise Keating. I could watch her kick ass and make her "I'm so done with you" face forever, and I'd be happy.
Who We're Rooting For
Arielle [Scandal superfan]: Abby! Seeing her fly on her own in the past two seasons has been so empowering.
Allison [Grey's lifer]: WTF is going on with Dr. Webber? I can't prepare to lose him again, HE IS THE BACKBONE OF GREY SLOANE MEMORIAL AND EVERYONE KNOWS IT!
Stephan [HTGAWM armchair detective]: Oliver! I've liked seeing him get more and more involved in Annalise's drama, and even become the new de facto member of the Keating 5, but I also want to protect him from it because he's such a lovable character. Colliver forever!
Who We Want To See More Of
Stephan [HTGAWM armchair detective]: Bonnie. Bonnie, Bonnie, Bonnie. She's probably the character on HTGAWM with the most complicated and fascinating motivations. She never fails to keep things unpredictable!
Allison [Grey's lifer]: I'd like to see more of of Meredith's personal struggles as a mom. She has definitely got to be going through a lot and it would be so relatable and encouraging for other single moms to see someone in their shoes who is totally killin' it.
Arielle [Scandal superfan]: I know he always pretty much has his reasons (i.e., he's being directed to do this by his boss, etc.) for going all "What the Huck" on us. It's obvious that he struggles with his nefarious past, but I know he's a good person deep down and I'd love to see things work out for him.
Why TGIT Time Is Their "Me Time"
Arielle [Scandal superfan]: First off, Thursday is one of the most acceptable "stay in and rest" days. Secondly, my expectations for the weekend have yet to be dashed. Third, Thursday is home to the three-hour marathon of soapy, dramatic, steamy goodness of TGIT.
Allison [Grey's lifer]: Thursday has always been my favorite day of the week, and I'm not sure why. I even remember announcing this as a fact to my fourth grade class, thereby solidifying my lifelong status as the quirky friend. Little did I know that my affinity for Thursdays as a young queen was actually foreshadowing of the best night of network television known to humankind. I've made it a tradition to keep my calendar open on Thursdays as kind of a "treat yo'self" day. No plans with friends; just me, a mug of tea, takeout, and Grey's.
Stephan [HTGAWM armchair detective]: For me, Thursday tends to be the most pleasantly busy work day, where you have a lot on your plate but you know exactly how to get everything done. That's been true in every job I've ever had — it was even true in school. That's why Thursday nights are the best time to treat yourself as a reward for your productivity with something that you love that helps you chill. For me, that tends to be TGIT and Thai food.
So there you have it — we're totally obsessed and ready to get our TGIT on. Come Jan. 26, you can bet that all three of us will be all cozied up watching Meredith, Olivia, and Annalise being fierce, and undoubtedly making this face every Thursday when the crazy twists hit our TVs.
This article is sponsored by ABC Television Network. Catch the return of all your favorite TGIT shows on Thursday, Jan. 26, at 8/7c.
Images: Fotolia; Giphy/ ABC (8); Jenna Wexler (3)