Shocking 'Shameless' Finale Surprised Everyone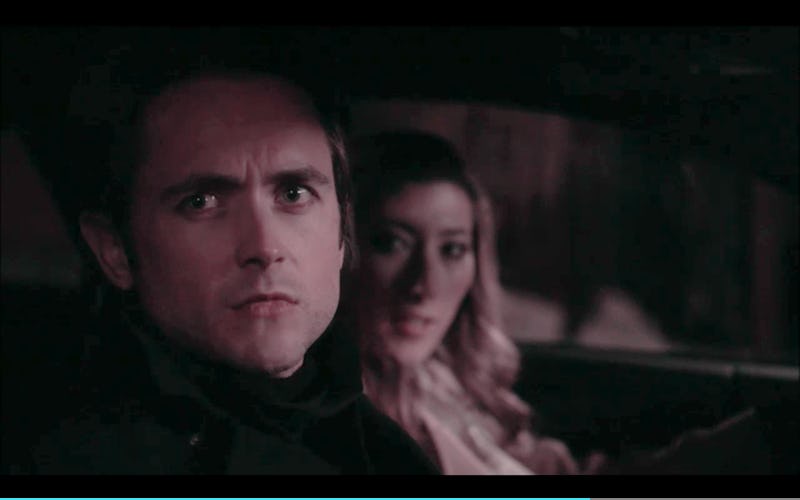 Shameless, Showtime's criminally underrated drama, dropped a major bombshell Sunday night (spoilers ahead!) — Jimmy is still alive! In the closing moments of Sunday night's Season 4 finale, a mysterious black car driven by an unidentified woman pulls up outside the Gallagher house. The woman asks her passenger, "Are you gonna go in?" The camera reveals that the man in the passenger seat is...Jimmy! But he's going by the name "Jack" now. Jimmy takes one look at the house, and then, with a knowing smirk, responds, "No, not tonight. C'mon, let's go." And the two drive off into the night. Wow. Talk about unexpected!
Last June, it was revealed that Justin Chatwin, the actor who plays Jimmy, would not be returning to the show as a series regular. During a panel at the Television Academy of Motion Picture Arts and Sciences last year, showrunner John Wells seemed to confirm Jimmy's death, saying, "He [Chatwin] has done great work, but that character was coming to an end." The last time we saw Jimmy, he was being forced onto a boat at gunpoint by a Brazilian drug lord's thug. Though viewers never saw Jimmy's death, it was heavily suggested.
Wells even admitted that the episode's original script showed Jimmy being gunned down, but their "filming permit for the dock expired before the scene could be completed"! Wells did say that there was a "possibility" of Chatwin returning for a few episodes in "some manner," but I just assumed that he meant in flashbacks or something. I had no idea that Jimmy would still be alive!
Viewers weren't the only ones who were surprised by Jimmy's return — the cast didn't know it was going to happen, either! Emmy Rossum, the incredibly talented actress who plays Fiona Gallagher, took to Twitter to say:
Shanola Hampton, who plays Fiona's best friend Veronica, tweeted:
Steve Howey (Kevin) and Noel Fisher (Mickey) also registered their surprise online, while Chatwin simply tweeted:
It's pretty impressive that the show was able to keep such a major reveal under wraps, but it begs the question: does Shameless need Jimmy anymore? After all, the show just completed what is arguably one of its strongest seasons to date. And Wells indicated last year that he felt like they had already done everything they could with Jimmy's character — that doesn't exactly inspire confidence! In the context of the story, Jimmy's relationship with Fiona, while frequently very sexy, was totally unhealthy. Jimmy's a con artist, a liar, and a cheat! Fiona has enough to deal with right now — she doesn't need a man like that in her life.
However, despite his flaws, it was always clear that Jimmy genuinely cared for Fiona and the entire Gallagher clan. I can't wait to see how the character is integrated into next season's story lines. If you're not watching Shameless already, you have to start. The show just keeps getting better and better! Check out Jimmy's shocking return below.
Image: Showtime