Hold the Phone, Rex Manning is Robin Thicke?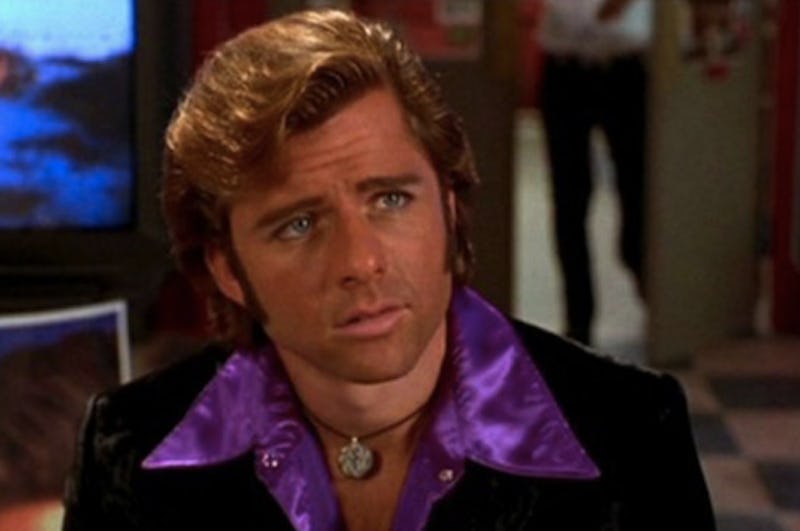 Put all of your worries and taste for only the hippest indie music aside, for today is Rex Manning Day. The (fake) holiday celebrated by Empire Records fans around the world pays tribute to the skeezy, cheesy crooner who storms into the world of Joe, AJ, Lucas, Mark and co. and totally almost destroys the lives of Gina and Corey. But don't worry, all crop-tops, mini-skirts, and oversized cardigans were saved by this rag-tag crew of angsty teens. Neither Rex Manning nor "The Man" could come in between the bonds of music geeks, boy-crazy high schoolers, and shoplifters.
And sure, we might all be a little nostalgic for the days when record stores really meant something and yearn for a time when dancing on a rooftop to the sounds of "Sugarhigh" felt like the only thing that mattered... Just remember, "We mustn't dwell... no, not today. We CAN'T. Not on Rex Manning Day."
The overly-tanned womanizer who turns a proudly punk rock record store into a vehicle for slinging Top 40 for one tumultuous day reminds us of another pop star... Robin Thicke. Couldn't you imagine the self-proclaimed sex machine as the object of Gina and Corey's affection? We sure can. Here's how:
They both went though a long-haired, low-cut, big-collared phase:
And let's compare the lyrics:
"Say No More Mon Amour"
You greet me with a smile and a glass of ro-se
I find myself distracted by your black negligle
You tell me everything with that look on your faceSay no more baby, lets cut to the chase
"Blurred Lines"
But you're a good girlThe way you grab meMust wanna get nastyGo ahead, get at me
And they have a penchant for singing in foreign, sexy tongues:
"Say No More Mon Amour" — Rex Manning
Say no more
Mon AmourI'll bring my lovin' right to your front doorHere I comeBaby je'ta dour
"Everything I can't have" — Robin Thicke
Breakfast, lunch and dinner
Want it all the timeYo te quiero muchoYo hablo espanol
Both have some truly out-there merch on Etsy:
Oh and the fact that YOUNG REX MANNING (Maxwell Caulfield) AND ROBIN THICKE COULD BE TWINS.
So, yeah. They're basically the same person. Happy Rex Manning day, everyone!
Images: Empire Records/Warner Bros.; Empire Records/Warner Bros; RainbowAlternative/FanMugs/Etsy; Grease 2/Paramount
SaveSaveSaveSave