13 Fun and Festive Festival Accessories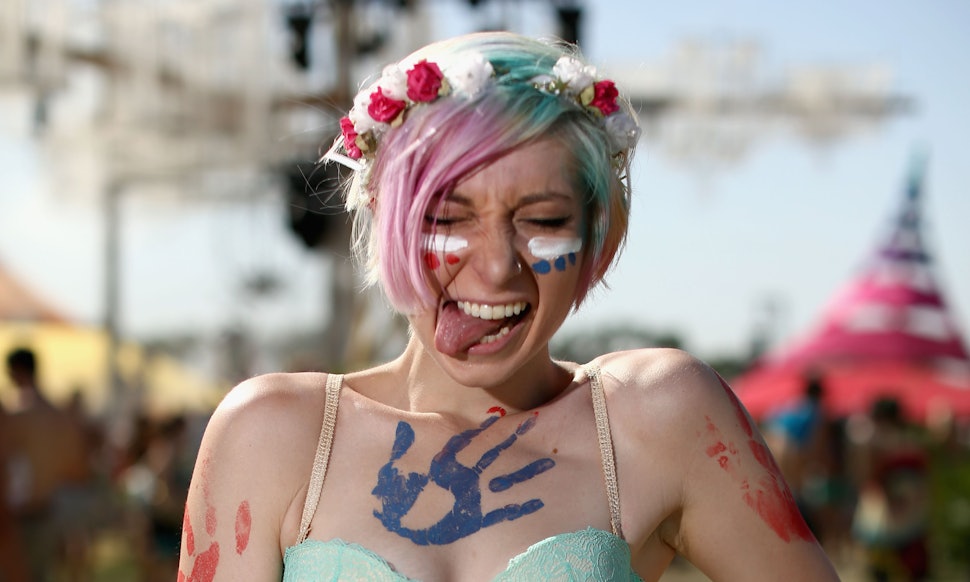 Christopher Polk/Getty Images Entertainment/Getty Images
After weeks of well-planned style prep, hair tutorials, and trying to understand one questionable diet, Coachella has finally arrived. Over the next two weekends, Indio Valley will be flooded with festival goers eager to hear performers like Lana Del Ray, OutKast, and Muse take the stage.
But perhaps even more exciting than getting to hear some awesome live music or riding a ferris wheel amidst palm trees is the chance to sport some seriously daring fashions. If there's ever a time to spend an entire weekend in a cutoffs and a bikini while covered in body paint, it's at an indie music festival.
Of course, no matter how little clothing you choose to wear, it never hurts to accessorize. Here, 13 festival-friendly accessories that are sure to dazzle (almost) as much as the dance moves you'll be busting out this summer.
Pink Hat
It's always nice to have a hat on hand, especially if you're planning to be under the sun all day.
River Island Shaker Hat, $47, ASOS
Leather Boots
These leather booties are sturdy enough for hardcore frolicking sessions.
Rembany, $150, Steve Madden
Holographic Crossbody
This teeny psychadelic crossbody will fit all of the day's essentials. Anything too large will weigh you down!
Kelsi Dagger X UO Remi Mini Tech Crossbody Bag, $34, Urban Outfitters.com
Embellished Arm Cuff
The chain on this arm cuff will move with the music.
Sibilia Dancing Armband, $98, Free People
Flower Crown
When in doubt, stick flowers in your hair!
Beauxoxo Flower Crown, $16, Etsy
Rainbow Turban
We foresee a groovy future.
Rainbow Crush Velvet Turban, $28, Nasty Gal
Neon Shades
These oversized neon shades add a pop of color to any ensemble, all summer long.
Linda Farrow For Matthew Williamson Square-Frame Acetate Sunglasses, $135, The Outnet
Stackable Midi Rings
Channel your inner rock star with this bit of fierce and feminine bling.
Luxe Spike Midi Ring Set, $58, Henri Bendel
Spiked Earrings
Your less painful (and quicker) approach to a stretched-lobe look.
Elizabeth And James Vogel Pyramid Spike Screw-On Stud Earrings, $102, Neiman Marcus
Tassel Necklace
Fringe is a favorite among festival goers, but if you're not read to go all-out then we recommend starting off with this tiny tassel.
Vicki Leigh The Ritz Tassel Necklace, $27, Etsy
Crocheted Flats
Crocheted flats keep feet cool and comfy under the sun. Plus, no heel means you're less likely to twist an ankle while rocking out to your favorite bands.
Loop Me In Flat, $45, Mod Cloth
Denim Backpack
This backpack is available in every shade of denim. Match it to your cutoffs or go for an ombre approach.
Denim School Bag, $58, American Apparel
Wrap Belt
Free flowing maxi skirts and dresses take shape with a simple belt. We like the dimension that this layered one adds.
Distressed Double Wrap Belt, $28, Free People