Like You'd Dare Miss This Adorable Mug in The Snow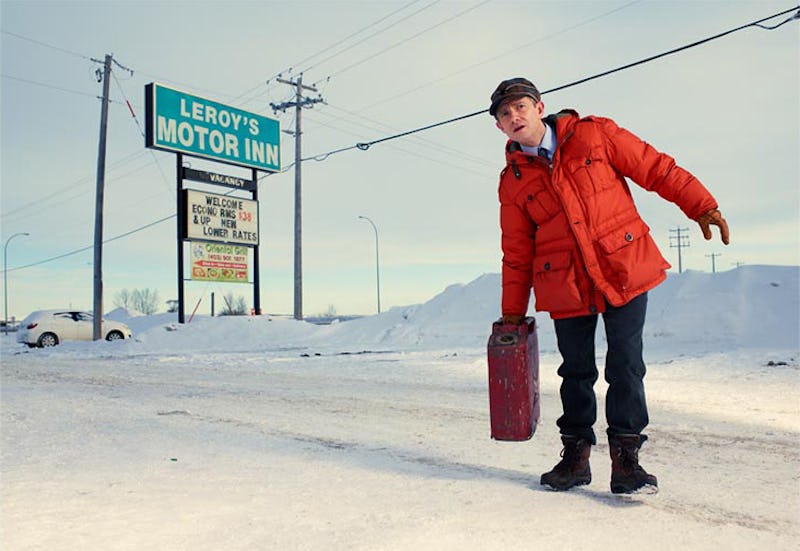 The FX adaptation of the Coen brothers' hit 1996 film Fargo premieres Tuesday on FX, and if you're anything like me, you're pretty pumped for the dark series (as well as vaguely upset that Fargo star Martin Freeman insists on working on anything but another season of Sherlock). Fargo, the TV series, is poised to keep the dark, unique humor of the film, but will leave behind Jerry and Marge and instead introduce Freeman's insurance salesman Lester Nygaard and Billy Bob Thornton's gangster Lorne Malvo. While certainly along the same vein as the series, FX's Fargo definitely seems to be carving out its own path through the Minnesota snow, don'tcha know.
Still need a reason to watch? Rounding out the cast are Colin Hanks, Bob Odenkirk (a.k.a. the beloved Saul Goodman of Breaking Bad and soon, Better Call Saul), and newcomer Allison Tolman as three of Fargo's finest (and most hapless) law enforcement officers.
Sounds great, right? You're probably like, dying to watch it now, right? You're in luck, should you find yourself woefully without cable in your home or buried under 10 feet of snow, you can still catch the season premiere in one way or another.
WATCH IT ON DEMAND
Though you'll have to wait about a day after the original air date, as long as you have a cable provider login, you can watch FX series right on the network's website. But let's be honest: not having cable doesn't mean you don't have access to an account. There's an entire generation of youth mooching off their parents' cable subscriptions, and even if you don't fall into this category, you have at least a few friends who do. (It's science.) The quickest way to find out who they are is by prostrating yourself before them on Facebook. A "Who has a cable login I can use to watch Fargo?" post might seem a little desperate, but it'll do the trick. Before you start to beg, though, check FX's list of participating cable providers to make sure you get the right one.
Of course, if you've got your own cable and just want to catch the show after its aired, FX is pretty good about getting new episodes of its series loaded into the on demand section on your cable box by 8 AM ET the morning after the episodes air.
Get It on Your iPad
It's not technically on iTunes, Amazon Instant, or Google Play at the moment — it's a new TV series after all — but we can almost guarantee that one of these video on demand services will have episode for purchase as the show continues. (They do it with FX's Sons of Anarchy and Archer don't they?) At that point, it'll cost you between $1.99 and $2.99 per episode to stay caught up with Fargo's dark wave of nonsense, with the added bonus of downloading the episode and taking it where ever you may go, even to the depths of an underground bunker where Wi-Fi and cell service go to die.
If you're still not 100% sure if Fargo is for you, check out our handy dandy guide to the new series and take a look at the first seven minutes of the series.
Images: FX; Tumblr/FXFargo (4)