10 Things You Never Knew About '13 Going on 30'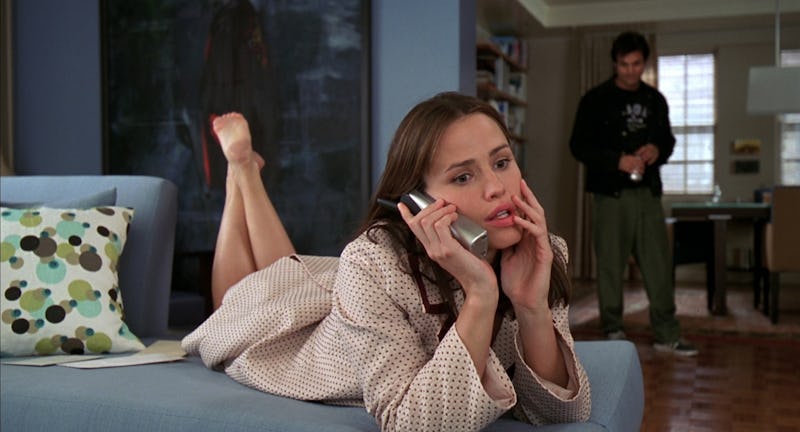 On April 23, 2014 the delightful comedy 13 Going on 30 is going on 10 years old. (Hang in there Jenna Rink, in just 20 years your story will be 30, flirty, and thriving!) 13 Going on 30 took the successful Big formula of a kid living in the body of an adult and put it in a 13-year-old girl's shoes, and the results were a big-hearted charmer with '80s nostalgia to boot. (Of course, watching the movie now will give you nostalgia for the early 2000s, particularly with those colorful fashion statements and Liz Phair tunes being used in montages.)
And while you may know all the lines by heart ("You are rude, and mean, and sloppy, and frizzy, and I don't like you at all!") and you know for sure that it would have been way more fun to hang out with Matty than "Six Chicks" anyway, there may be some things you don't know about the flick. In honor of 13 Going on 30's 10-year anniversary, here are 10 you need to know.
1. When It Was Released, It Was Only a Moderate Hit
It seems unlikely now, but 13 Going on 30 was only a moderate hit with both critics and moviegoers when it was released in 2004. The movie earned $57 million domestically at the box office and has a 64 percent fresh rating on Rotten Tomatoes. Chalk it up to repeated viewings on cable, or the fact that the coming-of-age comedy is as easy to digest as a handful of Razzles, but since its theatrical release the Jennifer Garner and Mark Ruffalo vehicle has become a modern, infinitely re-watchable favorite.
2. Christa B. Allen Really is the Young Jennifer Garner
Part of what made 13 Going on 30 work so well was the inspired casting, including Christa B. Allen as the young Jenna Rink. Allen (who was 12 years old at the time of the movie's release) was such a dead-ringer for a young Jennifer Garner, that she played the younger version actress again in the 2009 rom-com Ghosts of Girlfriends Past. Not only does Allen continue to resemble Garner, the actress (who now stars on Revenge) but it seems the two have had a bond that has lasted over the past decade. During an interview with WetPaint.com, Allen said that Garner gave her great advice for being a young star: "Make sure that you maintain a life outside of Hollywood because if you're just wrapped up in your career all of the time, you're not a real person having real experiences. And then how can you play a real person in a movie?"
3. Ashley Benson and Brie Larson Were in the "Six Chicks"
Before there was The Plastics, there was the Six Chicks, the popular mean girl group that Jenna was desperate to be a part of. While we wouldn't have liked these girls in high school, we'd probably want to hang out with them now because the Six Chicks included both Pretty Little Liars star Ashley Benson and Short Term 12 star Brie Larson. There they are on the right!
4. Jenna's Boss Richard is the Biggest Star of the Bunch
Sure, 13 Going on 30 is filled with bona fide movie stars like Garner and Ruffalo, and recognizable famous faces like Judy Greer, Kathy Baker, and Jim Gaffigan, but it's Andy Serkis who has appeared in some of the biggest blockbusters of all-time. Serkis is best known for his motion-capture and voice work in King Kong, The Rise of the Planet of the Apes, The Adventures of Tintin, and, of course, as Gollum in the Lord of the Rings saga and The Hobbit. Maybe instead of Poise they should have called it Preeeeecious.
5. "Thriller" Almost Stopped Mark Ruffalo From Appearing in the Movie
Mark Ruffalo's adorable character Matt is hesitant to hit the dance floor and perform the iconic dance moves from Michael Jackson's "Thriller" video, but no one was more hesitant than the actor himself. While the impromptu dance-along at the Poise party is one of the most memorable moments in 13 Going on 30, Ruffalo wanted no part of it. In an interview with Movies.com the actor confessed, "The dancing was horrible! I almost didn't want to do this movie. I literally read it and I'm like, 'I can't do this movie. I can't get up and do those scenes.' When [Jennifer] dragged me out [onto the dance floor], she was literally dragging me out. I had hours of rehearsal with a dance coach who taught me how to do all the moves and stuff and still, when we got into actually shooting it and there were 300 extras around, I did not want to do that scene."
6. The Soundtrack is Jammed with No. 1 hits from the '80s
Michael Jackson's "Thriller" isn't the only chart-topper to appear in the nostalgia-heavy movie. Among other 13 Going on 30 tunes that hit No. 1 on a Billboard list include Rick Springfield's "Jessie's Girl," Whitney Houston's "I Wanna Dance With Somebody (Who Loves Me)," Vanilla Ice's "Ice Ice Baby," Madonna's "Crazy For You," and Pat Benatar's "Love is a Battlefield."
7. On-Screen Frenemies Jenna and Lucy Are Pals in Off-Screen
Garner's Jenna and Greer's Luck (a.k.a. Tom Tom) may have been frenemies/co-workers in 13 Going on 30, but the actresses are real-life pals and friendly co-stars. (In a red carpet interview Greer raved about Garner's work ethic: "She's so sweet and open and she never complains.") The two were spotted grabbing lunch together last month and will appear on screen together again in the upcoming Jason Reitman ensemble comedy Men, Women & Children.
8. The Movie Has Become a Tourist Destination
The New York City-set comedy visits some world-famous destinations like Fifth Avenue, Brooklyn Bridge Park, and the New York Public Library, and tourists visiting will be able to see exactly where the movie took place. 13 Going 30 destinations are part of On Location Tours' stops, along with other romantic comedies like The Devil Wears Prada, Breakfast at Tiffany's, and Sex and the City.
9. Jennifer Garner was 32, Not 30, When the Movie Was Released
When 13 Going on 30 was released on April 23, 2004, Garner had recently turned 32 years old, while Mark Ruffalo was 36 years old, and Sam Ball (better known as future Jenna's goofy hockey player boyfriend) was 31. Judy Greer, on the other hand, was playing older: she was 28 years old at the time.
10. Ben Affleck's Ex Jennifer Lopez Has a Cameo in the Movie... Sort Of
In addition to 13 Going on 30, 2004 also marks 10 years since the split of the infamous Bennifer. While Jennifer Garner and her future-husband Ben Affleck weren't married at the time of 13 Going on 30 (they wed in 2005) it still feels like a weird time warp to see these Jennifers together on screen. Granted, though they don't technically appear together, Jennifer Lopez appears on the cover of Poise (and, in turn, Sparkle) and both of Ben Affleck's famous loves share some screen time.
Images: Columbia Pictures; WiffleGif.com; PerfectionDetail.com; Teen.com; HellYeahAndySerkis.Tumblr.com; MarkRuffaloIsAttractive.Tumblr.com; Wifflegif.com; Rebloggy.com; Wifflegif.com; TeamRomCom.Tumblr.com;