All of The Times Carrie Was Crazy Selfish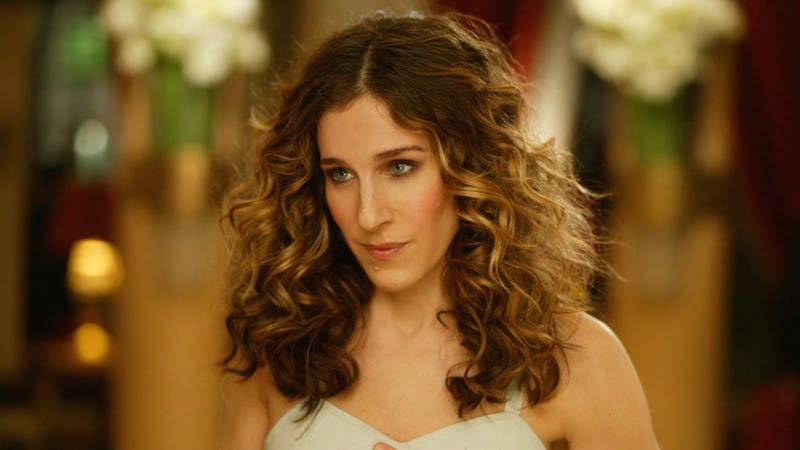 I remember the first time I watched Sex and the City : I was instantly in love. Not only were the characters absolutely fabulous, but it was all taking place in the city in which I couldn't wait to live. Oh, and I was also totally a Carrie. But then I grew-up a bit. I found that, upon excessive watching of reruns of the show, Carrie Bradshaw is probably one of the most of selfish, self-involved, narcissistic characters to ever be on TV — not including Hannah from Girls, of course. I may still love the show, but it's simply the truth.
Here are all of the times (OK, who are we kidding, some of the times) when Carrie was completely and totally an asshole of utter selfishness to her friends and lovers.
THAT TIME SHE WAS TOO BUSY TO HELP MIRANDA WHEN SHE THREW HER BACK OUt ... AND SENT AIDAN INSTEAD
Then she thinks that bringing Miranda bagels later on will totally make up for it. FYI, Carrie, Miranda would have been there for you. At least she gets called out on this one.
THAT TIME SHE Equated Her Shoes To A BABY
Sure, her shoes were stolen, but the real problem is that she spends the entire episode complaining about how singles never get any gifts.
THAT TIME SHE CHEATED ON AIDAN, THEN BROKE HIS HEART AGAIN WHEN THEY GOT BACK TOGETHER
This might have been realistic, but cheating on Aidan is pretty much the equivalent to kicking an adorable bunny. You just don't do it.
THAT TIME SHE WAS ASKED TO READ A POEM AT A FRIEND'S WEDDING, BUT THE POEM WAS ACTUALLY ABOUT BIG
Then Big leaves the reception mid-poem to take a phone call, and Carrie makes it all about her AGAIN. Those are self-centered tears.
THAT TIME SHE HAD AN AFFAIR WITH BIG WHILE HE WAS MARRIED TO NATASHA
Granted, she goes with Natasha to the hospital after she took a header down the stairs. So...
That time she thought Charlotte should give her money
Basically, you want to be bailed out of your financial situation because you blew all your money on shoes? OK. So she takes her engagement ring instead.
THAT TIME SHE REFUSED TO GET RID OF THE CLOTHES SHE HADN'T WORN IN YEARS TO MAKE ROOM FOR AIDAN WHEN HE MOVED IN
Then she gives him a hard time about having Rogaine.
THAT TIME SHE CONVINCED HER FRIEND TO LEAVE HER VERBALLY ABUSIVE HUSBAND, THEN Gets annoyed by her WHEN SHE DOES
That's some vintage Carrie selfishness.
THAT TIME SHE SERIOUSLY CONSIDERED MARRYING HER GAY BEST FRIEND, STANFORD, BECAUSE OF HIS GRANDMOTHER'S FORTUNE
Yes, Stanford suggests it so he can get the money too, but it's no fun to use your friends for their grammy's Chanel collection. Even though she is always excluding him from hanging out with the "girls."
THAT TIME SHE WOULDN'T SHUT THE FUCK UP ABOUT BIG TO HER FRIENDS, SO THEY FINALLY HAD TO TELL HER TO GET A THERAPIST
But instead of focusing on her recovery, she bangs Jon Bon Jovi. And swears off therapy when he turns out to have commitment issues.
THAT TIME SHE TOLD AIDAN SHE CHEATED ON HIM JUST HOURS BEFORE CHARLOTTES' WEDDING
Because of course she does.
THAT TIME SHE LEFT HER FANS WAITING FOR HER ALL NIGHT AT A CAFÉ IN PARIS
Because boyfriends always come first for Carrie.
THAT TIME SHE DITCHED CHARLOTTE AT THE OPERA JUST BECAUSE SHE SAW BIG ACROSS THE Theatre
People run into their exes all the time! Stick it out and be a friend. Charlotte has always been a great friend to you.
THAT TIME SHE DEMANDED BIG TELL HER SHE'S 'THE ONE' ... WHILE THEY WERE HANGING OUT ON THE SIDEWALK
Umm…
THAT TIME SHE STARTED TO WEAR HER ENGAGEMENT RING ON Her neck without asking aidan how he felt about it
We understand having reservations about marriage, but clearly, this is not the way to handle things.
THAT TIME SHE HARSHLY JUDGED SAMANTHA FOR GIVING HEAD TO THE DELIVERY GUY
What. A. Hypocrite.
THAT TIME SHE INVITED BIG UP TO AIDAN'S COUNTRY HOUSE
So, you invite the man with whom you cheated on your boyfriend to his country house because he's torn up about his model girlfriend? Nice.
THAT TIME SHE CRITICIZED BERGER'S BOOK ... Because, Scrunchies
You know, Carrie, there are some people in the world who still wear scrunchies. Yes, the majority of them probably don't live in NYC (unless it's like an ironic Brooklyn thing), but that's your main point?
THAT TIME SHE COULDN'T UNDERSTAND WHY SHE'D ALWAYS BE SECOND TO ALEKSANDR PETROVSKY'S ART
Get over yourself, girl.
THAT TIME SHE MADE HER FRIENDS' PROBLEMS ALL ABOUT HER
Oh wait, that's just called breakfast.
Images: HBO; YouTube; Tumblr; Tumblr; Tumblr; Giphy; Tumblr; Giphy; Giphy; PolicyMic; Tumblr; Tumblr; Tumblr; Tumblr; ReactionGIF; Tumblr