'Parks and Rec's Donna is Finally Getting a Life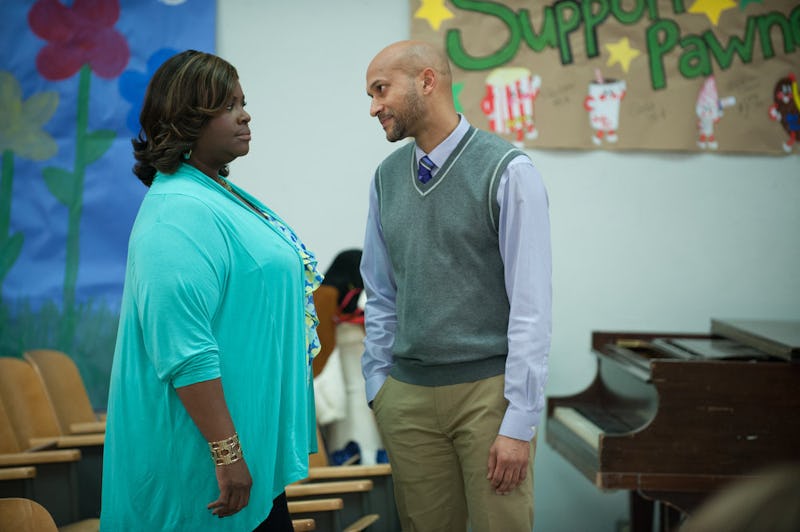 *Spoilers from Thursday's episode to follow*
When the main character of a show discovers that she's pregnant with triplets, it's easy for the other plotlines that occur during an episode to get overshadowed. Thursday night's Parks & Rec understandably focused on Leslie and Ben's big news, but let's not forget that also in the episode was Andy's secret, Larry's "sickness," and the surprise that Donna's finally getting a life — or at least a boyfriend. "One in 8,000" saw the oft-sidelined character reconnect with an ex-boyfriend and confront her commitment issues, the first time in seasons that Donna's issues have taken center stage.
Although Donna was never one of Parks' central characters, she's been a constant presence on the show since the series' inception. Sassy and confident, the employee, played by the equally great Retta, was most often seen advising Leslie on dating, forging friendships with April, and celebrating "treat yo self" day with Tom. Occasionally, we got a glimpse at Donna's life, with mentions of ex-boyfriends, Mercedes-Benz, and a cousin named Ginuwine. Yet unlike the rest of Parks & Rec's supporting cast, Donna has never gotten a chance to pursue her passions — whatever they may be — or have her relationships get dissected and brought to the forefront. Hell, even Jerry/Larry's had his wife and kids introduced; as for why Donna's non-work life hasn't garnered the same screentime, we have no idea.
So seeing Donna's relationship problems take center stage on Thursday was huge, and hopefully, a promise of more Donna-centric plotlines to come. After learning that she would have to accompany Ron to the elementary school for an event, Donna tells her boss to defend her from Joe, a music teacher ex-boyfriend she refers to as her "Tammy." A reference that dark leads Ron, and us, to believe that Joe is some sort of monster, but when we meet him at the school, he turns out to be a kind, knowledgeably guy who's clearly into Donna. He bakes muffins, likes woodwork, and isn't even intimidated by a "tread lightly" warning from Ron/Walter White; basically, he's perfect, and that's exactly why Donna's terrified.
With Joe, Donna tells Ron, she "turns into a person she doesn't recognize," one who sits on couches, eats homemade pasta, and becomes, in her words, "boring." Donna, a social, spontaneous, night owl, feels that being tied down to someone like Joe is a "nightmare," especially considering how, when they were together, he was constantly being respectful and wanting to spend time with her. Yet after some words of advice from Ron about choosing happiness over drama, Donna decides to win her ex back.
"I like to do things," she begins when she confronts Joe, telling him that if they're going to be together, he's going to have to be okay with letting her be her social butterfly self. Joe agrees, and plans are made for dinner, complete with a Donna-perfect line ("I'll wear that red thing when you deserve to see me in that red thing.")
Thursday's scenes at the school were the first time we've truly seen Donna interact with someone important to her outside of the Parks department, and it also gave some insight into what her non-office life was like (fly fishing? Really?) Yet as nice as it was to see Donna's storyline expand so suddenly, simply having her begin a relationship isn't enough. Donna needs real plotlines, about her non-work passions or crazy family relationships or dreams for a future career. We know so little about her, and after six seasons, it's getting to be ridiculous. Giving her a boyfriend is a start, but there's far too much about Donna that still needs to be explored.
Hopefully, the introduction of Joe is setting up the framework for a bigger Donna storyline to come. Perhaps we'll see the toll that their relationship takes on the typically-un-monogamous Donna, or maybe there'll be an episode where Donna's friends from outside the office get introduced to Leslie, April, and the rest. We're just spitballing here, of course, but whatever the storyline turns out to be, it needs be something worthwhile. In a series filled with great characters, Donna is one of the funniest and most compelling; it's embarrassing for the Parks writers that she hasn't been given a storyline equal in weight to her co-workers. She may not be the show's star, but when we know more background about Li'l Sebastian (R.I.P.) than we do Donna, something's gotta change. Here's hoping Joe is just the beginning of a Parks where Donna gets the attention she so clearly deserves.
Image: NBC