Get Excited: 'Parks & Rec' Has Big Changes Comin'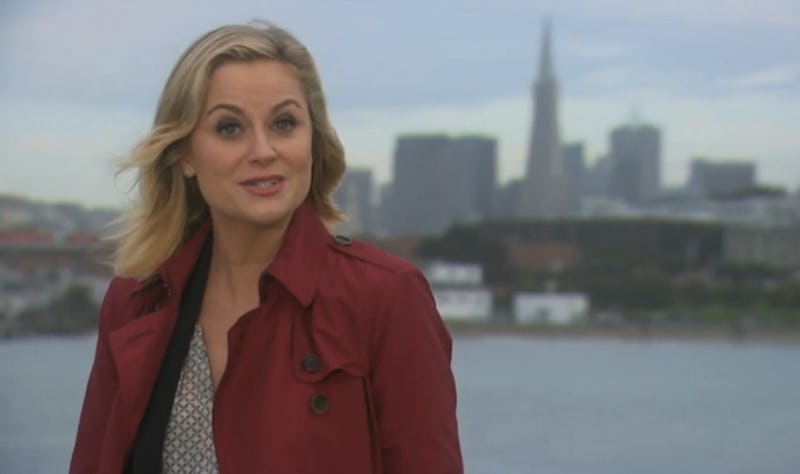 There was a palpable excitement coming from Amy Poehler and Parks and Recreation co-creator Mike Schur on a conference call on Friday, When speaking about the season six finale, Poehler — self-professed lover of Bustle.com (!!!!!) — was very quick to quip: "we can't really talk too much about it." Because, according to these two, there is a lot at stake, and "big things happen" beyond the new triplets pregnancy and the finale episode's myriad guest stars — FLOTUS Michelle Obama, Donna Meagle's cousin Ginuwine, Yo La Tengo, Jeff Tweedy from Wilco, The Decemberists, and Letters to Cleo — and we're very, very excited for what's to come.
When grappling with where to head into season two, Schur took the fate of the characters on the series quite seriously. "How do you continue to honor the characters in their lives and what they want in life and stuff like that, while still keeping everybody in a sphere where they get to actually interact with each other and stuff?"
For Poehler, it is all about being true to life."People leave, they get new jobs, they get married, they break up," she explained. "So I think it's another example of big change happening for a lot of people, and I think fans of ours will be really excited coming into Season 7."
As for what that change might be? "We haven't given you any clues," Poehler asserted, but Schur did give a bit of insight into what's next for the proudest Pawneean the world has ever seen. "Leslie will make a decision about whether or not to take this big job that she's been offered," he said. But it won't just be Leslie hopping aboard the Change Express. "There's some other stuff that happens involving Ben that sort of hints at a change in his life — or at least a nominal change," explained Schur. "There [are] a lot of stories in the finale that sort of run through the whole episode, and a lot of those questions will at least be partially answered by the time it's over."
While that might sound like the end of the Pawnee we've known and loved this whole time, Poehler insisted that there's nothing to fear. "What's exciting about working on Parks, always, is that we keep moving things forward and never sit still as far as what happens to people."
Poehler was audibly anticipatory for fans to see what happens — especially in those all-important final seconds. "It ends with, I think, a pretty exciting — dare I say it, in a good way — a very exciting last moment. So I'm very excited for people to see it. I wish we could give you more hints." Thankfully, the hour-long season finale of Parks and Recreation is slated to air tonight, Thursday, at 8PM on NBC. The wait is nearly over!
Image: NBC