Olaf is Making A New Disney Film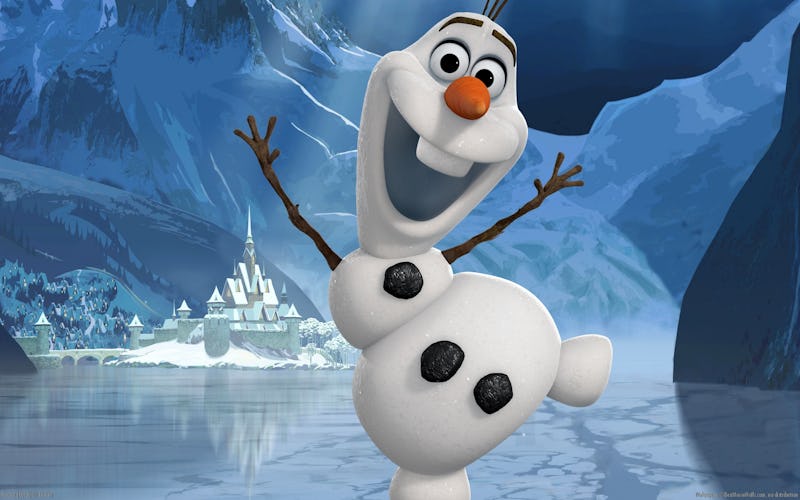 My favorite song in what might be everyone's new favorite Disney movie, Frozen, isn't "Let It Go" or even "Do You Want To Build A Snowman?" My favorite tune from the animated musical is "In Summer," sung by the adorable and hilarious snowman, Olaf, who doesn't understand that summertime will turn him into a puddle. The voice of Olaf is the equally funny actor Josh Gad, and, luckily for Frozen fans, he isn't done working for Disney just yet: Gad is set to develop a new comedy/adventure for Disney, and I couldn't be more excited about it.
You definitely know Gad in his snowman form, but where else do you know this actor from? Probably more places than you think you do. Josh Gad's first major role was in the 2008 comedy The Rocker, alongside Rainn Wilson, Emma Stone, and Christina Applegate. Later he went on to star in short-lived TV series like the news-centric Back To You with Kelsey Grammer and Patricia Heaton and Woke Up Dead, a zombie comedy starring Jon Heder and Krysten Ritter. Later, he starred in films like the romantic indie She Wants Me, where he plays a writer who must decide between giving his girlfriend or an A-list actress a part in his new film, and Thanks For Sharing, where he plays a recovering sex addict.
More recently, Gad starred on the White House comedy 1600 Penn and guest starred on both Modern Family and New Girl, just before making his animated musical debut as Olaf in Frozen. You can also see him Zach Braff's upcoming thematic sequel to Garden State, the crowd-funded indie Wish I Were Here .
While there's no current plans for a Frozen sequel currently underway, I'm hoping that we'll "see" (or rather, "hear") Gad as Olaf once again. Until then, I'm looking forward to Gad's new Disney project. Let's hope it's at least half as good as Frozen.
Image: Disney