Emma Stone Is Not Spicing Up Your Life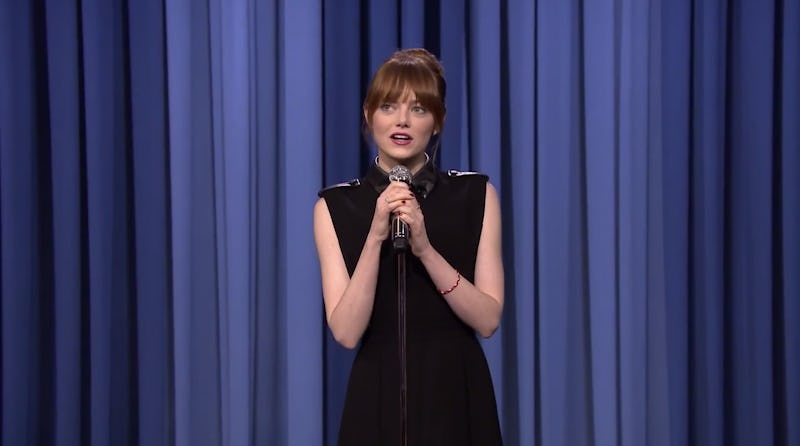 Has the statute of limitations run out on mentioning Emma Stone in the same breath as the Spice Girls? It seems like the top three things to know about her these days are that she plays Gwen Stacey in The Amazing Spider-Man, she is dating Andrew Garfield, and she's obsessed with the Spice Girls. There's a lot more to her than just those three things, but they're all anybody seems to be talking about, including, occasionally, Emma Stone. So when she went on The Tonight Show Starring Jimmy Fallon and entered a Lip Sync Battle, raise your hand if you expected to hear at least one Spice Girls song.
Just as Stone has made a career out of defying expectation, so too did she spit in the face of that assumption. She and Fallon got to pick two songs each and while Stone did pick at least one 90s song, it wasn't from the Spice Girls. Her first song choice was "Hook" by Blues Traveler, a jam band formed in 1987 that gained mainstream popularity with their 1994 album Four. "Hook" reached number 23 on the Billboard Hot 100 and Stone sang it like she'd written it herself. Literally sang.
"It's supposed to be lip synching, but I was full singing..." said Stone as she took the microphone for her second song. "It was karaoke for me."
She followed "Hook" up with the most energetic rendition of "All I Do Is Win" by DJ Khaled that the world has ever seen. Did you know Emma Stone could rap? Anyone who has ever seen Easy A knew she could sing, but she handled Ludacris' rap verse much better than she handed the chorus. Naturally, in true Emma Stone style, she threw herself completely into it and blew Jimmy Fallon out of the lip synching water.
We knew that there was no way that Stone could only have an iPod filled with Spice Girls albums between the '90s and now, but it's kind of a relief to finally be moving on from that association that was starting to overshadow everything else she was doing with her time. Maybe now when Gwen Stacey and Peter Parker are back on the big screen on May 2, no one in the audience will be singing, "If you wanna be her lover, you gotta get with her friends."
Watch the video below.
Image: The Tonight Show/NBC