An Ode to 'The Good Wife's Finn Polmar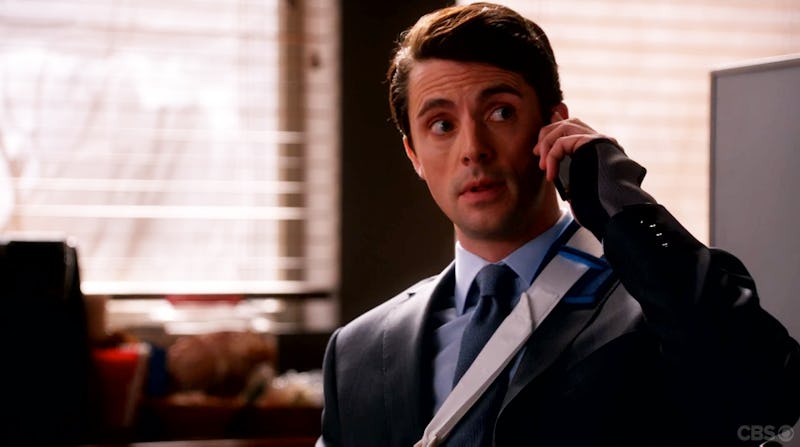 The Good Wife has been experiencing somewhat of a renaissance during its fifth season: Alicia Florrick's controversial split from law firm Lockhart/Gardner really gave the show the jolt of energy and excitement it needed. And while there have been a number significant plot developments this season (bye, bye, Will Gardner), most recently, viewers have become absolutely smitten with the newly introduced character of Assistant State's Attorney Finn Polmar — and it's easy to see why. In a crowd of double-crossing lawyers, criminals, and self-serving politicians, the kind, genuine Finn (played by actor Matthew Goode) really stands out. Of course, he's got a lot of competition, but I believe Finn might just be the best thing to happen to The Good Wife this season.
As I said on Monday, I think that Alicia and Finn could be perfect for each other, and there's definitely a possibility that the writers could be setting them up for romance in the future, but actually, that's not why I think Finn has been such a wonderful, necessary addition to the show. The chemistry and connection between Alicia and Finn (and really, between actors Julianna Margulies and Goode), even just across the short span of four episodes, is undeniable. I think Good Wife fans have really missed getting to see Alicia truly connect with other characters, period. I know, The Good Wife is a drama series, and the show definitely brings the drama (especially this season), but viewers want to see good things happen to Alicia, too.
Let's face it: Alicia's life hasn't been easy. She returned to the work force after many years away amidst her husband Peter Florrick's very public, very embarrassing cheating and corruption scandal. When Peter went to jail, Alicia was forced to raise their two children on her own. Just when Alicia started to feel like she had found a true friend at her new job in Kalinda Sharma, Lockhart/Gardner's private investigator, Kalinda revealed that she was actually one of the prostitutes who Peter had slept with in the past.
Oh, and Alicia started an affair with her boss Will that ultimately came to an unsatisfying end when Peter was finally released from jail and decided to run for governor. After Alicia left Lockhart/Gardner, all she and Will could do was fight. The two had only just begun to mend their damaged relationship when Will was murdered. Now, Alicia is dealing with all sorts of intense feelings of guilt and regret over what might have been and things left unsaid.
Needless to say, a lot of stuff has happened over the course of the series that has caused Alicia to become closed off and emotionally guarded — it makes sense. But after all she's been through, fans want to see Alicia feeling happy sometimes, too. She needs a "win" every once in a while. Too often, we only get to see Alicia arguing with other lawyers in court, arguing with Peter, arguing with Peter's right-hand man Eli Gold — it's become a little tiresome this season.
Before Kalinda dropped the bomb that essentially ended her relationship with Alicia for good, their budding friendship was one of the highlights of the show. Alicia and Kalinda had real chemistry together. And speaking of chemistry, remember Alicia and Will?? Alicia was in such a good place when she was with Will! Their passionate relationship was a welcome contrast to Alicia's mechanical, lifeless, barely-there connection with Peter. Getting to witness Alicia in love was a big treat for viewers — it showed us a whole new side of the character.
We have occasionally gotten to see Alicia enjoy herself this season, but those moments have been few and far between. During this season's "A Material World," viewers got to watch Alicia and Diane Lockhart get drunk together after Will's funeral and really bond. (Admittedly, it was kind of a strange time to get tipsy and giggle, but grief can do strange things to people.) It was so cool to see Alicia having fun.
So that brings us back to Finn. Even if Alicia and Finn never make a go of it romantically, the Finn character has allowed viewers to watch Alicia interact with someone in a positive, truly meaningful way again. Finn is a lawyer — he understands the challenges in Alicia's professional life. He also understands the emotional turmoil that Alicia's currently going through. In a way, Alicia's connection to Finn is closely tied to Will, as Finn was one of the last people to see him alive, but she's already begun to care for Finn beyond that.
Alicia fought for Finn in court so that he didn't unfairly lose his job, and it looks like she's going to help him launch his campaign to be the next State's Attorney, as well. Alicia really needed someone like Finn in her life — someone who is honest, caring, and supportive. Someone she can relate to.
Simply put, Finn is the best. No, seriously — he's quickly becoming my favorite character on the show. I can't wait to watch Alicia and Finn's relationship continue to develop as we near the end of the season. While I certainly wouldn't complain if the two found love with each other, honestly, I really don't think that's what this recent Finn fascination is all about. It's about viewers wanting to see Alicia connecting again, wanting to see her interacting with someone who she has chemistry with. Oh, and it's also about Finn being really, really ridiculously good-looking. And charming. Yeah, it's definitely about that stuff, too.
Images: CBS; pelennors/tumblr