Who's Back for Season 11 of 'Grey's Anatomy'?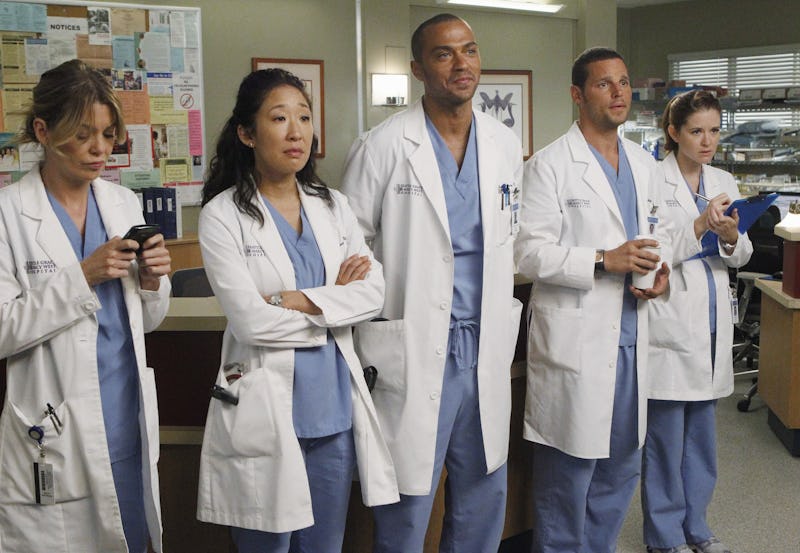 Grey's Anatomy's 10th season may be drawing to a close May 15th, but creator Shonda Rhimes is already looking ahead to seasons 11 and 12, resigning four more of the show's central cast members for an additional two years joining Patrick Dempsey and Ellen Pompeo who signed on back in January. The show hasn't actually been renewed for a 12th season yet, but Rhimes is confident that ABC will give the extension the show wants. "I think it's going to stay on the network for many years to come," she's said in the past. ABC did confirm it's season 11 renewal though, and it will likely premiere this fall.
Now that Rhimes has put her money where her mouth is and extended the contracts of almost all the characters, who can we expect to see in seasons 11 and 12 assuming they actually are granted that renewal? We know Sandra Oh's Cristina Yang is out and leaving at the end of this season, but who else is staying on or bowing out?
WHO'S BACK FOR SEASONS 11 AND 12?
PATRICK DEMPSEY - DEREK SHEPHERD
Dr. McDreamy is probably going to be around until his hair goes entirely gray. He was one of the first actors to sign on for an additional two seasons back in January.
ELLEN POMPEO - MEREDITH GREY
The other half of the central marriage in the show also signed on through season 12 in January. If she were ever to leave the show it would probably have to end since it's called Grey's Anatomy after all.
SARA RAMIREZ - CALLIE TORRES
This orthopedic surgeon/underwear dancer just signed on for two more seasons also.
JUSTIN CHAMBERS - ALEX KAREV
Many fans were concerned that when his character Karev left the Grey Sloan Memorial Hospital for a private practice that Chambers was planning to leave the show for good, but now he'll be back for at least two more seasons. Does that mean that his private practice stint won't work out? Last we saw, the hospital was suffering a shortage of hands and piling a lot on his girlfriend Jo Wilson, so maybe he'll come back because he realizes the hospital does need him after all.
CHANDRA WILSON - MIRANDA BAILEY
This tough secret softie will be sticking around through season 12.
JAMES PICKENS JR. - RICHARD WEBBER
Season 10 started off on a scary note when fans weren't sure that the beloved ex-chief was still alive after sustaining an electrical shock. Not only did he pull through, he seems good to go for the next two years.
WHO'S DEFINITELY BACK FOR SEASON 11?
These actors didn't have their contracts up this year, so all we know is that they'll definitely be back for at least next season.
JESSICA CAPSHAW - ARIZONA ROBBINS
After a rocky season for Robbins and her wife Callie Torres, things are finally good between them. Creator Shonda Rhimes said she expects a lot of season 11 to focus on the two ladies.
KEVIN MCKIDD - OWEN HUNT
With Cristina leaving, Hunt will really finally have to get over his former flame. Will season 11 bring a new love interest into his midst or will he spend the year pining over Cristina and throwing himself into his work?
SARAH DREW - APRIL KEPNER
April just got married and is having a baby. Between her and Callie and Arizona who have expressed wanting another child, there's going to be a lot of baby fever at Grey Sloan Memorial Hospital. And knowing Rhimes, one or more of those babies might not make it.
JESSE WILLIAMS - JACKSON AVERY
April's new husband will be around next season as our continued eye candy.
CAMILLA LUDDINGTON - JO WILSON
Even though Jo doesn't want to marry boyfriend Alex Karev, she'll be around next season to continue to have a worrying anger problem that probably needs to be addressed at some point.
JERRIKA HINTON - STEPHANIE EDWARDS
After getting dumped by Jackson at April's wedding, Stephanie has thrown herself into her work on Dr. Bailey's trial which is looking very promising. Things are definitely looking up for her career-wise.
WHO'S LEAVING?
SANDRA OH - CRISTINA YANG
As of the most recent episode it seems that Christina Yang is picking up and leaving Grey Sloan Memorial in favor of a fancy Zurich hospital. It can give her the money to really save lives and has resources for her to print a beating heart.
GAIUS CHARLES - SHANE ROSS
It's a shame that Shane was destroyed and rebuilt this season only to have to exit. In the beginning of this season he thought he killed a fellow resident by sending her to the electrically charged basement when he was originally instructed to go. He suffered a mental breakdown but had made an incredible comeback helping Cristina Yang on her groundbreaking 3D-printing heart project. So how will Shane exit? Something tells me Yang will bring him to Zurich with her.
TESSA FERRER - LEAH MURPHY
Ferrer's character Leah Murphy has also had a tough season. (Which resident doesn't though? It's practically a requirement at Grey Sloan. They should just be grateful that only one of them died.) Lately Leah has been increasingly stressed out over performing surgery for fear of fatally injuring someone. In the end she was dismissed becuase her skills weren't up to par and she simply couldn't take the pressure demanded of her any longer.
Images: ABC; liztheresa; Tumblr/gifhunterress; greys-reviews; Tumblr/lionessmess; Tumblr/miranda--bailey; Tumblr/dr-richardwebber-md; giphy; Tumblr/team-owen-hunt; theseriesfactor [2]; Tumblr/katrat; Martha Sorren; Tumblr; Tumblr/cornflake-girl; Tumblr/fyeah-tessa-ferrer