'24' Will Return Shorter Than Seasons Prior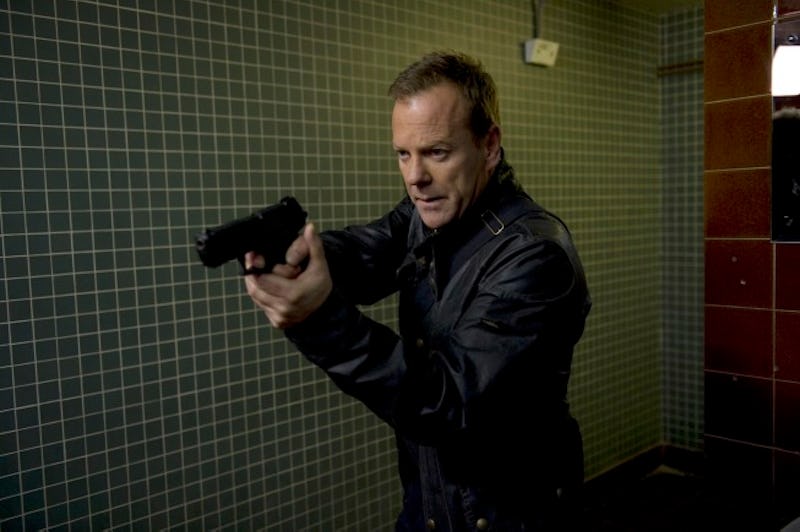 Fox's insane action series 24 is returning with the returning with the sequel series 24: Live Another Day on Monday night. It's been four years since Jack Bauer has graced our screens, saving lives, taking lives, and getting things done. Will everything be the same? Will we still be treated to 24 episodes of heart-stopping action?
A lot has changed since the former CTU agent became a fugitive on the run from both the Russian and American governments. Bauer will find himself hiding out in London when a plot to assassinate the United States President will come to his attention. He's always wandered outside of the law but he's never had to do so while also being on the run. With tech wiz Chloe O'Brian (Mary Lynn Rajskub) by his side, however, there isn't much that our hero can't do, and the two will race against the clock to save the day.
Normally it would take Jack and Chloe about 24-hours played out in one-hour episodes to do all this saving. But in the new show, while the entire season will still (completely unrealistically) reflect what has happened within a 24-hour period, there will only be 12 episodes. The decrease in episodes will make sure that the story-telling stays sharp and will help Fox contain the cost of the expensive series.
During a recent conference call with journalists, executive producer Manny Cuto spoke about the benefits of shrinking the season. According to Cuto, having only 12-episodes will make the series more intense, if you can even imagine that.
The 12 hours allows us to really condense the storytelling. In a 24-hour season, we kind of knew how many episodes we had to fill and where we had to go. Very often in a season we would stretch out plots as much as they could go to fill out the vast [episode order]. Here, we find ourselves really compressing the action.
In the same interview, executive producer Evan Katz also pointed out that viewers have changed as well, so the show had to adapt in response to our viewing habits, saying "...it's more inviting. I also think it's more special."
Honestly, I'd take any amount of Jack I can get. If 12 episodes are what we get, then so be it.
Images: Fox