They're Too Cute To Be Ignored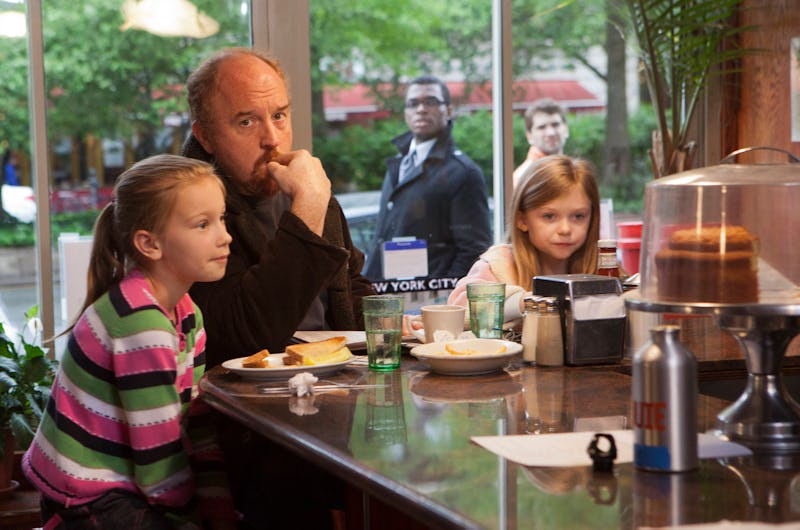 After the longest hiatus known to man (and maybe those guys over at Sherlock), Louis CK is finally back tonight with a new season of Louie. We can assure you Louie will be just as hilarious, dark and poignant as ever with Louie tackling emotions and issues everyone face like sex, loneliness, fear, and parenting. And with that last topic comes a common question for Louie fans: Are those Louis CK's real daughters on our small screens?
At the beginning of the series, Louie cast many different girls to play Louis CK's daughters, but no, they are not played by his real-life daughters. But midway through the first season, the casting director and Louis CK finally settled two young actresses: Hadley Delany as Lilly and Ursula Parker as Jane.
Hadley Delany had two minor credits before she got her start as Louie's daughter. She worked on the show most actors make an appearance on at some point in their careers: Law and Order: SVU. Before that she was in an episode of the soap opera One Life to Live. Since then, it's been all Louie all the time.
Ursula Parker, on the other hand, has kept herself quite busy before and during her time on Louie. She had a role in the play-turned-film Rabbit Hole starring Nicole Kidman and Aaron Eckhart. And while filming Louie, Parker also worked on films like We Need To Talk About Kevin and the hilarious comedy Ass Backwards starring June Diane Raphael and the ah-MAH-zing Casey Wilson. She also popped up on a few TV shows including Body of Proof, the short-lived 666 Park Avenue, and every kid's dream gig Sesame Street where she got to show off her violin skills.
Some of the best moments of Louie have come from lectures tries to Louie give his daughters which sometimes end really unsuccessfully. There are moments that really stand out among the rest:
A Lesson In Fairness
When Jane wants a popsicle but there's not enough, she complains that her sister Lilly got one. Here Louie tries to have a real talk with Jane but it doesn't end well for him. Sorry Louie, you can't outsmart a young girl. They're ruthless. It's true, I used to be one.
You Don't Get To Be Bored
In the hilarious episode "Country Drive" Louie and his daughters go on a road trip which results in the girls getting antsy during the long ride. Louis has a perfect response to their complaints of boredom:
'I'm bored' is a useless thing to say. I mean, you live in a great, big, vast that you've seen none percent of. And even the inside of your own mind is endless. It goes on forever, inwardly, do you understand? The fact that you're alive is amazing. So you don't get to be bored.
Hopefully we get to see much more of these ridiculously cute kids being embarrassed by their dad and getting more strange but perfect life advice from him this season.
Source: FX/K.C. Bailey; Tumblr/erics-idle