Don't Diss Meryl While Maks Is Around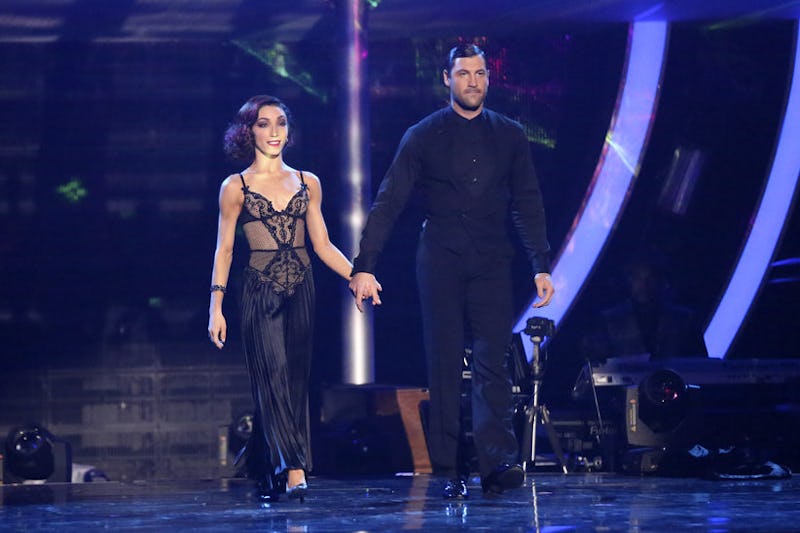 It was a tough night for Maksim Chmerkovskiy and Meryl Davis on Monday night's Dancing With The Stars. The "Celebrity Dance Duels" week, which featured the terrifying guest judge Abby Lee Miller, ended in the couple receiving only a 36 out of 40 possibly points and with Maks throwing serious shade at Miller. Miller's since called Maks "disrespectful," but honestly, I'm not surprised by his reaction. Maks and Meryl are more or less dating (even if they haven't confirmed it yet) and he's just trying to defend his lady and DGAF about whether or not you're a judge.
On Monday night, the notoriously tough judge Miller more or less told Davis that her footwork was a disaster and gave the couple the lowest score of all four judges for their contemporary rumba. While Meryl took the constructive criticism with a grain of salt — because she's poised and a Disney princess, after all — Maks didn't take Miller's comments quite so well. When asked by Erin Andrews what he thought about the criticism, Maks told the host, "I really don't care for anything she has to say." Damn, what a burn — don't insult his woman unless you're prepared to feel the wrath, right?
Miller allegedly doesn't care about Maks' hostile retort, but she did tell E!, "I think it was a little disrespectful to ABC and to Dancing With the Stars and to a judge." Which I guess I can agree with — it's kind of poor sportsmanship to bad mouth a judge, especially when all she was trying to do was help the couple win the whole shebang. We'd like to think that Meryl's actually changed bad-boy Maksim Chmerkovskiy for the better and he actually meant it when he said that he'd gotten a lot calmer just from being around her. If that's the case (we hope) there's one natural explanation for his aggressive shade-throwing — Maks and Meryl are totally dating.
So, in an overprotective and emotional moment, Maks jumped to the defense of his new girlfriend. Which I can totally understand considering the intense number they'd just performed. No one likes to hear their significant other torn down — constructively or not. Even though we can't excuse his behavior entirely, Maks' heart was in the right place in terms of Meryl.
The big takeaway here is that Maks and Meryl are undoubtably dating and even though she appreciated him defending her, because she's a graceful Disney princess, Meryl totally told him that he needs to get a grip after the show.
Watch their performance and the offending remarks here:
Image: ABC