12 Fascinating Google Street Views For Writers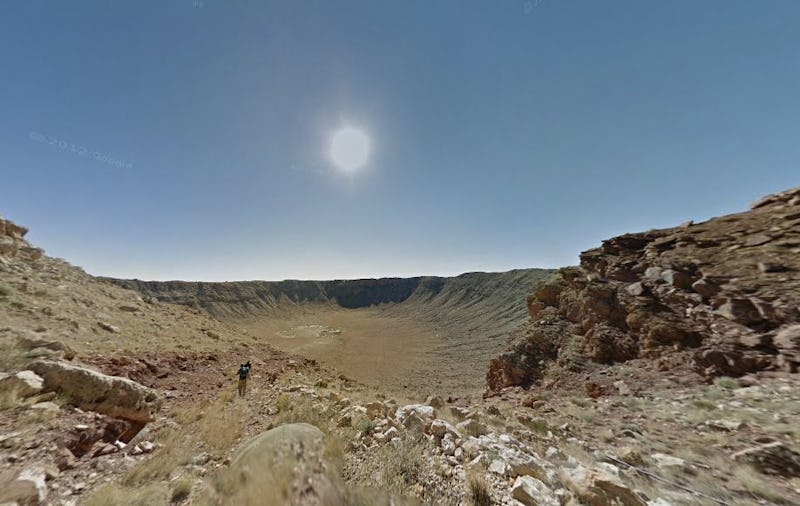 When writing fiction, you'd think setting would be the easy part. It's not nuanced and complex like actual human emotions or actions. You can more or less slam your characters down anywhere — say the building was red brick, the grass was green, and the location was a typical middle-class American suburb — and you're done. Right?
Not so fast, hypothetical young writer. When done right, setting is the living, breathing beast beneath your story, carrying your plot along on its heaving back (I know, this metaphor is getting a little carried away #amwriting). It's shockingly hard to write a place-less story, or even a place-lite story. We need to see, at least in our mind's eye, where all that labored-over action and character development is taking place.
When I was in college, working on a novella for my senior thesis, I was struggling with a plot that felt a little weak, flabby, and pointless. Finally, I drove to a random neighborhood in Chicago and decided that this corner, at Dickens and Leavitt, was exactly where my story took place. From then on, it was as though the story had been given new life. I didn't even put a lot of actual description into the final version, but just being able to picture where the action happened gave me an informed, nuanced perspective on the plot that I simply didn't have before.
But what's a struggling writer to do when their story is set in Angola and she has $25 in the bank? Meet Google Street View, a writer's underrated best friend. Google's panoramic images allow you to see everything you'd see if you were actually there. All you have to do is fill in the warm breeze and the smell of honeysuckle.
I was disappointed to realize that there's not a Google Street View for every curious little street on the globe, but it covers plenty of American cities as well as significant monuments and natural treasures around the world. My dreams of virtually wandering through Colorado ghost towns may have to wait for another day, but I did find a couple of amazing locations that are just begging for a plot to accompany them. If you're looking for inspiration, consider these visual writing prompts. What kind of character would you find here?
1. For your Indiana Jones-inspired protagonist to explore.
Temple of Bayon, Angkor, Cambodia
2. For lovers meeting in precarious circumstances, both emotional and physical.
Black Bridge, Colorado River, Colorado
3. For your plucky young tech-savvy protagonist who just got a job in Silicon Valley.
Cupertino, California
4. For that eccentric millionaire who collects all sorts of disturbing oddities.
Castle in Sintra, Portugal
5. For your lonesome Far-Northern cowboy.
Matanuska-Susitna, Alaska
6. For American royalty and all their bad investments.
Biltmore Estate, North Carolina
7. For a group of scrappy twenty-something backpackers.
Stonehenge, England
8. For a character dealing with some serious existential trauma.
"Road to Nowhere," Canada
9. For an elaborate chase scene/magnificent ball/lonely kid of rich parents playing marbles by himself.
Wieliczka Salt Mine, Poland
10. For your frighteningly perfect suburban Joneses.
Hinsdale, Ilinois
Central, Louisiana
12. For your industrial worker with a heart of gold.
Iberia, Louisiana
Images: Google Maps