17 Memorable 'Louie' Guest Stars, Ranked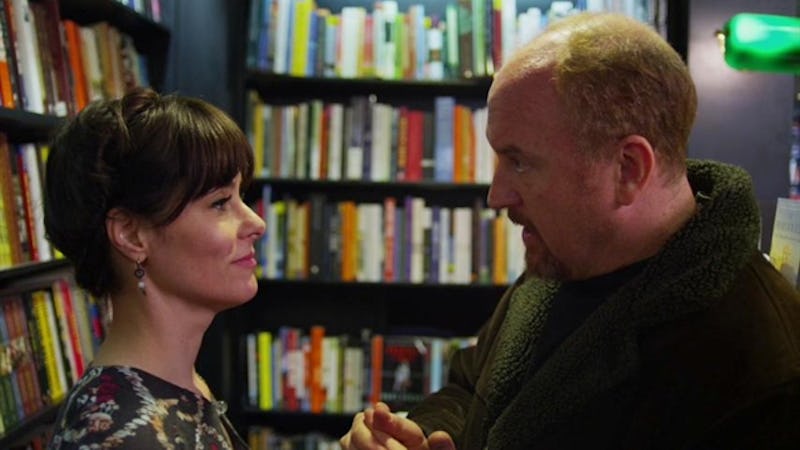 Louie continues to be a show that pulls off nearly impossible feats. The off-beat, one-of-a-kind series doesn't follow any of the rules of conventional television, and by doing so manages to avoid many of their pitfalls. Case in point: Louie is a show jam-packed with guest stars and cameos, but those guest stars never distract from the show or feel out of place. Between Louis C.K's famous friends playing embellished versions of themselves (i.e. Jerry Seinfeld and Chris Rock) and stars who brought memorable characters to life for a few episodes (Parker Posey made quite an impression during her few stints on the series), it's clear Louie has figured out the oft-tricky guest star game. Season 4 has just started and the FX comedy has already welcomed the likes of Yvonne Strahovski, Victor Garber, Sarah Silverman, Charles Grodin, Ellen Burstyn, and, in a performance everyone will be talking about, the amazing Sarah Baker.
Since so many actors, actresses, and comedians have appeared on Louie, we narrowed down some of the most notable cameos on the series and ranked them in honor of Monday night's new back-to-back episodes.
15. Chloë Sevigny
Maybe someday Chloë Sevigny won't play a total kook on screen, but that day was not during her Season 3 Louie episode, "Looking for Liz/Lilly Changes." Sevigny played Jeanie, an unhinged woman who tries to help Louie find his missing girlfriend Liz and then, among other things, has an orgasm in public.
14. F. Murray Abraham
The Oscar-winning actor and Homeland star took on double duty, playing both a swinger in the Season 2 episode "New Jersey/Airport" and then Louie's pushy Uncle Excelsior in Season 3's "Dad." Both roles were supremely weird, but leave it to Louie to get a seasoned actor to turn out two very different performances for two very different characters.
13. Marc Maron
Louis C.K. and Marc Maron explored the complexities of friendships that fall by the wayside in the Season 3 episode "Ikea/Piano Lesson." Louie goes over to Marc's apartment to apologize to him... only to have Marc tell him he made the same apology years ago. It's Maron's usual schtick, but the scene is as awkward as intended.
12. Jerry Seinfeld/Chris Rock/Ricky Gervais/etc.
Like Maron, Louis C.K.'s real-life pals and band of fellow comedians are usually on the show for one reason and one reason alone: to bust his balls. While most of his friends, like Seinfeld and Rock, play versions of themselves in various episodes (see: a ticked-off Jerry Seinfeld in the recent Season 4 episode "Model"), Gervais played a doctor who made Louie feel as dumb as one of his friends would in the Season 1 episodes "Dr. Ben/Nick" and "Gym."
11. Gaby Hoffman
Before she disturbed us on all Girls, Gaby Hoffman played Louie's frustrated girlfriend April, who has to do his breaking up for him (twice!) in the Season 3 episode "Something is Wrong."
10. Robin Williams
Subdued Robin Williams is always the most-watchable Robin Williams. As was the case when he played "himself" in the Season 3 episode "Barney/Never." In the episode, Louis and Robin attend a hated comedy club manager's funeral, go a strip club, and make a memorable, melancholy segment together.
9. Matthew Broderick
Matthew Broderick not only got to play a version of himself for the Season 1 episode "Heckler/Cop Movie," but he got to play a supremely pissed-off version of himself when his co-star, Louie, couldn't remember his lines to save his life.
8. Joan Rivers
Louie has made passes at plenty of the women in his life, but none garnered quite as hilarious results as the time when he tried to kiss a horrified Joan Rivers, who was minding her own business and giving Louie some valuable career advice.
7. Amy Poehler
Amy Poehler's appearance as Louie's sister Debbie was far too brief in the great Season 3 episode "New Year's Eve," but she and Louis C.K. had palpable chemistry, even just over the phone .
6. David Lynch
It was fitting that the man behind Twin Peaks, Mulholland Drive, and Blue Velvet would play one of the strangest, hardest-to-crack characters on Louie. As Jack Dahl, a grizzled showbiz vet who helps to train Louie for his Late Night audition, Lynch was a stone-faced riot in the Season 3 three-part "Late Show" saga, delivering some of the show's best lines. ("If someone asks you to keep a secret, their secret is a lie.")
5. Melissa Leo
Leo's no-holds-barred performance as Laurie, a woman Louie is set up with on a date in the Season 3 episode "Telling Jokes/Set Up," earned the actress an Emmy for Outstanding Guest Actress in a Comedy Series. Leo's foul-mouthed Laurie gets intimate with Louie, goes off on a tirade about the double standards of oral sex between men and women, and eventually gets exactly what she wants.
4. Dane Cook
For years, Dane Cook was one of the biggest punching bags in comedy, but his appearance on the Season 2 episode "Oh Louie/Tickets" was not only bitingly funny, but actually managed to make him a sympathetic character. Giving Cook a platform to defend the joke-stealing allegations made against him, the wildly popular (and widely loathed) comedian had his moment. And what a moment it was.
3. Pamela Adlon
It's not really fair to call Pamela Adlon a guest star, considering she's more of a recurring star. Plus, she's Louie's consulting producer. Still, her character Pamela is one of the best things about Louie. In a perfect world, Louie and Pamela would wind up together (wait for him!) but even if that doesn't happen, the two of them gave us one of the most romantic, wonderfully sincere moments in television history in the Season 2 episode "Subway/Pamela."
2. Sarah Baker
Trust us, when you see the Season 4 episode "So Did the Fat Lady," you'll agree. She will level you as Vanessa, a girl that Louie goes on a date with and opens his eyes to something important.
1. Parker Posey
Poor Liz. The ultimately doomed woman that Louie became smitten with in the Season 3 episode "Daddy's Girlfriend: Part 1" met her very sad end in "New Year's Eve." Thanks to Parker Posey's magnetic performance, we fell just as hard for Liz, and felt just as terrible for her when we realized there was something even sadder under the surface. The indie movie darling gave one of television's most compelling performances and made for the best Louie guest star to date.
Images: FX [7]