17 Life Lessons 'My Girl' Taught Us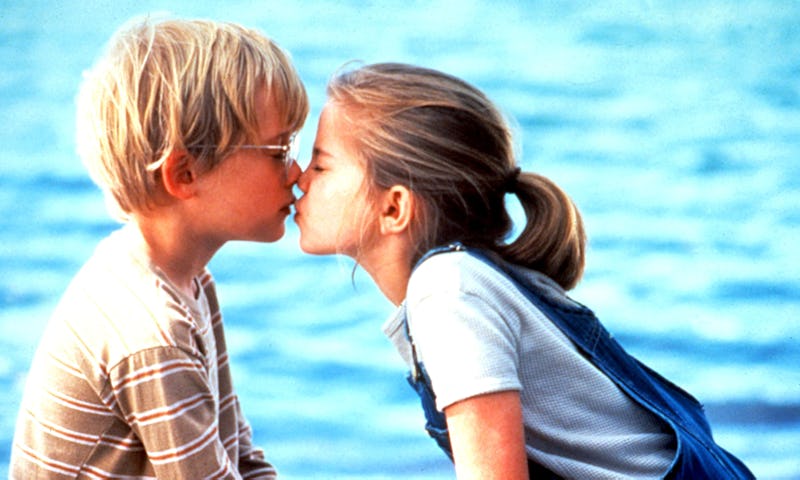 Growing up is hard, no matter what. But it's extra hard when you live in a funeral home, your dad is a post-Ghost Busters, pre-Crystal Head Vodka Dan Aykroyd, and your only friend dies after chilling too close to a beehive. (And that's not even addressing the sexy, mini-skirt-clad babe who has a crush on your dad and lives in a van in front of your house.) For her strength in the face of all these problems and many more, Vada Sultenfuss, the neurotic-yet-spunky heroine of the 1991 classic My Girl , remains one of the greatest tween heroines of modern cinema.
Vada gave us anxious tween viewers a roadmap for being your own person at an age when doing anything different can be incredibly hard. Whether she was making a move on her best friend, wearing a Castro cap 20 years before it was trendy, or following her heart to a (honestly horrible-seeming) creative writing class, Vada taught us the power of making your own decisions, finding your own place in your family, and sticking to your beliefs. So what if she also taught us the incorrect usage of the word "prostate." We've had 23 years to forgive her, and its fine.
Though on the surface My Girl simply seems like its filled with ideas about how to survive middle school, Vada actually also helped enumerate adulthood's most important lessons. Lessons like...
YOU CAN MAKE ANYthing WORK, IF YOU HAVE THE RIGHT ATTITUDE
If you work hard, you can put the "fun" in "growing up in a funeral home!" Okay, fine, you can put the "tolerable" in "growing up in a funeral home."
ALWAYS KEEP AN OPEN MIND
You never know when things might not work out between you and that one English teacher who wears a leather cord necklace, right? Keep your options open!
SOMETIMES, YOU JUST HAVE TO GO FOR IT
C'mon, live your dreams! Steal money from your future stepmother and go hang around with creepy hippies in a creative writing class, then ram her with a bumper car! No day but today!
YOUR OBSESSIVE WORRYING IS PROBABLY POINTLESS
And there definitely isn't a chicken bone stuck in your throat. I mean, how would a chicken bone even get stuck in your throat to begin with? Do we need to make one of these life lessons "don't eat chicken bones?"
A REAL FRIEND WILL TELL IT TO YOU LIKE IT IS
AND, SOMETIMES, THAT REAL FRIEND WILL ALSO WANT TO PRACTICE MAKING OUT WITH YOU
Yahtzee!
WHEN IN DOUBT, ASK JAMIE LEE CURTIS FOR LIFE ADVICE
She can help ease you into the myriad mysteries of womanhood, and she can also recommend a good yogurt.
ALWAYS REMEMBER YOUR CHILDHOOD FRIENDS...
...BUT ALSO KNOW THAT THOSE FRIENDS MAY DIE AND/OR START A PIZZA-THEMED COVER BAND.
YOUR PARENTS ARE JUST REGULAR PEOPLE
Regular, horny people that is. Horny people. Also, your goldfish did not "run away" while you were at summer camp that one time. You're old enough, time to face some facts. Sorry. Which brings us to...
LOTS OF THINGS ABOUT GROWING UP AREN'T FAIR
Periods. Family dynamics. You natural ability to play ping pong or lack thereof.
NEVER LOWER YOUR STANDARDS JUST TO BE POPULAR
Better to have one good friend like Thomas J. than to be stuck at brunch with 19 people you secretly want to murder with your grapefruit knife.
DON'T GO IN THE BASEMENT
Seriously, there's a ton of crazy, terrifying crap down there! How many times do we have to tell you?
AVOID THE URGE TO REVISIT THE PAST
Most memories are best left as just that.
TRAGEDY IS A PART OF LIFE
You're tougher than you think (but seriously, was there not another funeral home in, like, the entire town that they could have brought Thomas J to? I mean, really. Jesus.)
YOU'LL BE A COOL, CALM, COLLECTED ADULT SOME DAY
But, you know, that day may not be any time soon
Images: Columbia Pictures