17 Style Lessons Michelle Tanner Taught Us All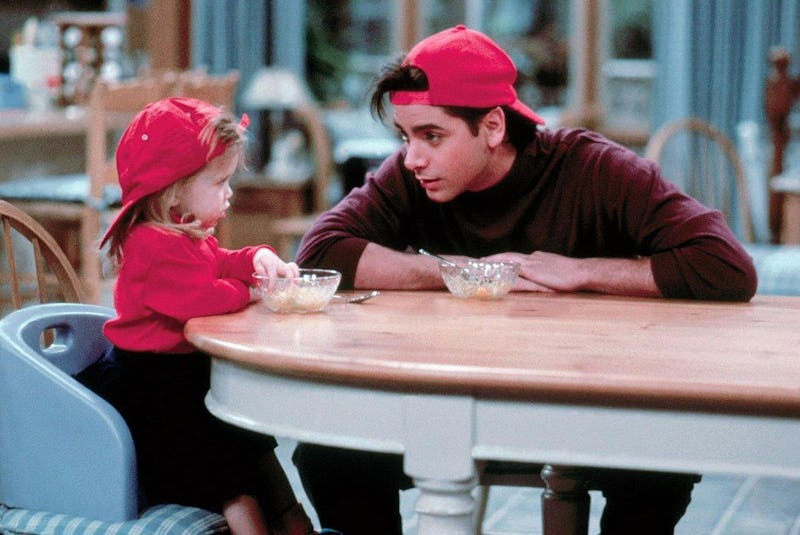 When it comes to '90s baby style, no one nailed the look quite like Mary-Kate and Ashley Olsen's trendy tot, Michelle Tanner. She had tons of 'tude, and an envious collection of hair scrunchies to compliment her confidence along with her printed playsuits. I know "The Rachel" was supposed to be the haircut of the times, but 4-year-old me was way more about "The Michelle" — blunt bangs and sky-high double ponytails.
Even though Full House has (aside from syndication) been off the air for almost ten years and MK & A have gracefully made their transition from child stars to a glamorous design team, Michelle's spunky toddler style lives on in the form of "You got it dude!" GIFs and nostalgic Tumblrs. She was one of my first fashion icons (I was born just a few years after the twins, so I'm speaking literally here) and, clearly, I'm still a little hung up on the stylish beginnings of the Olsen twins. Would we even have The Row or Elizabeth & James if Michelle hadn't had such a great costume designer? Probably not.
She might not have even hit double digits during the show's run, but Michelle still provided us all with some valuable fashion lessons that, honestly, could be applied to our grown up wardrobes today. Here are some of her very best.
1. Every Girl Needs The Perfect Leather Jacket
It just automatically makes you one of the cool kids.
2. Sunglasses Edge Up Your Femme Formalwear
Talk about prom inspo.
3. Workout Gear Should Always Be Color Coordinated
Just because you're at the gym doesn't mean you get to look like a slob, dude.
4. Learn How To Layer
Pairing two patterns can be rough, so stick to solids over stripes.
5. Stock Up On Bows
They seriously go with every single outfit.
6. Hats, Too
You can never have too many accessories, probably.
7. Oh, And Scrunchies
The bigger, the better.
8. Want To Look Tough? Suspenders.
Sun's out, gun's out, amirite?
9. Don't Be Afraid To Experiment With Unexpected Pieces
Tutus can be surprisingly chic when done the right way.
A clever, topical costume is always sure to be a hit.
11. Clothes With Cats Are Unequivocally Cool
So stop calling me crazy, okay everyone?!
12. And Dogs Work Too
Ugh, fine. If Michelle says so.
13. Florals Are Always On Point
Especially paired with chambray accessories.
14. And Overalls Are Forever In Style
So retro-chic.
15. Side Ponytails Are The Happiest Hairstyle
Walk into work rocking one of these suckers, and you're guaranteed to make everyone smile.
16. But Two At Once Works Too
And please refer to rule #7.
17. And, Finally, Rock The Graphic Sweatshirt If You're Going To Be In A Band
The frontwoman should always make a statement.
Images: Warner Bros. Television; Giphy