They Don't Call It The Fantasy Suite For Nothing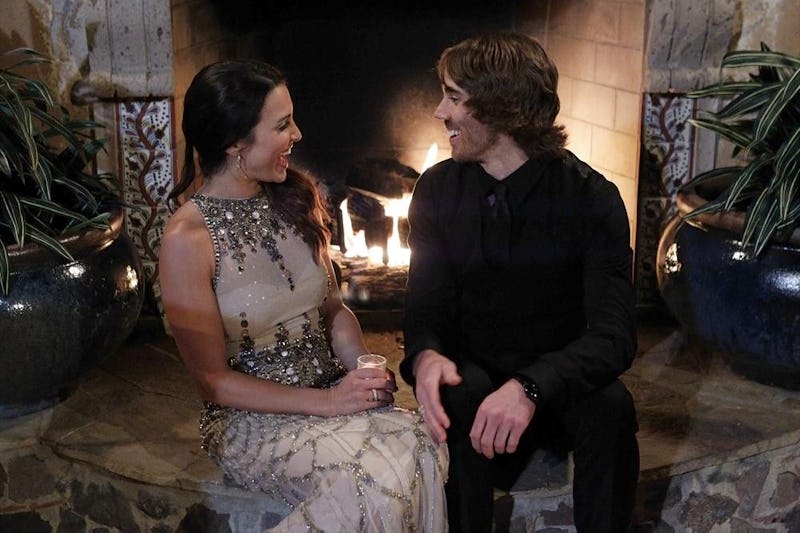 Okay, let's face it: The Bachelor and The Bachelorette may not be accurate representations of what real dating is like, no matter how hard the shows might try. After all, aside from the one-on-one dates, there isn't a lot of privacy for the would-be couples to get to know each other. So we must know: Do Bachelor or Bachelorette contestants have sex? Let's think about this: Finding out whether or not you have sexual chemistry with someone you're considering spending the rest of your life with is pretty essential to most people. So if a proposal is going to come at the end of the season, shouldn't the contestants, you know, test their sexual chemistry first?
And while there's no official answer from the powers that be at ABC (this is a family network, after all) we've come to the conclusion that more than a few contestants have had to go all the way in the Fantasy Suite. What else did you think those overnight dates were for? And why did you think they even call it the Fantasy Suite? And then there's the whole situation with last season's Clare and Juan Pablo.
If Juan Pablo telling Clare "I love f*cking you but I don't know you," wasn't confirmation that the Fantasy Suite is basically the Test Drive Room, we don't know what would be.
However, the whole thing is a little skeevy for my taste. Let's pretend we're not talking about reality television right now and imagine someone you've been casually dating for a few weeks invites you to this charming hotel suite he or she rents out occasionally. There's a hot tub, a big bed, wine, probably some candles and rose petals — the works. It sounds like a totally romantic evening, and you accept… knowing full well the entire time that, for the next two nights, he or she will be entertaining other dates there as he decides which of you he'd like to marry after having the opportunity to sleep with all three of you, all while pretending as if you're the only person in his life. It starts to feel a little impersonal and more like test driving a minivan. I mean:
But it is TV, so we have to pretend this is perfectly acceptable behavior. Of course, it's not like every single guy or girl on the show didn't know what they were getting into. Collectively, this is the 28th season of the Bachelor/Bachelorette franchise. It's seems pretty unlikely that these "overnight dates" were created for any purpose other than sex (even if ABC insists the point it to "get to know each other better"). Which again, is fine, but let's all just be honest about it, people.
As for the season at hand, our current Bachelorette Andi Dorfman wasn't wooed into submission by the Fantasy Suite when she was there with her now-arch nemesis Juan Pablo Galavis, and we doubt she'll make anything but smart decisions when it comes to bringing guys there this time around. Should Andi choose to get physical (hell, she's human, isn't she?), we bet she'll also want to use the opportunity to get her chosen guys alone for some deep conversation, which is the exact opposite of what Juan Pablo did, of course.
Images: ABC, Giphy (2)