DIY Wedding Hacks For the Budget-Friendly Bride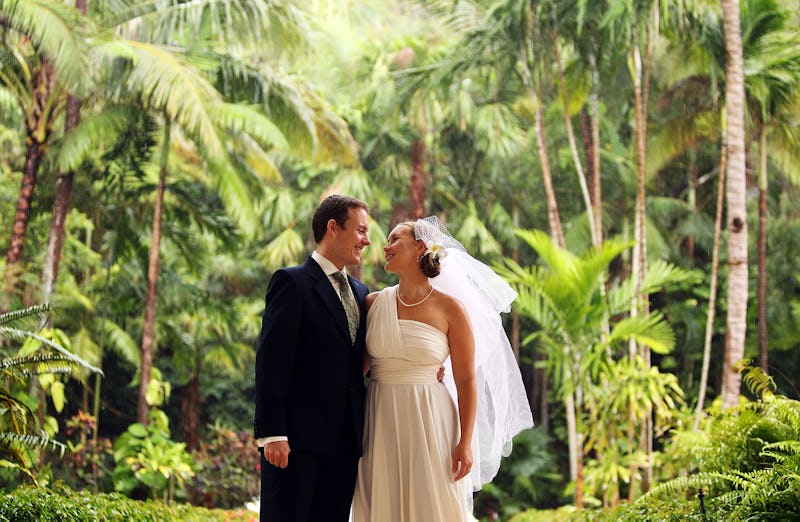 Mark Metcalfe/Getty Images News/Getty Images
We've talked a lot in recent months about what's going on in the world of weddings — and naturally, a good deal of that talk has had to do with money. From how much both the newlyweds-to-be and their guests spend on weddings to the most and least expensive honeymoon locations, we're all painfully aware of the fact that the wedding industry is pretty much designed to suck as much money out of us as possible. But it doesn't have to be that way! If you're savvy about how you approach the whole thing, it's actually not that hard to keep the costs down. Not sure where to start? You're in luck: Ariane Fisher, co-founder of WeddingMix by Storymix, has some DIY wedding tips — 15 of them, to be exact. And even better, she's arranged them all into a handy, easy-to-follow infographic. Who doesn't love an infographic?
Fisher's DIY wedding hacks cover everything from the dress to the food and from the date to the photo booth. Sure, you may end up bucking tradition a little bit by following these ideas — but that'll just result in a day that's all the more memorable. Why go for a standard, bland catering menu when you'll get eats that are both tastier and more unique from local food trucks? Do you really need a brand-new designer gown from this season, or would you get the same or better mileage out of an older gown altered just for you by a seamstress? (If I've learned nothing else from Something Borrowed, Something New on TLC, it's that the altered gown is pretty much always more interesting and more cost-effective.)

By: Storymix Media - Capture all your guests' photos and videos - and get an edited video - with the WeddingMix
Fisher also rounded up some more money-saving tips from four budget-savvy bridal bloggers and shared them on the Huffington Post, so head on over there for specifics on things like keeping the cost of your gown way, way down (without making it out of toilet paper). There's even more help to be found all over the web, by the way; Jane Bianchi at LifeHacker, for example, wrote about how she shaved a whopping $21,000 off her wedding last summer, while The Budget Savvy Bride's Jessica Bishop has some great pointers about how to choose a wallet-friendly menu. Everybody wins!
Got some tips of your own? Tell us about 'em on Facebook and Twitter!