Olivia Benson & The Best Celebrity Pet Names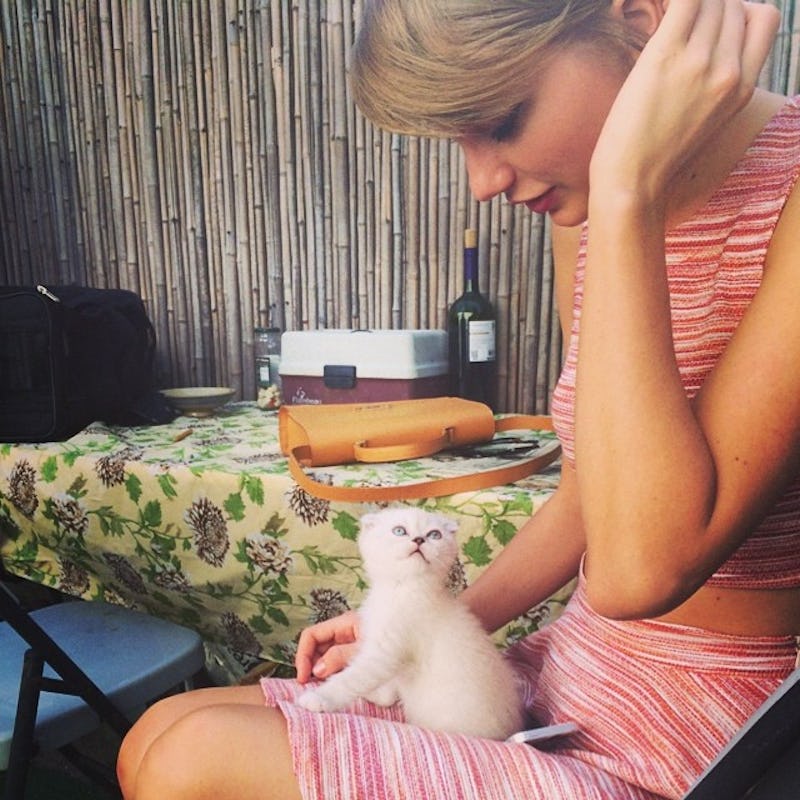 As a general rule, the Internet tends to freak out when something involves a) kittens, b) Taylor Swift, or c) witty pop culture references. When all three are involved? Then the world basically forgets how to function. Such was the case on Wednesday, when Swift announced that she'd adopted a kitten and named it Olivia Benson, after the beloved Law and Order: SVU character, because apparently, the singer takes pleasure in breaking the Internet whenever she gets the chance.
As adorable as the kitten is, though — and it's basically the cutest thing we've ever seen — the best thing about Swift's new pet is its choice of name. SVU's Olivia Benson, after all, is one of coolest and most feminist characters on TV; as pet names go, this cat's comes with a pretty strong reputation. Sure, Olivia (the cat) is going to have a lot to live up to, but with Taylor Swift as her owner, we bet she'll do just fine.
Yet as great celebrity pet names go, Olivia Benson, surprisingly, is not the best one we've ever heard. Here are eight other fantastically-named dogs and cats, all thanks to their famous, pop culture-loving owners:
Meredith Grey
Owner: Taylor Swift
Yes, Olivia Benson is not the first pop culture-themed cat owned by Taylor Swift. In 2011, the singer adopted a kitten called Meredith Grey, named after the leading lady of Grey's Anatomy. If Swift is trying to make feminist cat names a thing, then we're totally on board.
Pippa
Owners: Chrissy Teigen and John Legend
The famous couple have three dogs, including a three-legged bulldog they adopted two weeks ago, and one of them, Pippa, is named after the famous royal sibling. No word on how she looks in a dress, though.
Oprah and Gayle
Owner: 50 Cent
The best part about the rapper naming his two pets after Oprah Winfrey (above) and Gayle King? He couldn't even explain to the women why he'd done so without getting extremely uncomfortable. Guess the names weren't meant as a compliment?
Whatever Ellen Page Names Her Dog
She may not have a dog just yet, but judging by all those amazing names she handed out to her fans, Page's future pet is going to have one great moniker. Well, most likely...
Matzoball
Owner: Adam Sandler
If only Meatball, Sandler's first dog (and best man at his wedding, above), had lived to meet the equally-great-named Matzoball.
Thurman Merman
Owner: Rachel Bilson
Rachel Bilson named her dog after the kid from Bad Santa. In other news, Rachel Bilson is the best.
George
Owner: Ryan Gosling
The name George itself isn't anything special, but just look at that face (the dog's, not Gosling's). Does he look like he has the name of a 50-year-old British man to you?! Absolutely not, which is why it's so great.
Kitty Purry
Owner: Katy Perry
The best celebrity pet name, though, has to go to Katy Perry, for the genius that is Kitty Purry. You just can't get better than that.
Images: TaylorSwift/Instagram; ChrissyTeigen/Instagram; 50Cent/Instagram; KatyPerry/Instagram