A Definitive Ranking of Her 10 Best Floral Crowns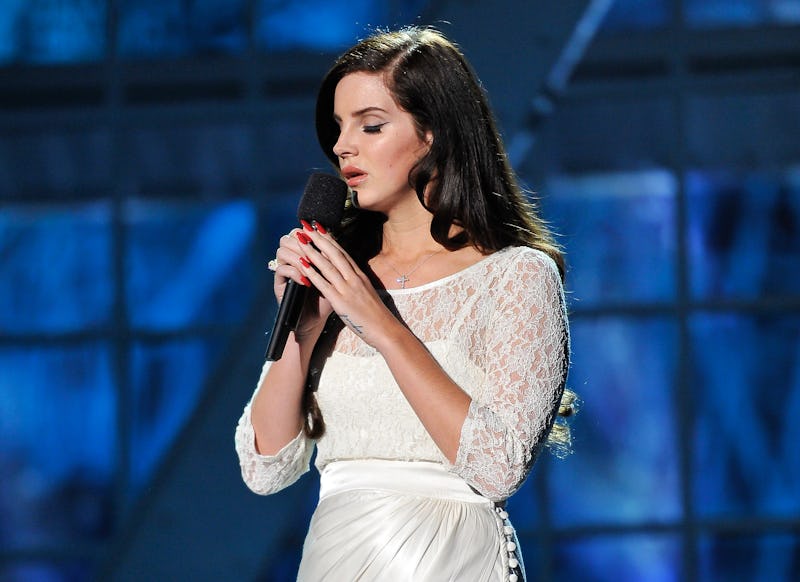 Steve Jennings/Getty Images Entertainment/Getty Images
In addition to today being the summer solstice, it's Lana Del Rey's birthday! Happy birthday, Lizzy—er—Lana! May you dance dreamily around many a bonfire and ride on the back of many a motorcycle, cloaked in an American flag. If there's anything we know about Lana, it's that babygirl loves herself a wreath of flora. She loves flower crowns on a train, she loves flower crowns on a plane. She wears flower crowns when she sings, she wears flower crowns with some bling. In case you're wondering, that's what the Dr. Seuss rhyme about Lana Del Rey would sound like. We're thinking it would be entitled "Oh The Flower Crowns She Wore." You're welcome.
Partially owed to the singer's commitment to the rose-adorned headpiece, it has become a staple of the music festival uniform. It's enough of a thing for Courtney Love to hate on it. We all know that Courtney Love's annoyance is pretty much benchmark for anything becoming a thing. Mainstream or not, Lana Del Rey isn't tossing out her signature headwear for anyone. Especially on her birthday, we can be positive that Del Rey wouldn't be caught dead in a "birthday bitch" tiara or a conical party hat. She'll stick with her diadem of roses, thanks. We thought there would be no better way to celebrate Del Rey's name day than to count down her most prolific achievements in floral headpiecery. So here they are, ranked: Lana Del Rey's best flower crowns.
The "Midsummer Night's Dream" tiara
Image: Tumblr
Oh this old thing? She just picked it up in an enchanted forest...
The classic daisy crown
Image: Tumblr
Check out that perch. That dainty perch.
The Urban Ophelia look
Image: Imgur
A look one can only achieve by falling asleep while floating in a pond.
The Patriot
Image: Tumblr
Get on over to the craft store, and make yourself one of these for 4th of July.
The Wedding Inspo demi-wreath
Image: Tumblr
Veils are so traditional.
The "coordinated with my outfit" headband.
Image: Tumblr
She's not pleased with you.
The "Day of the Dead" look...
Image: Tumblr
The denim-clad wood nymph wreath.
Image: Tumblr
The British Vogue flower fascinator
Image: Tumblr
Quel playful minx.
The "Born to Die" heavyweight crown
Image: Tumblr
Raising... head... so... difficult!