'19 Kids And Counting' Star Jill Duggar Marries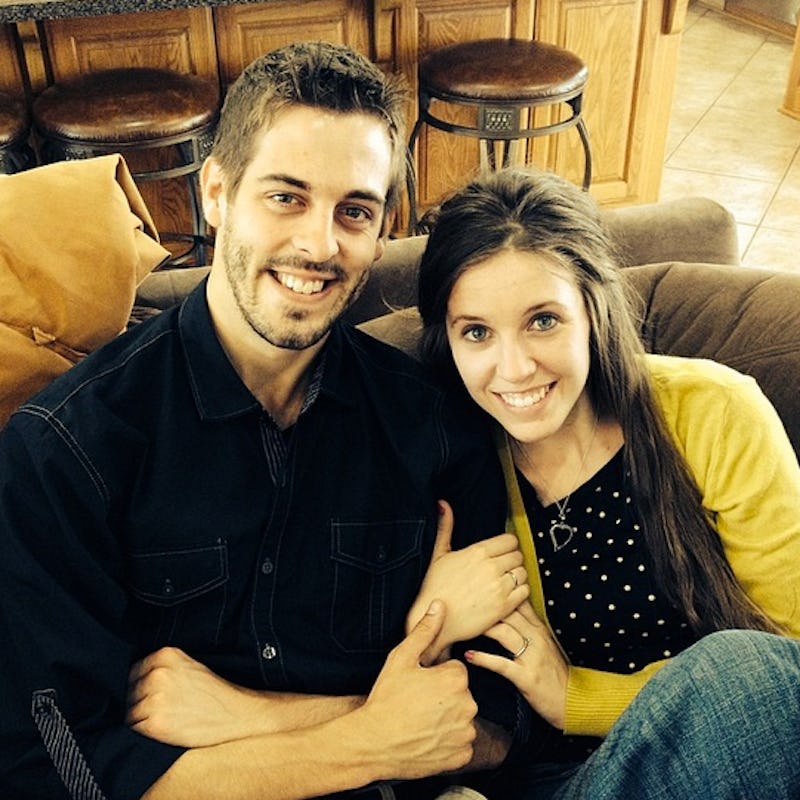 Last Saturday, Jill Duggar of TLC's "19 Kids And Counting" married her fiance Derek Dillard. Twenty-three-year-old Duggar, second daughter of Michelle and Jim Bob Duggar and one of the nineteen Duggar children featured on the show, married Dillard in her hometown of Springdale, Arkansas. It was a "Duggar-sized" ceremony, with five Duggar sisters as bridesmaids, five Duggar brothers as ushers, Jill's younger Duggar sister as flower girl, and a little Duggar brother and nephew as ring bearers. The adage "when you marry someone, you marry their family" may apply here. That's a lot of birthdays to remember.
Duggar and Dillard were engaged last spring just a few months after they first met and began "courting", he Duggar family's own religion, conservative way of dating described by Jim Bob Duggar as "getting to know each other in a group setting, both families spending time together and the couple setting goals together to determine if they are meant to marry[...]with dating, a couple will often pair off alone and that sometimes leads to a more physical relationship." A physical relationship, the horror! What "courting" really boils down to is the couple being restricted to hugs only. From the side. With the family present.
Dillard proposed to Duggar with the Duggar family present, and after asking Jim Bob Duggar's permission to have the fair maiden's hand in marriage. Of course.
Lucky for them, Duggar and Dillard's side-hug days are over. The two shared their first-ever kiss as a couple in front of family and friends, AFTER they said "I do". Duggar says, "I think it is safer and makes it more special to wait to kiss until your wedding day[...]to save the physical side of your marriage for your wedding day and not going further than you should – we want to have no regrets." Sounds risky. Good luck to these two crazy kids.
Images: @duggarfam/Instagram, @pressedlem0n/Tumblr