This 'Little Women: LA' Star is a Show Biz Vet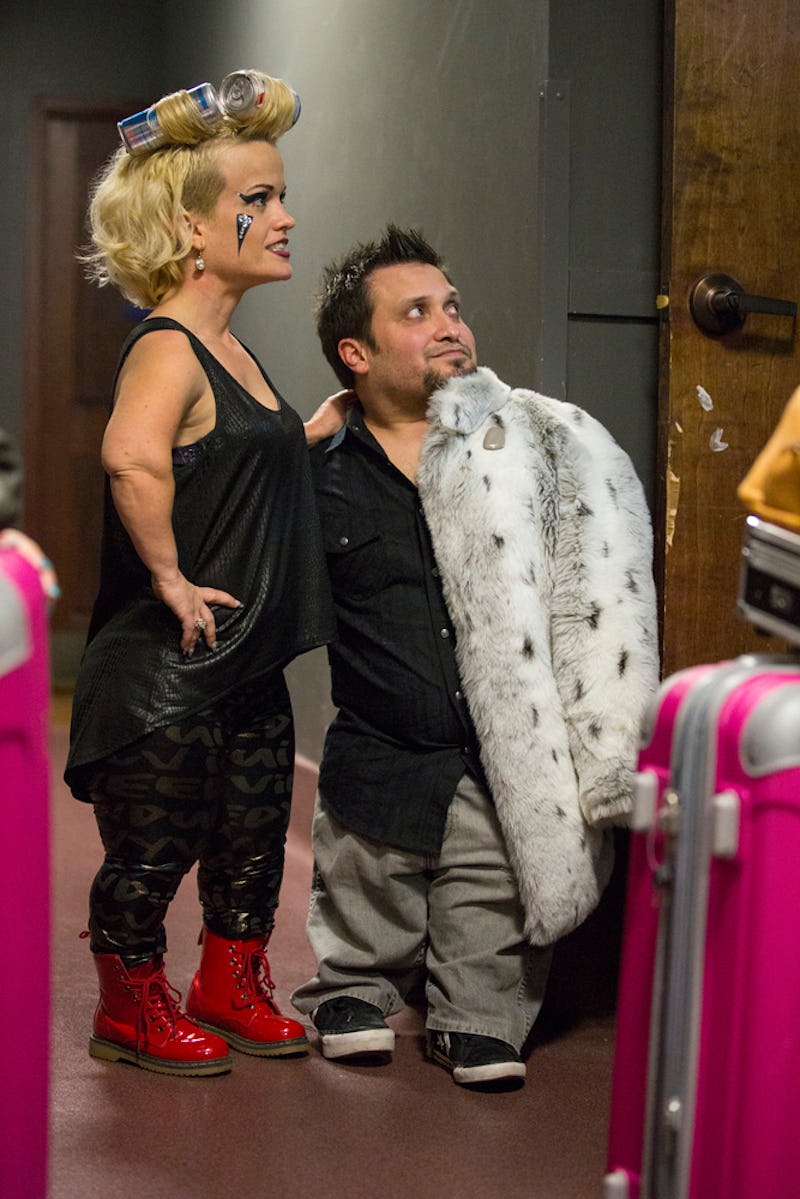 It's not easy being in a relationship when you work in show business, and it's even harder when both members of a couple perform for a living. We see this dynamic play out a lot among celebrities in the media, but every week on TV, we get a closer look at a working show biz couple: Terra Jole and Joe Gnoffo on Little Women: LA .
Even though they live together, with their busy schedules (Jole is an entertainer famous for her celebrity impersonations and Gnoffo tours with his band), it can be challenging to find a moment alone. During last week's episode, Gnoffo had to go on tour and miss an important performance for Jole where she sang and danced as "Lady Gaga" with her friend and fellow Little Women: LA cast member Tonya Banks. Even though Gnoffo came back in time to celebrate with Jole at the show's after-party, we've already seen him pack up his bags and head out on tour a few times so far this season. But, when you're in the business of show, you get used to making the moments you do have with your partner count, as Jole and Gnoffo do.
It's actually a wonder that Jole and Gnoffo aren't apart more often, since Gnoffo's career has been just as busy as his girlfriend's. He currently plays the drums in a Nirvana tribute band called Nirvanish. Listening to them is just like listening to the real Nirvana... ish.
Before that, Gnoffo was in a country-infused rock band called Post Trauma, whose music is a lot less intimidating than the moniker suggests. Gnoffo plays drums in the band, which has released two albums and toured mostly in California. In case you were wondering, the video for their song "Get Up in the AM" (above) features Gnoffo riding a scooter, a guy in a chicken suit, and the lead singer in leopard print pajamas.
Prior to his music career, Gnoffo was an actor who actually had some pretty decent roles. In addition to some indie flicks, Gnoffo starred in The Benchwarmers in 2006 alongside Rob Schneider, David Spade, and Jon Heder, which maybe two people, in addition to myself, watched. He also played Grub, one of the Seven Dwarves who really liked eating, in the recent Snow White adaptation Mirror Mirror, which also starred Julia Roberts, Armie Hammer, and Lily Collins.
And now Gnoffo can add "reality TV star" to his resume, gaining a whole new host of fans, I'm sure. Gnoffo even plays the drums in the video for Jole's new so-bad-it's-good single "Booty Bee." So far, it seems like Jole and Gnoffo's relationship has been able to survive show biz. Now we'll just have to wait and see if it can survive Gnoffo's flirting with Little Women: LA 's Elena Gant.
Image: Lifetime